Cognitive Behavioural Therapy - CBT for Generalised Anxiety Disorder in London and UK-wide
if you are experiencing continuous worry, overthinking, irritability, broken sleep and fatigue, you could be suffering from Generalised Anxiety Disorder (GAD). This page will help you to understand what GAD is and how it can be effectively treated using Cognitive Behavioural Therapy.
We provide CBT treatment for GAD from our clinics in London. You can also arrange CBT from over 200 UK locations across the UK or via video link without leaving your home. CBT is the NICE recommended treatment of choice for Generalised Anxiety Disorder and the published clinical evidence shows that it works. To talk to one of our CBT specialists about treatment for Generalised Anxiety Disorder, call +44 1732 808626 or email appointments o@thinkcbt.com
What is Generalised Anxiety Disorder?
Generalised Anxiety Disorder (GAD) is excessive anxiety, apprehension, continuous worry and tension experienced on most days over a minimum period of 6 months. GAD sufferers can find it hard to control worry about a number of different situations including work, family, personal responsibilities, finances and relationships. GAD is characterised by a tendency to worry about minor or hypothetical situations which often leads to worry about the worry itself; feeling anxious about the symptoms of anxiety. GAD sufferers often find it difficult to manage their worry, with at least three of the following six symptoms over a minimum period of six months:
Restlessness, feeling keyed up or on edge.

Feeling easily fatigued.

Difficulty concentrating or mind going blank.

Feelings of irritability.

Muscle tension.

Broken or disrupted sleep.
The anxiety, worry or physical symptoms cause significant distress and impairment at home and at work. For a GAD diagnosis, the anxiety should not be better explained by substance abuse / dependency, or by another anxiety disorder such as panic disorder, social phobia or obsessive compulsive disorder.
CBT Charges and Therapy Timescales
Our CBT charges start from £85 per session. Depending on the clients needs, GAD can require 8-16 sessions of Cognitive Behavioural Therapy. Our charges are lower than other psychological services, as we operate on a commercially ethical basis and our therapists are all recognise CBT specialists.
Online GAD Assessments
We have made a wide range of established psychological assessments freely available for Generalised Anxiety Disorder and problems with chronic worry. You can take the following online assessments to help determine if you are experiencing GAD or worry:
If you want to talk to a CBT expert about GAD, click here to contact us. You can also take other free on-line anxiety tests by clicking this link to our assessment page.
Online CBT for Anxiety and GAD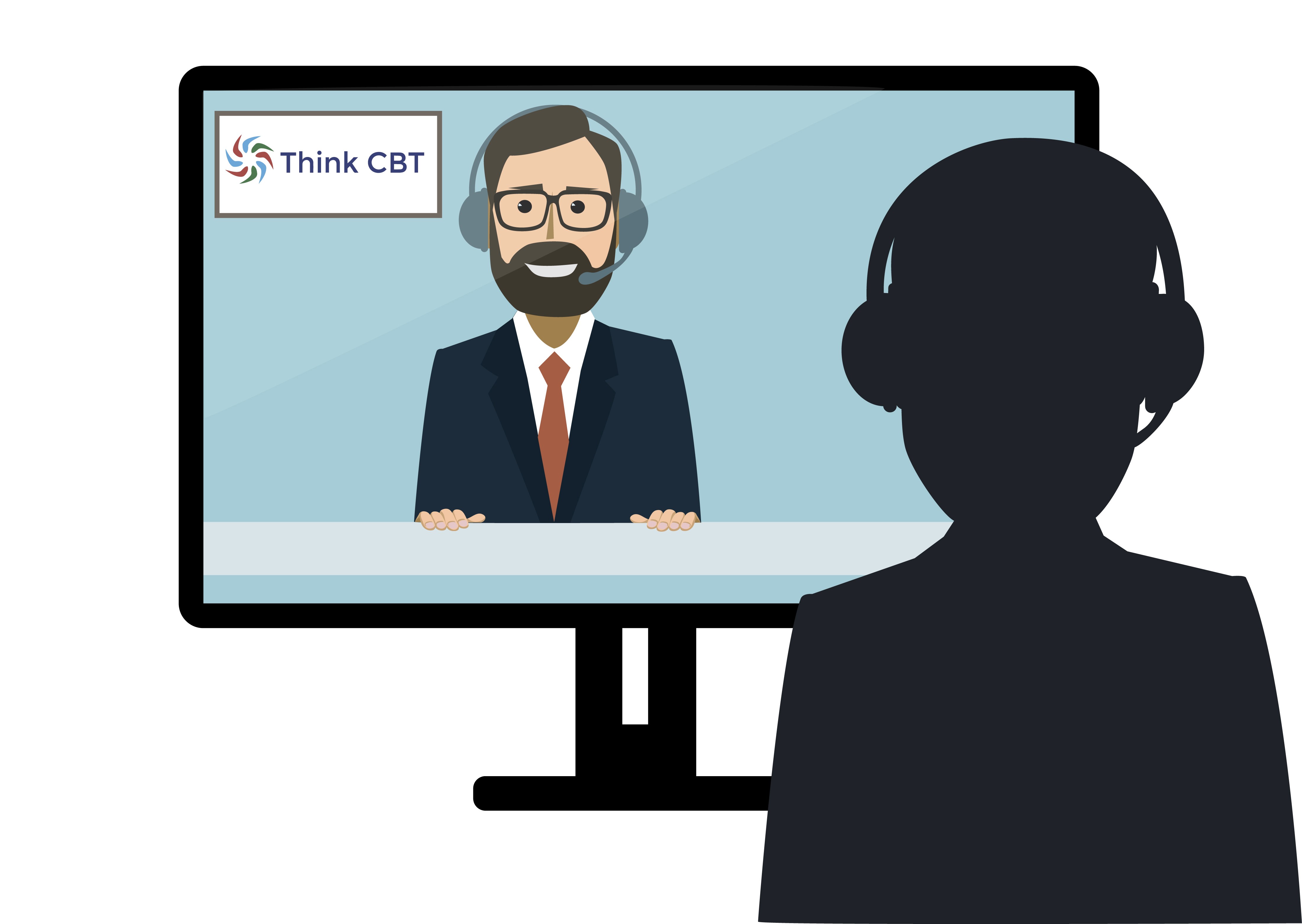 You can organise online CBT video sessions with a member of our wider team of over 200 professionally recognised UK Cognitive Behavioural Therapists. Online CBT treatment for anxiety works in the same way as face-to-face therapy and research data shows that it is highly effective. Complete the appointment request form on this page or email info@thinkcbt.com
Who is Affected by GAD?
GAD affects around 5% of the population and is often associated with other psychological problems such as depression or panic. GAD tends to affect females more than males and significantly undermines quality of life and interferes with the
achievement of personal and professional goals. GAD is often first diagnosed by complaints about physical symptoms or sensations and is normally treated through the use of medications or psychological therapies.
The National Institute for Health and Care Excellence (NICE) recommends Cognitive Behavioural Therapy (CBT) as the treatment of choice for GAD and there is a strong body of evidence to demonstrate that CBT can provide an effective and longer-term solution.
How Cognitive Behavioural Therapy is Used to Treat Generalised Anxiety Disorder
Cognitive Behavioural Therapy is the recognised treatment of choice for Generalised Anxiety Disorder. CBT involves changing or altering the relationship with negative thinking processes, learning practical techniques to alleviate worry and managing the behavioural and emotional avoidance patterns that maintain the anxiety.
There is a particular emphasis on the cognitive process of "Worry", strengthening problem solving skills, handling uncertainty and learning how to normalise anxiety feelings and body sensations. Clients are taught how to change or unhook from negative thoughts, interrupt or challenge patterns of worry and behavioural avoidance and shift the focus of attention to helpful or constructive responses.
CBT for Generalised Anxiety Disorder involves a highly skilled clinical process. Fully qualified and BABCP accredited Cognitive Behavioural Psychotherapists will be trained across five clinically validated treatment protocols. These include:
Intolerance of uncertainty model.

Cognitive avoidance model.

Metacognitive model.

Emotional dysregulation model.

Acceptance based model.
Depending on the specific aspects and maintenance factors in the anxiety, your therapist will apply one or more of the above evidence based approaches. CBT for Generalised Anxiety Disorder can also be augmented by a structured program of mindfulness based cognitive therapy.
There are many therapists and counsellors offering CBT for Generalised Anxiety Disorder without the necessary specialist CBT training. Always ensure that your CBT provider is properly qualified and professionally accredited. At Think CBT every member of our team holds for professional accreditation with the British Association of behavioural cognitive psychotherapy. BABCP set the UK professional standards for Cognitive Behavioural Therapy.
Although it's confusing, the BACP is a counselling body and does not cover CognitiveBehavioural Therapy.
Free Downloads to Help With Anxiety Problems
We have made a wide range of CBT tools and resources freely available for download on our resources page. For problems with Generalised Anxiety Disorder; the GAD Thought Record can be used to monitor and alter the negative thinking patterns that keep anxiety going. You can use the Worry Tree to help develop problem solving skills and learn how to let go of worry. The Worry-Thinking Time exercise can be used to suspend and alleviate continuous daily worry. The Worry Bank can be used to deposit and suspend significant worries. You can also download our new From Worry to Problem Solving Worksheet.
If you want to arrange professional Cognitive Behaviour Therapy call us now on 01732 808 626, click here to send a message or email us at appointments@thinkcbt.com. You can also find out more about our services by clicking this link.
Our Generalised Anxiety Disorder Specialists