Cognitive Behavioural Therapy – CBT for Post COVID Stress Reactions
We provide Cognitive Behavioural Therapy (CBT) for psychological symptoms arising from COVID related problems. The current research demonstrates that COVID is directly linked to an increase in generalised anxiety, depression, health anxiety, Panic Disorder, Trauma symptoms and Post Traumatic Stress Disorder. If you are struggling with a psychological health problem linked to the Coronavirus, contact our team to talk about evidence based treatments including CBT, ACT and EMDR for COVID related problems. The process is confidential, fast and straight forward. We always start with an initial informal call before starting therapy and we will only work with you if we are confident that we can help.
How COVID Causes Psychological Health Problems
The Coronavirus pandemic has triggered psychological problems in three key areas including situational distress caused by isolation and social distancing problems, risk related stress for carers and people working with higher COVID exposure and post-COVID stress reactions for people recovering from the illness. Whilst these areas have distinct psychological features, the evidence already shows that the short and long-term affects of the Coronavirus have caused psychological impairment in family, personal and work-related settings. The impacts are direct, for individuals recovering from COVID infection and indirect, for individuals who have been situationally affected through work or family COVID pressures.
Book Online CBT to Support COVID Recovery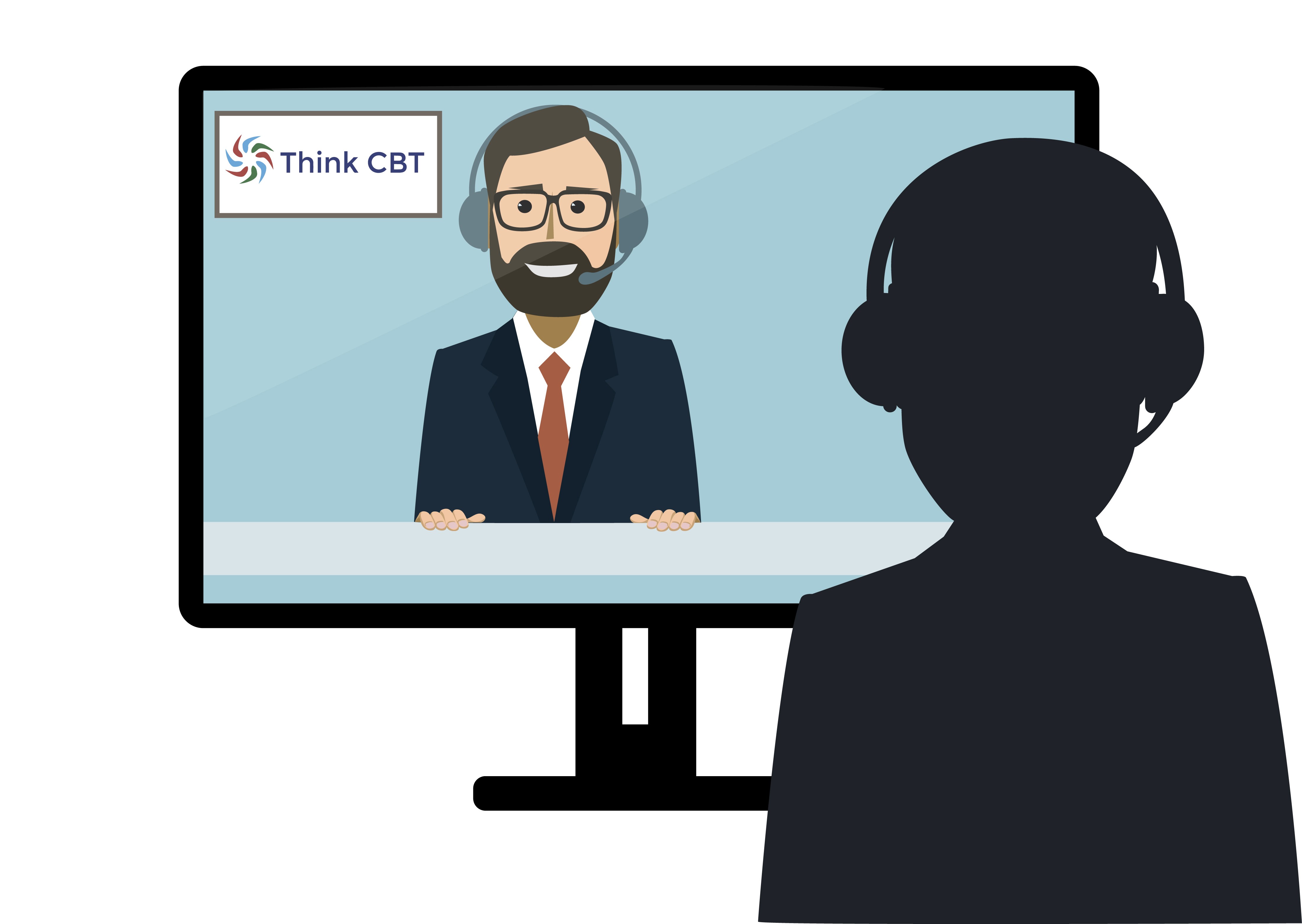 You can organise an online video based CBT appointment with a member of our UK Cognitive Behavioural Therapy team. We have over 180 CBT specialists who can support you in your recovery from COVID, drawing on the safety, flexibility and convenience that online therapy provides. The process is fast and straightforward. You can email info@thinkcbt.com or complete the contact form on this page.
The Post-COVID Stress Response Checklist
If after a COVID related illness you have any of the following symptoms without medically explained courses, you can contact our clinical team to discuss potential CBT treatment for a COVID related stress response:
Tiredness, low energy or fatigue.
Physical pain or discomfort in the chest, arms or legs.
Palpitations, dizziness or breathlessness.
Feeling anxious, hypervigilant or continuously on edge.
Feeling depressed, angry or tearful.
Thoughts of death or feeling suicidal..
Continuously checking or scanning your body for feelings and sensations.
Avoiding places or situations and feeling like you need to escape.
seeking reassurance, checking on the Internet or arranging medical assessments.
Continuous worry or rumination about COVID related fears.
Insomnia or highly disrupted sleep patterns.
Distressing nightmares or flashbacks.
Feeling detached or episodes of dissociation.
If you have experienced any of the above symptoms for more than two weeks following your medical recovery from COVID, you could be experiencing a post COVID stress response. Always ensure that you have checked with your GP and excluded medical explanations for any of the above symptoms in the first instance.
Find BABCP Accredited CBT Specialists to Support COVID Recovery
If you are looking for a local CBT specialist to support COVID related problems, enter your full postcode in the box provided below to search for a BABCP accredited Cognitive Behavioural Psychotherapist. Every member of our UK wide team provides online video-based therapy in addition to their standard face-to-face CBT clinics. If you need help choosing a Cognitive Behavioural Therapist to meet your own personal requirements, call our office and we will guide you through the process. It takes just a couple of minutes to organise and we can usually arrange CBT appointments within two working days of your enquiry.
Find a Therapist
Situational Anxiety and Depression
Increased levels of social isolation, pressure on family life, worry about work and financial constraints have for many individuals contributed to an increase in generalised anxiety and depression. Antidepressant medication prescriptions have increased by over 15% over the infection period and the stress of coping under COVID conditions has caused significant distress for many people. This distress ranges from the constraints and social isolation of the lock-down and social distancing guidance, through to worry about living or working in environments where the risk of infection is higher.
If you are experiencing stress, anxiety or depressed mood linked to the impacts of COVID, our advice is to access professionally accredited Cognitive Behavioural Therapy services, where there are already a number of tried and tested CBT interventions for anxiety conditions and depressive disorders. If you want to talk about a brief course of Cognitive Behavioural Therapy with an accredited CBT expert, you can complete the contact form on this page or email info@thinkcbt.com
Work and Carer COVID Problems
Working with or supporting family members with COVID related illness has significantly increased levels of stress and in many cases contributed to vicarious trauma, particularly for health and care professionals supporting COVID patients. This ranges from hypervigilant anxiety for people working in higher risk environments such as hospitals, care homes, schools and some hospitality settings, to specific risks associated with inadequate PPE, work-related infection and supporting people who have become seriously ill or died. Employees with existing mental health problems including health anxiety, OCD, GAD and Panic Disorder have frequently experience a deterioration in their existing conditions and in some cases the challenges of care and coping with loss have contributed to vicarious trauma. This increased exposure to infection risks has directly increased work related stress, sickness absence and presenteeism.
If you are experiencing a psychological problem linked to your working or care giving environment, you can organise a brief programme of CBT to assess and understand the problem, learn strategies to improve coping and strengthen emotional resilience. Individuals, employees and employers can contact our clinical team to arrange a brief programme of CBT to deal with the impacts of COVID in the professional or care giving environment.
Post COVID Recovery Problems
In the post recovery stage of COVID, many patients experience an acute stress reaction, PTSD, Panic Disorder or Health Anxiety for medically unexplained symptoms. These psychological conditions are often associated with highly distressing physical symptoms which can include fatigue, dizziness, weakness, difficulty breathing and palpertations. These symptoms make it extremely difficult for the individual to distinguish between the medical symptoms of the virus and the psychological affects of the post COVID stress response. If not treated by a qualified professional, these problems can have profound and long-lasting affects on the individual's ability to function at home and at work.
Recovery from Coronavirus infection has also been directly linked to a COVID specific form of PTSD particularly for individuals who experienced life threatening or intensive care conditions. This has been implicated as a maintenance factor in "long COVID" reactions. A recent meta analysis of research into survivors of respiratory related illness including the SARS and MERS virus found 39% PTSD, 33% depression and 30% anxiety rates six months following recovery from the medical symptoms of the disease itself.
PTSD symptoms linked to distressing medical symptoms and intensive care treatment are already well documented for COVID patients. This leads to highly distressing and dissociative affects including flashbacks, nightmares, severe anxiety, depressed mood and patterns of avoidance.
If you are experiencing problems with trauma, PTSD symptoms, health anxiety or panic attacks, the recommended treatment of choice is Cognitive Behavioural Therapy. There are already well established CBT protocols for these problems and working with a properly qualified and experienced CBT expert can support rapid and sustained recovery. a specialist form of CBT known as Trauma Focused Cognitive Therapy and Eye Movement Desensitisation and Reprocessing (EMDR) are recommended for the treatment of PTSD and trauma related problems.
The key to effective recovery from the psychological affects of COVID is working with a professionally qualified CBT specialist. Whilst there are many general counsellors offering CBT, it's important that your therapist has received specialist post-graduate training in CBT itself. You should check that the therapist is experienced and specifically trained in Trauma Focused Cognitive Therapy and holds an advanced EMDR qualification at level 3 before engaging in these therapies.
All Think CBT therapists are recognised CBT specialists with full accreditation with the British Association of Behavioural and Cognitive Psychotherapy (BABCP). This means that we have achieved the recognised UK gold standard in the professional practice of CBT. Similarly, members of the team offering EMDR have completed their advanced EMDR qualification.
If you want to talk about specialist therapy for a post-COVID reaction, you can complete the contact form on this page or email info@thinkcbt.com We start with an informal call to check that we can help and then therapy can usually start within a few days.
Employers looking for occupational health support for staff recovering from COVID infection can also contact us via info@thinkcbt.com to organise a briefing call with a member of our clinical team.
Finally there are also many indirect psychological impacts including loss of family, friends or colleagues, social and financial stresses linked to job losses or income pressures and exacerbation of existing mental health problems including OCD, Health Anxiety, GAD and respiratory Panic Disorder. Effective treatment for these conditions requires the support of a clinically trained CBT expert. Unfortunately there are many counsellors and therapists offering CBT without the required training or qualifications. Always check the credentials of your CBT therapist prior to commencing Cognitive Behavioural Therapy for COVID related problems. COVID can lead to serious psychological problems that require the expertise of a properly qualified CBT specialist. If you need help or advice contact our clinical team via info@thinkcbt.com
Our Post COVID Recovery Specialists