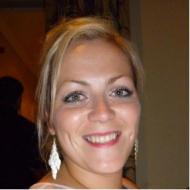 Cognitive Behavioural Therapist
BSc (Hons), PGDip (CBT), HCPC, BABCP (Acced)
This therapist has no current availability. For help identifying another therapist, please follow this link, call +44 1732 80862 or email info@thinkcbt.com
Current Availability
No Availability at present
Locations
London, SE18
Professional Profile
My name is Lynn and I am a fully qualified and BABCP accredited Cognitive Behavioural Psychotherapist and EMDR practitioner working with Think CBT online via video-link.
I have over 10 years experience working in mental health settings. I spent a number of years working as an Occupational Therapist within the mental health settings before completing my CBT training. I have worked in a variety of settings including adult psychiatry, psychosis services, parental mental health services, specialist autism services, IAPT services and a specialist pain management unit.
I continue to deliver CBT and EMDR to adults within the NHS focusing on depression and anxiety disorders as well as the impact of long term health conditions. I have reccently completed training in CBT for Psychosis and Bi-polar which is an area of interest for me.
I have experience in working with issues such as depression, and the anxiety disorders which include panic disorder, phobias, trauma related issues (PTSD), social anxiety disorder and generalised anxiety disorder as well as experience working with Psychosis and mood disorders.
My therapeutic approach is primarily cognitive behavioural therapy (CBT) and EMDR but my training in Occupational Therapy and experience in Mindfulness-based Cognitive Therapy, Acceptance and Commitment Therapy and Compassion Focused Therapy offers me a flexible holistic approach which I tailor to meet individual needs to enhance the ability to move towards the changes you want to make.
I have worked in diverse areas, and I continue to learn and understand how social, cultural and economic factors impact upon psychological wellbeing. I have awareness of how these factors can impact upon the therapeutic relationship. Therefore, I take time to understand the difficulties you are experiencing and the impact of these and strive to provide a safe, confidential and non-judgmental space.
I am accredited by the British Association of Behavioural and Cognitive Psychotherapy (BABCP) and Health Care Professions Council (HCPC) and work according to their Standard of Conduct, Performance and Ethics.
Specialisms
Bipolar Disorder
Chronic Pain
Depression
Generalised Anxiety Disorder
Health Anxiety
Low Self-esteem
Panic Disorder
Social Anxiety / Phobia
Trauma / PTSD
Therapies Offered
Acceptance and Commitment Therapy
Cognitive Behavioural Therapy
Compassion Focused Therapy
EMDR
Accepted Payment Methods
Bank Transfer
Organisational Funding
Reserve an Appointment With Lynn McKay
This therapist has no current availability. For help identifying another therapist, please follow this link, call +44 1732 80862 or email info@thinkcbt.com
Exact location provided on booking confirmation