Psychological and Well-being Coaching for Senior Executives
We provide advanced Cognitive Behavioural Coaching and CBT for senior managers and executives experiencing high levels of work related stress. If you would benefit from psychological coaching to improve emotional resilience and well-being whilst maintaining the demands of a busy workload, email info@thinkcbt.com or complete the simple appointment form on this page.
As soon as we receive your details we will arrange an informal call to discuss options. The process is fast, confidential and straightforward without waiting times or red-tape.
Our No Nonsense Approach to Executive Coaching
Senior executives and entrepreneurs are often required to operate at a level far in excess of the normal demands of professional life. This involves high levels of responsibility, long working hours and excessive work-related pressure. Maintaining a strategic perspective whilst coping with the risks and pressures of senior leadership, is what uniquely identifies senior executives from the norm.
Our approach to psychological and well-being coaching therefore recognises these extraordinary demands and focuses on building psychological resilience over reducing the expectations and pressures of work. This involves developing personal capacity and well-being rather than attempting to lower the performance bar.
In our experience, the solution is never as simple as reducing workload, taking more time off or delegating authority. Whilst these factors have a part to play in establishing a good common sense balance, psychological coaching involves working on the cognitive and behavioural processes that maintain focus and promote a healthy perspective.
So Why Invest in Personal Resilience?
Research demonstrates that high performance is not incompatible with good psychological health. The problem arises when our normal coping mechanisms are out of balance and we experience the deleterious effects of stress and low mood. This can lead to negative feelings such as stress, anxiety, irritability, anger and depression.
The longer term health implications of continuing to work under these conditions can be significant and the impacts on family, relationships and personal fulfilment can be profound.
If these problems are not tackled head on, this can lead to burnout, problems with performance and unhelpful coping mechanisms sometimes including addictive and dependent behaviours.
Our psychological coaching model
As high levels of pressure are characteristic of most senior executive roles, we focus on the development of improved psychological resilience. This involves the three components of attention, cognitive perspective and focused action.
We combine a range of cognitive and behavioural strategies to develop a custom built programme for addressing unwanted emotional reactions and unhelpful behaviours. Our approach is based upon a high-performance model that recognises the implicit paradox between perfectionism and performance. Our coaching model is drawn from the field of cognitive and behavioural psychology and embraces a psychological concep known as Dialectics. You can read more about the dialectical model further down this page.
Flexible Online Coaching Options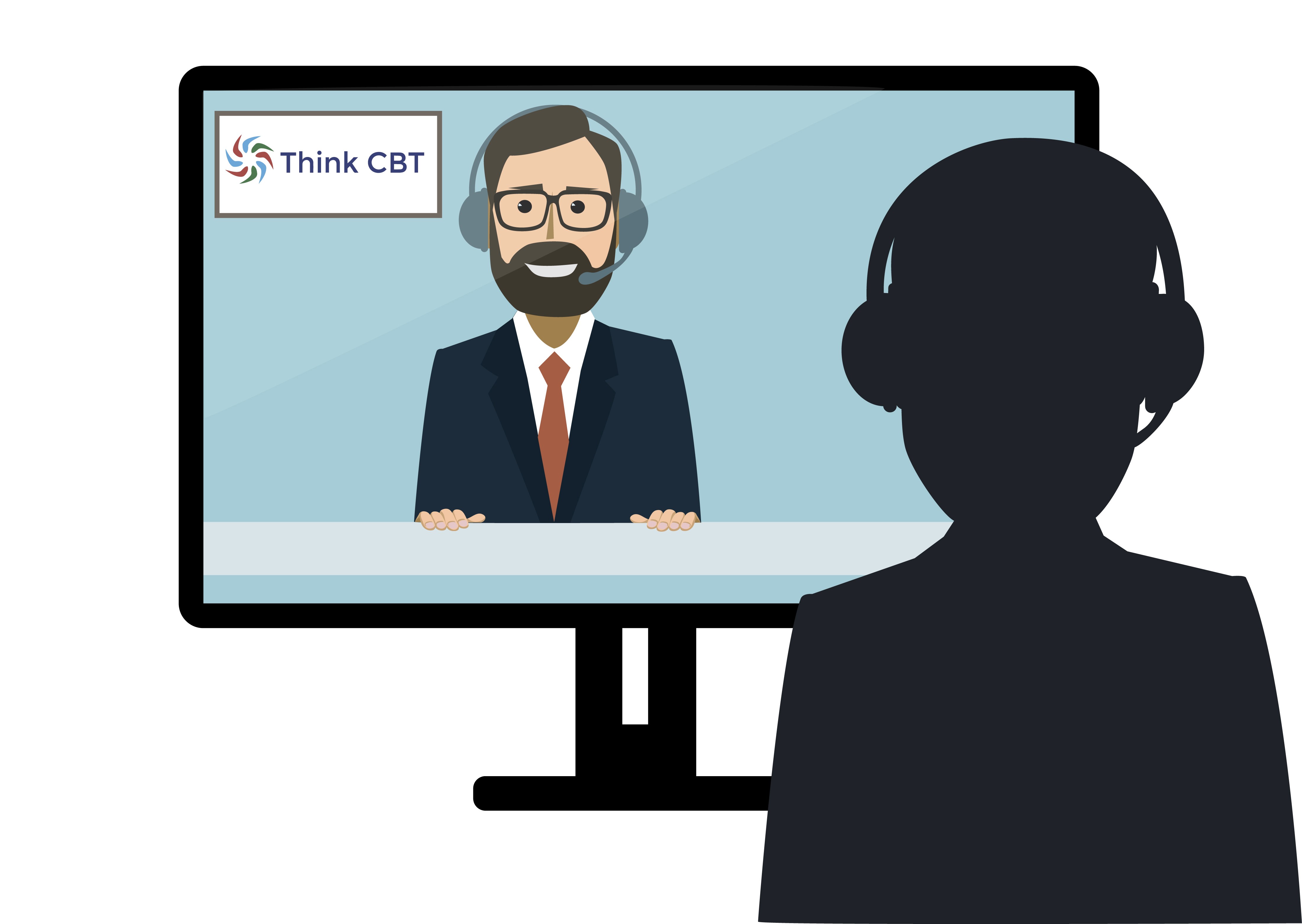 Our Cognitive Behavioural Coaching sessions are typically delivered over 60-minute appointments and depending on location are usually managed via video link. We can also provide face-to-face coaching sessions from our consulting rooms in London. To find out more about how online coaching works, email info@thinkcbt.com
If you would like to talk to us about organising an exploratory session, email info@thinkcbt.com or complete the simple contact form on this page.
Our Psychological Coaching Team
We have a core team of psychological coaches who have completed advanced psychological training, have qualified as performance / executive coaches and have direct work experience in real world senior roles.
Our team is jointly led by William Phillips and Dr Lee Jones.
William has significant senior leadership experience across a number of organisations in the public and private sector. He is a qualified performance coach, a Chartered Fellow of the CIPD and a BABCP accredited Cognitive Behavioural Psychotherapist. William works on an integrated basis and is valued for his ability to think creatively and his straight talking approach with clients.
Dr Lee Jones is a qualified executive coach and a Chartered Occupational Psychologist. Lee has a wealth of experience across a number of public and private sector businesses and has specialised in talent assessment and development. Lee started her career as a nurse in the NHS and caries her capacity for combining good common sense with a warm and compassionate approach.
William and Lee tend to work together in formulating and developing coaching interventions. This means that our clients receive expert input from two specialists. The coaching relationship itself is managed on a dedicated one-to-one relationship to build rapport and trust.
To book an exploratory consultation with Lee or William, email info@thinkcbt.com
Charges for Psychological Coaching
The Costs of psychological and well-being coaching will vary depending on the nature, length and frequency of coaching sessions. The standard hourly consultation rate is £150 per hour. This reflects good value for money in a market where so many individuals offering coaching have no formal psychological or clinical training or limited professional experience. Psychological and well-being Coaching is a specialist activity that requires extensive training and significant psychological experience.
The Perfection-Performance Paradox
It's not unusual for senior executives to demonstrate perfectionistic patterns of thinking and behaviour. Perfectionism is frequently misunderstood to mean a focus on precision and exactitude. Whilst these factors can certainly crop up as a reaction to high levels of pressure and stress, perfectionism is actually a psychological intolerance of failure or disappointment.
Perfectionistic behaviour is therefore linked to high levels of control focused on avoiding error, perceived inadequacy or failure. It's a regressive perspective that paradoxically limits psychological flexibility, creativity and performance.
Perfectionism is a negatively polarised state. It's about avoiding what we can't tolerate over truly embracing what we aspire to. When we have balance and perspective, our tolerance of ambiguity, uncertainty and the risk-opportunity ratio is high. When our normal psychological coping mechanisms break down, perfectionistic behaviour can be activated and our focus can shift to control.
The
Dialectical Model
There is a high performance formula that runs like a stick of rock theme through top performing individuals in the business, political, sporting and performing arts fields. This can be commonly identified in top seeded tennis players, successful executives and the most prolific in the creative and performing arts. This formula is conceptually straight forward, whilst simultaneously presenting a counterintuitive or paradoxical perspective.

So what does this actually mean in practice?
High performance involves simultaneously holding two seemingly contradictory or paradoxical perspectives. A focus on achieving the very best whilst also accepting the possibility of failure, increases creativity and engagement without materially increasing the potential for uncontrolled risk or loss.
The willingness to accept the possibility of our own fallibility doesn't make us more prone to failure or incompetence. It actually frees up mental bandwidth to focus on achieving what we want. By acknowledging that some things are out of our control and subject to unpredictability or uncertainty, we shift our attention to our aspirations rather than loss aversion. WE focus on getting what we want, rather than avoiding what we don't want. It's the willingness to hold these two opposing ideas at the same time that promotes high performance and well-being.
What is the neuro-science Behind this idea?
This isn't just an ethereal psychological concept. When we are in perfectionistic mode, we activate those parts of our central nervous system and biology (the Limbic system and cortisol/ adrenaline functions) that are designed to deal with threat and protect functions. This involves what is commonly referred to as the flight, fight and freeze response.
When we are in dialectical mode, by acknowledging the possibility of loss, we shift our focus to the creative aspects of achievement. This activates our prefrontal brain which manages our language centres and complex analytical and judgement functions. Biological processes are activated involving the superior polyvagal network which shifts tous to high connection and engagement – feeling engaged, present and socially safe in our environment.
To find out more about our approach to coaching or to talk to a member of our professional coaching team, call +44 1732808626 or email info@thinkcbt.com