CBT Appointments in London, Sevenoaks and Kent
Making your initial appointment can often be the hardest step to take, but its always the first step towards change and recovery. We offer a simple, fast and transparent service, which means you can make an appointment with a BABCP Accredited Cognitive Behavioural Psychotherapist in three main ways:
Call us now on 01732 808 626
Email us at

info@thinkcbt.com
All appointment requests are followed up immediately and you should normally expect your first appointment within a few days of contacting us. We will provide written confirmation of your appointment, together with an induction pack and a free initial telephone consultation.
Why Book An Appointment With Think CBT?
Think CBT is a professional team of fully qualified BABCP psychotherapists, BACP Counsellors and HPC registered Psychologists. We also have extensive experience within the NHS and private practice, providing our clients with access to leading edge approaches and excellent customer service.
This Is What We Offer
Immediate access to CBT without the frustrating waiting times.

Only providing fully qualified BABCP Accredited CBT experts, rather than trainees or unqualified counsellors.

Delivering treatment over extended sessions, at times to suit the client and with the flexibility of evening and weekend appointments.

Free on-line resources and psychological assessments.

Producing a free therapy report and lapse prevention plan at the end of therapy.

Confidential access and follow-up to your dedicated psychotherapist following the completion of therapy.
Cognitive Behavioural Therapy Fees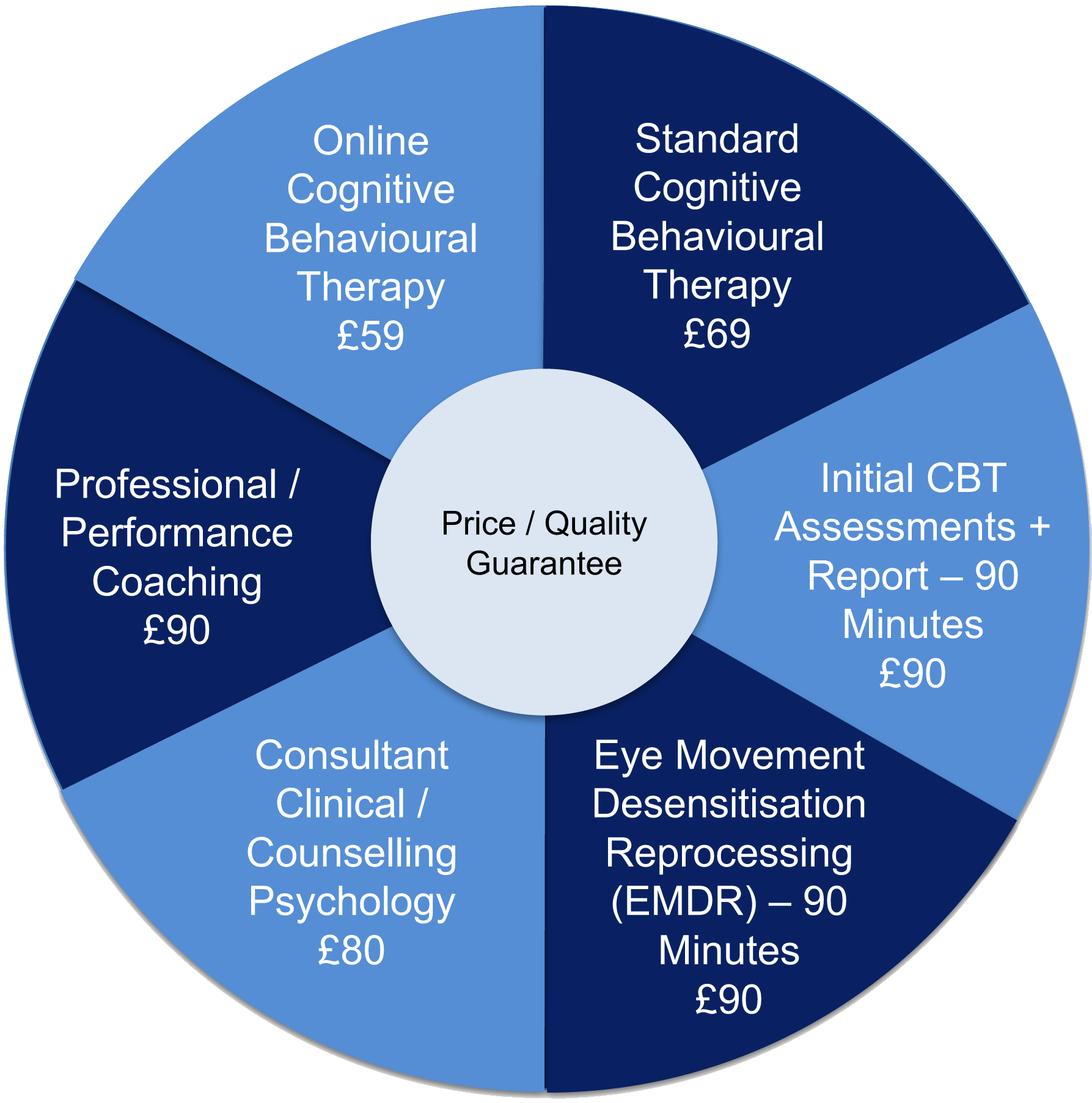 We charge our clients according to commercially ethical principles. This means we offer a simple, transparent and highly competitive pricing plan. We aim to offer the lowest cost BABCP Accredited Cognitive Behavioural Therapy in our practice areas, without compromising on quality or expertise. Our charges are typically £30-£60 lower than other reputable private CBT providers. this can equate to over £700 based on a typical twelve session therapy plan. Compare our prices and service commitments before booking therapy with other accredited CBT providers. We also work with all of the major insurance companies, offer occupational rehabilitation services and are registered on the NHS providers directory. Please note that an additional premium of £10.00 will be applied for later evening appointments requested after 17:30. This is to cover out of hours room and administrative costs.
Discounts
A discounted rate of £59 per session is available, where 8 Cognitive Behavioural Therapy sessions are booked and paid for in advance. These sessions are offered on a discretionary basis and may require some time flexibility. This discount is also available to clients experiencing financial hardship.
If you want to talk confidentially about low cost CBT or counselling, please contact us by clicking here.
You can pay for your appointment securely here by using paypal. You can also buy vouchers for a family member or friend. Once payment is received, we will confirm your appointment on request.
Cancellations
Cancellations must be made with a minimum of two working days notice. Cancellations made with less than two days notice, will be charged at 50% of the session fee. Cancellations made on the same day as the booked appointment, will be charged at the full session rate.
Recommend Us
If you recommend us to a friend, colleague or family member we will provide you with a £25.00 voucher to be offset against the costs of therapy with Think CBT. We will also offer the new client a 25% reduction for their first session.
All discounts are subject to confirmed bookings.
Pre-Assessment Form
You can complete this simple online form and submit information to your therapist before attending your first appointment. You should normally only complete this form once an appointment has been provisionally organised for you. The information you provide will help prepare for your initial assessment and ensure that time is used efficiently. If you have any questions about this form, please email info@thinkcbt.com
Think CBT is committed to providing access to affordable independent Cognitive Behavioural Therapy. Our aim is to support tangible improvements in the psychological health and well being of our clients, contributing to better lives worth changing for.

There are many psychotherapists and counsellors offering cognitive behavioural therapy. Always ensure that your therapist is professionally accredited with the British Association of Behavioural and Cognitive Psychotherapy (BABCP).
Cognitive Behavioural Therapy (CBT) in Sevenoaks Kent | Psychotherapy and Counselling in London SE1 | CBT in Westerham and Tumbridge Wells | Counselling and Psychotherapy in Folkestone and Canterbury | Cognitive Behaviour Therapy in Maidstone and Kingshill Kent | CBT and Counselling across Surrey and Sussex.