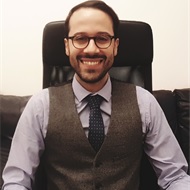 Psychologist & CBT Therapist
HCPC, BABCP, IPTUK, BSc (Hons), MSc (Hons), PGDip (CBT)
Book Appointment
Current Availability
Weekly appointments available on Thursday at: 10:00-11:00 11:30-12:30
Locations
London N17
Professional Profile
My name is Giuliano and I am a HCPC registered Clinical, Counselling and Forensic Psychologist, a BABCP accredited Cognitive Behavioural Therapist (CBT) and an IPTUK accredited Interpersonal Psychotherapist (IPT). I currently provide online treatment via video conferencing.
I have been training and working in the fields of psychology and psychotherapy for more than fifteen years, and I have professional experience in a variety of clinical settings and in different countries.
Since 2017 I have been working as a psychotherapist, with a particular focus on the treatment of depression, anxiety, OCD, trauma, low self-esteem and interpersonal difficulties.
From 2018 I have been working - as a psychotherapist and as a clinical psychologist - in the NHS, in three different Trusts. This has given me the opportunity to work on a daily basis with adults experiencing anxiety and mood related problems for which CBT and IPT have demonstrated to be clinically effective.
I strongly believe in change and in the fact that people can make positive steps towards their personal and relational growth and their emotional wellbeing. As a therapist, I feel honoured to have the chance to support in this delicate process.
My diverse professional roles have allowed me to appreciate the difficulties people may face in sharing negative emotions and difficult aspects of their lives. This valuable experience has given me the skills to work with evidence-based therapeutic techniques whilst building a therapeutic alliance based on trust, collaboration and human values.
My main goal as a therapist is to support my clients to build on their strengths to overcome emotional difficulties and life challenges, and to help them become their own therapist by learning skills and techniques that they can continue to practise after treatment.
Specialisms
Anger
Body Dysmorphic Disorder
Body Focused Repetitive Behaviours
Chronic Pain
Claustrophobia
Depression
Emetophobia
Generalised Anxiety Disorder
Grief / Bereavement
Health Anxiety
Low Self-esteem
OCD
Panic Disorder
Perinatal Depression
Personality Disorders
Relationship Problems
Sleep Problems
Social Anxiety / Phobia
Specific Phobias
Trauma / PTSD
Work Related Stress
Therapies Offered
Clinical Psychology
Cognitive Behavioural Therapy
Counselling Psychology
Interpersonal Therapy
Accepted Payment Methods
Bank Transfer
Aviva
AXA
Professional / Legal Funding
Reserve an Appointment With Giuliano Sorrentino
Exact location provided on booking confirmation