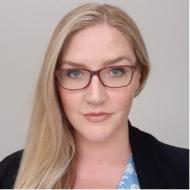 Cognitive Behavioural Therapist
MSc (CBT), PGDip (CBT), BABCP (Acced)
This therapist has no current availability. For help identifying another therapist, please follow this link, call +44 1732 80862 or email info@thinkcbt.com
Current Availability
I do not currently have any availability but please do check back as this often changes. Many thanks
Locations
Lincoln LN6
Professional Profile
My name is Rachael and I am a fully qualified, BABCP accredited, Cognitive Behavioural Psychotherapist and Clinical Supervisor, working with Think CBT online, via video-link from my consulting rooms in Lincoln.
I hold a Post-Graduate Diploma in High Intensity CBT and a Masters Degree in CBT specialising in trauma-informed work. I am also trained in EMDR. I have over 10 years experience working with both children and adults experiencing both common and severe mental health problems and have a passion for empowering individuals to overcome their mental health struggles.
I offer CBT for various anxiety disorders and depression. I currently work both privately and for a large NHS Trust offering treatments for PTSD/Trauma, Social Anxiety, Eating Disorders, Agoraphobia, Specific Phobias, Generalised Anxiety, OCD, Panic Disorder, Low Self-Esteem, Perfectionism and Depression.
I also hold a Post Graduate Senior Lecturing post in CBT and deliver bespoke corporate training.
CBT is a very empowering therapy which can enable you to become 'unstuck' from your current ways of thinking and unhelpful behaviours. We will work together to aid your understanding of your specific issues and help to break the vicious cycles that often leave people feeling trapped. We will look at what coping strategies and new ways of thinking will enable you to live a more fulfilled and meaningful life.
I pride myself on my straight talking, direct yet warm and compassionate approach and provide a safe and confidential space to explore whatever difficulties you feel are holding you back.
I provide evidence-based treatments, in line with NICE guidelines. I adhere to the strict code of ethics by the British Association of Behavioural and Cognitive Psychotherapies (BABCP) and have regular clinical supervision and training, as part of my commitment to clients.
I believe that everyone should be treated as an individual and take a 'whole-person' approach when treating any of my clients. This means recognising clients are not defined by their struggles and providing them with the compassion and support to feel better. We can look together at what triggered these difficulties, including any past events, and work to better understand how these difficulties are maintained. We can then look at what strategies will be best paced to implement to aid recovery
Contact me to arrange a free no obligation chat about how we could work together on what you are struggling with and any questions you might have about CBT in general. It is vital for you to feel understood from the very beginning and to feel your therapist is a good fit for you. It's an important decision and one which needs to feel right for you. I look forward to meeting you.
Rachael
Specialisms
ADHD
Abuse
Anger
Body Dysmorphic Disorder
Claustrophobia
Covid Recovery
Depression
Eating Disorders
Emetophobia
Generalised Anxiety Disorder
Health Anxiety
Low Self-esteem
OCD
Panic Disorder
Perinatal Depression
Sleep Problems
Social Anxiety / Phobia
Specific Phobias
Trauma / PTSD
Work Related Stress
Therapies Offered
Behavioural Activation
CBT-E
Cognitive Behavioural Therapy
Dialectical Behaviour Therapy
EMDR
Exposure Response and Prevention
Trauma Focused Cognitive Therapy
Accepted Payment Methods
Bank Transfer
Organisational Funding
Professional / Legal Funding
Reserve an Appointment With Rachael Matharoo
This therapist has no current availability. For help identifying another therapist, please follow this link, call +44 1732 80862 or email info@thinkcbt.com
Exact location provided on booking confirmation