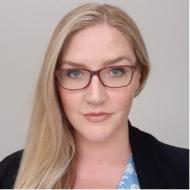 Cognitive Behavioural Therapist
PGDip (CBT), BABCP (Acced)
This therapist has no current availability. For help identifying another therapist, please follow this link, call +44 1732 80862 or email info@thinkcbt.com
Current Availability
I do not currently have any availability but please do check back as this changes frequently. Thank you
Locations
Gainsborough, Lincolnshire, DN21 2NA
Professional Profile
My name is Rachael and I am a fully qualified, BABCP accredited Cognitive Behavioural Psychotherapist working with Think CBT online via video-link from my consulting rooms in Lincolnshire.
I offer Cognitive Behavioural Psychotherapy for anxiety disorders and depression. I currently work both privately and for a large NHS Trust offering treatments for PTSD/Trauma, Social Anxiety, Agoraphobia, Specific Phobias, Generalised Anxiety, OCD, Panic Disorder, Low Self-Esteem, Perfectionism, Eating Disorders and Depression.
Having worked in mental health for over 10 years in both Primary and Secondary Care, I have lots of experience helping people overcome difficulties with their mood and anxiety.
CBT is a very empowering therapy which can enable you to become 'unstuck' from your current ways of thinking and unhelpful behaviours. We will work together to aid your understanding of your specific issues and help to break the vicious cycle. We will look at what strategies and new ways of thinking will enable you to live a more fulfilled and meaningful life.
I pride myself on my straight talking, direct yet warm and empathic approach and provide a safe and confidential space to explore whatever difficulties you feel are holding you back.
Contact me to arrange a free no obligation chat about how we could work together on what you are struggling with and any questions you might have about CBT in general. It is vital for you to feel understood from the get-go and to feel your therapist is a good fit for you. It's an important decision and one which needs to feel right for you. I look forward to meeting you.
Rachael
Specialisms
Abuse
Depression
Emetophobia
OCD
Panic Disorder
Social Anxiety / Phobia
Specific Phobias
Work Related Stress
Therapies Offered
Cognitive Behavioural Therapy
Accepted Payment Methods
Bank Transfer
Organisational Funding
Reserve an Appointment With Rachael Matharoo
This therapist has no current availability. For help identifying another therapist, please follow this link, call +44 1732 80862 or email info@thinkcbt.com