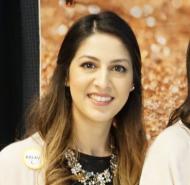 Current Availability
I currently have availability on wednesdays , Thursdays and fridays between 9-5.
Locations
Stourbridge, DY7
Professional Profile
My name is Kelly (preferred name) I am a fully qualified and BABCP- accredited CBT therapist working with Think CBT from Stourbridge.
I am a professional CBT therapist with over 10 years experience working with people struggling with a range of difficulties such as anxiety, depression, OCD, social anxiety, PTSD, phobias and panic. I have a passion to help people to be able to recognise patterns of behaviour, be aware of their thoughts and feelings and to implement changes to achieve their goals.
I abide by the policies and ethical standards laid down by the BABCP and I have full professional indemnity to work as a therapist in the UK.
If you want to book an appointment, please click on the blue book appointment button adjacent to my profile picture. I will call you to discuss therapy options before confirming your first therapy appointment.
Specialisms
Body Dysmorphic Disorder
Body Focused Repetitive Behaviours
Depression
Emetophobia
Generalised Anxiety Disorder
Health Anxiety
Hoarding Disorder
Low Self-esteem
OCD
Panic Disorder
Social Anxiety / Phobia
Specific Phobias
Trauma / PTSD
Work Related Stress
Therapies Offered
Acceptance and Commitment Therapy
Behavioural Activation
Cognitive Behavioural Therapy
Accepted Payment Methods
Bank Transfer
Organisational Funding
Professional / Legal Funding
Reserve an Appointment With Kelly Chumber
Exact location provided on booking confirmation