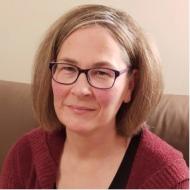 Current Availability
I currently have the following availability: Tuesday 8am, 12pm or 3.45pm
Locations
Canterbury, CT1
Professional Profile
My name is Sarah and I am a fully qualified and BABCP accredited Cognitive Behavioural Psychotherapist working with Think CBT online.
Some people identify as having been worriers all their lives, but for others anxiety can appear out of the blue as a totally new experience, with no sense of where it's come from. Whichever camp you fall into, you're probably finding that in one way or another it's starting to feel like anxiety is in the driving seat and you've not got much say on where it's taking you – it's really starting to get into the way of you being able to live your life to the full.
If this is sounding familiar, then I can support and help you to learn to manage not only the anxiety but the multitude of other feelings that can bring discomfort and overwhelm on a daily basis. I understand the importance of looking at the big picture to help you start claiming your life back with a sustainable plan that is individualised to you.
My accredited status means you can be confident that I continue to demonstrate that I am meeting the highest standards of training and experience that enable me to support you effectively.
My work is heavily influenced by Acceptance & Commitment Therapy and Compassion Focused approaches, and I have also undertaken additional training to work with people with long term health conditions which further enables me to individualise your treatment.
I offer all of my sessions remotely via video call - client feedback tells me that this provides increased flexibility and removes the burdens of travel time to and from sessions.
Specialisms
Anger
Chronic Pain
Claustrophobia
Covid Recovery
Depression
Generalised Anxiety Disorder
Health Anxiety
Low Self-esteem
OCD
Panic Disorder
Social Anxiety / Phobia
Specific Phobias
Work Related Stress
Therapies Offered
Acceptance and Commitment Therapy
Behavioural Activation
Cognitive Behavioural Therapy
Exposure Response and Prevention
Accepted Payment Methods
Reserve an Appointment With Sarah Cosway
Exact location provided on booking confirmation