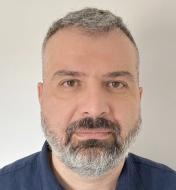 Current Availability
Currently I have availability of one slot on Saturday. Online appointments only.
Locations
London, N11
Professional Profile
My name is Theodoros, I am a fully qualified and BABCP-accredited CBT therapist working with Think CBT from London, N11. 
I am a qualified and accredited CBT Psychotherapist, currently working for Haringey IAPT Service (Whittington Hospital) and for Xyla Digital Therapies.
I offer high quality CBT therapy to the population that is supported by the IAPT services. I work across a full range of clinical needs, supporting people with depression, anxiety disorders, phobias and PTSD. I offer therapy in Greek and Italian language. 
I am currently training as a mindfulness-based cognitive therapy teacher. I am also in the process of completing my registration as a Clinical Psychologist with HCPC.
I have worked as a qualified psychologist in Greece and as an assistant psychologist in the UK in various posts within the NHS. I have worked in Crisis Services, Mental Health Wards and Community Services and gained valuable experience supporting people with complex and enduring clinical presentations.
I attended special training and have practised under supervision with various third wave therapeutic approaches such as Acceptance and Commitment Therapy, Dialectical Behavioural Therapy and Mindfulness-Based therapies.
I abide by the policies and ethical standards laid down by the BABCP and I have full professional indemnity to work as a therapist in the UK.
If you want to book an appointment, please click on the blue book appointment button adjacent to my profile picture. I will call you to discuss therapy options before confirming your first therapy appointment.
Specialisms
Low Self-esteem
Personality Disorders
Therapies Offered
Acceptance and Commitment Therapy
Cognitive Behavioural Therapy
Accepted Payment Methods
Reserve an Appointment With Theodoros Messaritakis
Exact location provided on booking confirmation