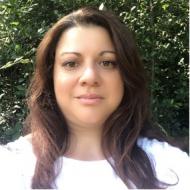 Current Availability
I have availability for 1 new NHS referral
Locations
London, N21
Professional Profile
My name is Mina and I am a fully qualified and BABCP accredited Cognitive Behavioural Psychotherapist working with Think CBT from my consulting rooms in London, N21.
I also provide online Cognitive Behavioural Therapy and CBT supervision to other therapists via telephone and video link.
I have undertaken training in a number of different CBT approaches including Acceptance and Commitment Therapy (ACT), Dialectical Behaviour Therapy (DBT) and Trauma Focused Cognitive Therapy (TFCT) for complex trauma.
Working within the NHS and in private practice, I have gained comprehensive experience with a wide range of common mental health problems as well as severe mental illness and transdiagnostic symptoms such as anger and emotion regulation problems.
My specialist areas of interest include OCD, emotion regulation, depression, trauma and phobias.
My approach to therapy is evidence based, drawing on a wide range of psychological strategies, where there is research data and a strong body of supporting evidence.
My commitment as a therapist is to help clients reach their goals in treatment by offering them the tools that they need to manage their difficulties. I am driven by the collaborative and idiosyncratic understanding of the person's difficulties. I make sure confidentiality is ensured and the aim in every therapy is to make the person their own CBT therapist.
I am an Accredited member of the British Association of Behavioural and Cognitive Psychotherapy (BABCP). This means that I have achieved the established UK gold standard in the practice of CBT.
Specialisms
Anger
Autism Spectrum Disorder
Body Focused Repetitive Behaviours
Depression
Emetophobia
Generalised Anxiety Disorder
Health Anxiety
OCD
Panic Disorder
Personality Disorders
Social Anxiety / Phobia
Specific Phobias
Trauma / PTSD
Work Related Stress
Therapies Offered
Acceptance and Commitment Therapy
Cognitive Behavioural Therapy
Dialectical Behaviour Therapy
Accepted Payment Methods
Bank Transfer
Organisational Funding
Professional / Legal Funding
Reserve an Appointment With Mina Spatha
Exact location provided on booking confirmation