CBT Treatment for Relationship OCD - R-OCD in Sevenoaks, London & UK-wide Via Video Link
Experiencing continuous doubt in relationships is not always a sign that something is wrong with the relationship itself. Relationship OCD (R-OCD) can provide an explanation for feelings of intense anxiety, insecurity, guilt and depression. These feelings are often maintained by patterns of self-doubt, continuous questioning or comparing, reassurance seeking, emotional withdrawal, avoidance of intimacy or close physical contact. Consistent with other forms of OCD, relationship OCD involves perfectionism, high responsibility bias and an intolerance of uncertainty.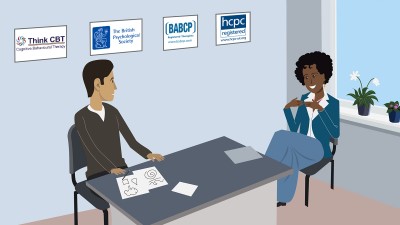 If yo believe that there is a link to other control or obsessional patterns of behaviour, you can organise a brief informal consultation with a CBT expert to talk about Cognitive Behavioural Therapy for relationship OCD. Our main clinics are in London in Sevenoaks and we have consultation rooms in over 100 locations across the UK. we also provide online CBT via video link across the UK.
What is Relationship OCD?
Relationship OCD is a specific sub-type of OCD where the individual becomes consumed with intrusive thoughts and obsessional thoughts and continuous doubts about their relationship.
This involves questioning their attraction, compatibility, feelings and love for their partner. It can also involve obsessional doubts about their partner's love and commitment to the relationship. These doubts and obsessional thoughts can lead to relationship distress for both partners and result in cycles of rejection, avoidance, intensity and ambivalence. This can become so distressing that the sufferer chooses to end the relationship over tolerating the pain and fear of uncertainty; preferring to feel in control of what they don't want rather than feeling out of control of what they do want.
Whilst R-OCD symptoms often occur alongside other OCD related behaviours including obsessional thoughts and repetitive checking behaviours, it can also appear as the primary manifestation of OCD related problems.
Common R-OCD Patterns
The following list does not provide a definitive diagnosis of R-OCD, however it may help to identify underlying thoughts and patterns of behaviour that can be explored further with a qualified Cognitive Behavioural Psychotherapist.
Testing and questioning your level of attraction to your own partner by seeing if you are more attracted to or excited by other people including friends, exes, strangers or celebrities.

Continuously thinking about your partner's physical imperfections, idiosyncrasies or habits. E.g. examining facial features, body size or shape, the way they speak or other minor characteristics.

Constantly picking at your partner's personality. E.g. whether they are interesting enough, funny enough, smart enough or passionate about the same issues.

Engaging in endless attempts to measure or quantify how much in love you feel with your partner; constantly questioning and thinking about your feelings of passion, intensity and excitement.

A reluctance or resistance to commit to the next step in your relationship because you are so focused on possible flaws or what is missing in the relationship.

Constant feelings of uncertainty about whether or not you are in the "right" relationship and whether there might be someone else better for you.

Continuously seeking reassurance or validation by comparing your relationship to other relationships; often involving asking friends / family, checking on the internet or reading about celebrity or famous couples.

Comparing your relationship to a previous relationship and questioning whether it's less meaningful or exciting.

Constantly seeking reassurance from your partner and other people that you have made the right choice in committing to the relationship.

Avoiding romantic movies or material that brings up doubts about your own relationship.

Worrying about sex or experiencing anxiety about the possible lack of intensity or intimacy.

Worrying about whether you will let your partner down or cheat with another person.

Worrying that if you commit to the relationship, your partner will let you down, leave or cheat on you.
Whilst many of the above points are also found in healthy committed relationships, the focus, intensity and duration of these thoughts are significantly higher in R-OCD. People who experience R-OCD report obsessional relationship doubts and intense distress about whether their relationship is right. This doubt and distress overshadows the relationship and often leads to the confusion, insecurity, withdrawal or rejection that the sufferer fears.
R-OCD is not about genuine feelings or commitment to the relationship. It is a tendency to get intensely caught up in negative thoughts about uncertainty and to engage in questioning or checking behaviours in an attempt to stop or resolve the doubt.
If left untreated, this intense and automatic pattern of questioning, doubting, checking and comparing, undermines the relationship and leads to the insecurity, conflict and instability that the R-OCD sufferer fears.
How is R-OCD Treated?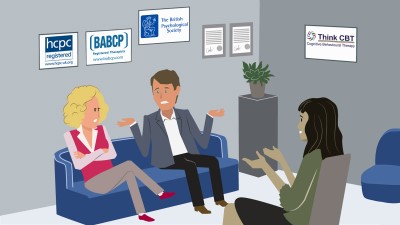 The most effective treatment for R-OCD, like other forms of OCD is Cognitive Behavioural Therapy (CBT). A specific form of CBT known as Acceptance and Commitment Therapy (ACT) has also been found to be highly effective in helping people to defuse from negative thoughts and feelings about their relationship.
Treatment involves using CBT / ACT to interrupt, de-escalate and normalise the patterns of negative thinking and behaviour that maintain relationship uncertainty.
The client is taught how to defuse from negative thoughts, acknowledge and tolerate relationship uncertainty, to suspend or alter their checking / testing behaviours and to commit to acting in accordance with their values and relationship goals.
Like all forms of OCD, Relationship OCD involves learning how to make the negative thoughts about self-doubt, insecurity or uncertainty less relevant. Clients learn that having a negative thought about their partner, does not mean that they must act on the thought to resolve or avoid feelings of uncertainty; this involves shifting the question from "How can I know that it's not wrong", to "What am I willing to commit to in the face of these feelings".
R-OCD involves a problematic relationship with thoughts, that can lead to an insecure relationship with partners. The solution involves changing the underlying pattern of thinking, rather than abandoning or changing the relationship itself.
Members of Our Team Specialising in Relationship OCD
To find out more about R-OCD or to talk to a BABCP accredited Cognitive Behavioural Psychotherapist about treatment options, contact info@thinkcbt.com.
Think CBT is committed to providing access to affordable independent Cognitive Behavioural Therapy. Our aim is to support tangible improvements in the psychological health and well being of our clients, contributing to better lives worth changing for.