Cognitive Behavioural Therapy in London, UK-wide and Online via video-link
We provide fast and effective Cognitive Behavioural Therapy from our clinics in London. You can also organise CBT with one of our therapists operating across the UK and online. CBT is the recommended treatment of choice for depression and a wide range of anxiety conditions and the research evidence shows that it works. To talk to a CBT expert about treatment for anxiety or low mood, call 01732 808626 or email info@thinkcbt.com.
What is Cognitive Behavioural Therapy (CBT)
Cognitive Behavioural Therapy (CBT) is a practical problem solving approach to managing a wide range of psychological, emotional and behavioural problems. Unlike some of the reflective and passive approaches to counselling, CBT provides a highly structured psychological process for identifying, understanding and altering the links between negative thinking, unhelpful behaviours, emotional responses and physiological reactions.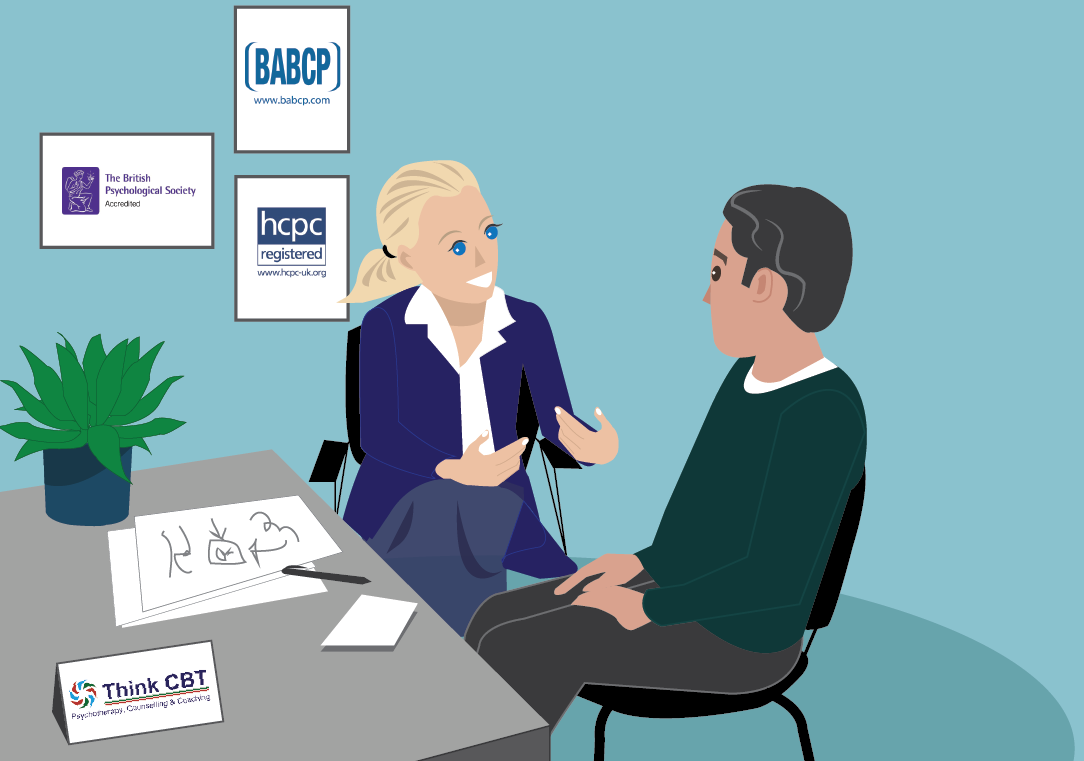 CBT combines a wide range of evidence based psychological techniques from the fields of Cognitive Therapy and Behavioural Therapy. The approach was first developed over the 1950s and 1960s and has been consistently supported by a sound body of research evidence that demonstrates its effectiveness in treating problems including – Anxiety, Panic Disorder, Social Phobia, Post-Traumatic Stress Disorder, (PTSD) Obsessive Compulsive Disorder (OCD), phobias, Health Anxiety, Psychogenic Pain, Low Self Esteem and Depression.
CBT offers more than a conceptual model for understanding and interpreting the problem. In addition to the miriad of research trials demonstrating the effectivness of CBT, there is published neurological research that demonstrates how CBT can directly change the architectural and functional aspects of the brain.
Over the last twenty years, CBT techniques have been developed to embrace a number of "third-wave" models including Mindfulness Based Cognitive Therapy (MBCT), Compassion Focused Therapy (CFT), Acceptance and Commitment Therapy (ACT) and Dialectical Behaviour Therapy (DBT).
In mainstream CBT the emphasis is placed on identifying, testing and changing negative or irrational cognitive and behavioural patterns, whereas third-wave CBT approaches focus more on altering the individual's relationship with these patterns to reduce tention and emotional distress.
Experienced CBT practicioners are able to draw on and integrate techniques from the different CBT approaches to best meet the needs of the client, however some clients may express a particular interest in a specific CBT approach.
Whichever approach or combination of CBT techniques is selected, the Psychotherapist and client work together on a collaborative basis. Goals are agreed at the beginning of the process, a therapy plan is developed and treatment sessions are usually supported by practical CBT assignments.
CBT is generally short-term, typically lasting between six and twenty sessions. The approach draws on issues from the past where this is relevant, however the primary focus tends to be on problem solving in the hear and now and building resilience for the future.
How CBT Works
CBT works by identifying and altering the causal links between our thoughts, emotions, behaviours and physiological sensations. This is because the way we think about and react to difficult or challenging situations, profoundly affects how we feel emotionally and physically. These connections between thinking, behaviours, emotions and physiological sensations have an underlying neurological basis.
CBT is predicated on the basis that we can't always control what happens in life, but we can significantly influence the way we view, make sense of and react to the problem. For example, negatively misinterpreting physical anxiety sensations, can sometimes lead people to think that they are going to choke, have a heart attack or lose control. This creates a vicious cycle, in which anxiety levels suddenly increase and the physical sensations become more pronounced. Where this vicious cycle of increased anxiety, physical reactions and catastrophic thinking continues, a panic attack can occur. The following simple diagram illustrates how the relationship between anxiety, bodily sensations and negative thoughts, can result in a panic attack: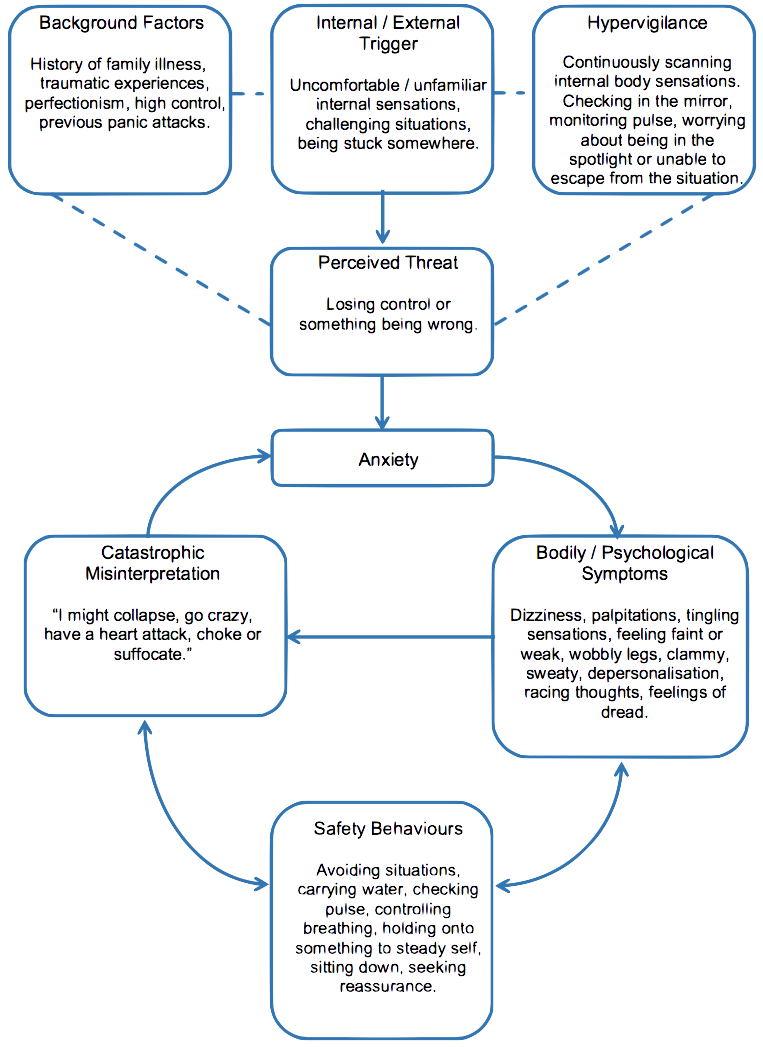 In the above example, CBT works by interrupting the vicious cycle. This is done by testing and altering the thoughts and behaviours that lead to a panic attack. The Cognitive Behavioural Psychotherapist works jointly with the client to identify and test more adaptive and rational ways of interpreting and reacting to the problem. As these changes are tested and applied, the client's beliefs about anxiety symptoms change, anxiety levels fall and panic attacks stop.
Standards Of Practice
At Think CBT we draw on leading edge techniques and protocols for the treatment of a wide range of psychological, emotional and behavioural problems. Our approach is based on best practice, published research and guidelines issued by the National Institute of Health and Clinical Excellence (NICE). Our Psychotherapists are all fully qualified and professionally accredited by the British Association of Behavioural and Cognitive Psychotherapy (BABCP). The BABCP set the gold standard for the practice of CBT and only accredit those clinicians who have demonstrated rigorous standards of excellence in the theory and practice of Cognitive Behavioural Therapy. There are many counsellors and therapists offering CBT. Always ensure that your therapist is fully qualified and accredited by the BABCP, to help ensure that you are working with a Cognitive Behavioural Therapy expert.
How The Cognitive Behavioural Therapy Process is Applied
CBT provides a short-term, goal focused and highly structured approach to therapeutic assessment, recovery and resilience. At Think CBT we use the "ASPIRE" model to organise the CBT process over the following six steps: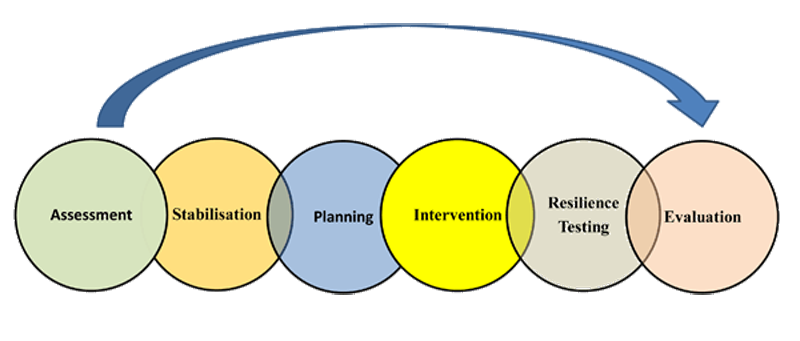 The process of therapeutic change is managed over six key phases. Whilst this Provides a general sequential basis for organising therapy, the process is iterative and responsive to the specific needs of the client.
Assessment - This involves an assessment of the presenting problem, how the problem negatively influences thoughts, emotions, behaviours and physical sensations, the factors that trigger and maintain the problem, the things that make it better or worse, ideas on what originally caused the problem, any relevant medical or psychological history and a formulation or "blueprint" of how the problem operates. The formulation provides the basis for planning and selecting the right treatment and the identification of goals for therapy.
Stabilisation - This involves identifying and teaching general CBT techniques for re-establishing sufficient personal stability, confidence and clarity to fully engage in the broader CBT change process. This may involve some psycho education on the causes of the distress, relaxation or mindfulness exercises, some early modelling or mini-experiments to provide an initial breakthrough. Care is always taken to avoid strengthening any unhelpful safety or avoidance behaviours. Feedback from this phase is incorporated into the formulation of the problem and the identification of SMART goals.
Planning - This involves identifying, selecting and sequencing the right cognitive and behavioural techniques to tackle the different aspects of the problem as identified in the initial formulation. The different options are jointly reviewed by the therapist and the client and a treatment plan is collaboratively agreed. This includes CBT interventions to be used in sessions, between session assignments and the overall timescales for therapy.
Interventions - This is the main treatment phase of the CBT process. Most approaches involve a combination of cognitive (thinking) and behavioural (doing) change methods. Typical interventions include verbal, written, marginal, problem solving, role play, acting-out experiments, and gradual exposure exercises. A large part of this phase of the process is dedicated to applying what is learnt in the session, to the clients real life situations. The techniques used are always safe and relevant to the problem.
Resilience Testing - The purpose of this phase is to check that the client can effectively transfer their learning to their everyday life, maintaining a realistic and resilient perspective when placed in difficult or unexpected situations. A Lapse prevention document is built up using all of the key learning points from the CBT process and this provides a contingency plan to prepare for any future negative or unexpected problems.
Evaluation - The purpose of this phase is to undertake a final end of process evaluation, providing valuable feedback for both therapist and client alike. Although the final evaluation is conducted at the end of CBT, regular feedback is used throughout each phase of the CBT process to maintain focus, ensure a good working relationship and improve the relevance and effectiveness of the approaches used. The final evaluation usually involves some written feedback to maintain objectivity.
You can download a copy of the Think CBT ASPIRE Model by clicking here. You can also find out more about our approach to CBT or book a free telephone consultation by completing the simple contact form on this page.
Think CBT is committed to providing access to affordable independent Cognitive Behavioural Therapy. Our aim is to support tangible improvements in the psychological health and well being of our clients, contributing to better lives worth changing for.

There are many psychotherapists and counsellors offering cognitive behavioural therapy. Always ensure that your therapist is professionally accredited with the British Association of Behavioural and Cognitive Psychotherapy (BABCP).
Cognitive Behavioural Therapy (CBT) in Sevenoaks Kent | Psychotherapy and Counselling in London SE1 | CBT in Westerham and Tunbridge Wells | Counselling and Psychotherapy in Folkestone and Canterbury | Cognitive Behaviour Therapy in Maidstone and Kingshill Kent | CBT and Counselling across Surrey and Sussex.