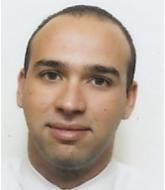 Current Availability
3 slots available WEDNESDAYS 4 slots available over the WEEKEND
Locations
London
Professional Profile
My name is Tiago, I am a fully qualified and BABCP accredited CBT therapist working with Think CBT from London.
In the UK, I worked in the NHS for the last twelve years, and I carry over seven years of experience specialising in the CBT model. I also engaged in a doctoral programme in Counselling Psychology, and I come across as a person-centred and integrative therapist.
I have experience of working with difficulties relating to anxiety, depression, addictions, social and interpersonal problems, challenging behaviour and, increasingly, a range of more difficult problems.
I managed caseloads of clients with very complex needs in the NHS and charity sector, and I also worked in different countries. I worked with different clients who experienced mental health difficulties in different contexts (e.g. face-to-face, telephone and video), and I am also a bilingual therapist (English and Portuguese). Clinical supervision is always incorporated into my work as a therapist, making myself a highly ethical practitioner.
I have a high level of professional loyalty, integrity and commitment to my profession, and the opportunity to help others in their recovery is very rewarding for me.
I abide by the policies and ethical standards laid down by the BABCP and I have full professional indemnity to work as a therapist in the UK.
If you want to book an appointment, please click on the blue book appointment button adjacent to my profile picture. I will call you to discuss therapy options before confirming your first therapy appointment.
Specialisms
Abuse
Addictions
Anger
Autism Spectrum Disorder
Chronic Pain
Claustrophobia
Covid Recovery
Depression
Generalised Anxiety Disorder
Health Anxiety
Low Self-esteem
OCD
Panic Disorder
Personality Disorders
Social Anxiety / Phobia
Specific Phobias
Supervision
Trauma / PTSD
Work Related Stress
Therapies Offered
Child and Adolescent CBT
Clinical Supervision
Cognitive Behavioural Therapy
Counselling Psychology
Accepted Payment Methods
Bank Transfer
Organisational Funding
Reserve an Appointment With Joao Tiago Bravo
Exact location provided on booking confirmation