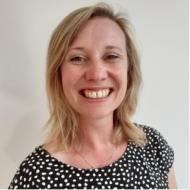 Current Availability
I have capacity for 2 clients on a Monday or Thursday 9:00 -15:00. Either face to face or via zoom
Locations
Nottingham, NG15
Professional Profile
My name is Gemma and I am a fully qualified and BABCP accredited Cognitive Behavioural Psychotherapist working with Think CBT from my consulting rooms in Nottingham (NG15).
I have over 10 years experience of working in mental health with common mental health problems such as anxiety and depression.
As well as my CBT qualifications, I also have a Masters in Person Centred Psychotherapy. I feel that this adds to my ability to form a strong therapeutic alliance with my clients, because good therapy depends on the therapist and client working together as a team.

Throughout the course of my career I have worked within Primary care working alongside GP's to support people with mild anxiety and depression symptoms. I have also worked in more intensive therapy services working with people with more long term enduring conditions. The majority of my work has been in the private sector supporting people return to work following episodes of mental health difficulties through their occupational health services.

My core therapy principles are in line with the key philosophies of Cognitive Behavioural Therapy, ensuring that all interventions follow the most up to date research.
Throughout the course of the therapy, we will work together to understand the current difficulties you are experiencing, conceptualising this as a perpetual cycle which maintains itself. This will then help us to decide what we need to change in this cycle. I will then teach you some techniques which we will plan together, how you can implement in your world to break the cycle and move forward to achieve your goals one step at a time.

My specialist interests include; anxiety, panic, phobias, OCD, depression, self esteem, PTSD and sleep difficulties.

All of my practice is conducted within a safe, separate confidential space be it over the phone, video or in person. I ensure that I am meeting all the requirements of my accrediting body the BABCP to offer my clients the best service that I can.
Specialisms
Depression
Emetophobia
Generalised Anxiety Disorder
Health Anxiety
OCD
Sleep Problems
Social Anxiety / Phobia
Specific Phobias
Trauma / PTSD
Work Related Stress
Therapies Offered
CBT-I
Cognitive Behavioural Therapy
Accepted Payment Methods
Bank Transfer
Professional / Legal Funding
Reserve an Appointment With Gemma Thorley
Exact location provided on booking confirmation