Cognitive Behavioural Therapy – CBT For Eating Disorders – Sevenoaks, London and Online
We provide Cognitive Behavioural Therapy for eating disorders - also known as CBT–E. this includes treatment for Anorexia Nervosa, Bulimia and Binge Eating Disorder. Eating disorders are complex psychological health issues and it's important that clients make informed decisions on the specialist treatment options to support recovery and develop a healthy relationship with diet and body image problems. If you want to work on an eating disorder or problems with controlled eating behaviours, you can email appointments@thinkcbt.com or call our team on 01732 808626. We will handle your enquiry on a confidential basis and we will listen to your needs without judgement or criticism. We will always offer practical and objective advice and we will only work with you if we are confident that we can help.
Why Choose CBT for Disordered Eating Problems?
The published research evidence and the independent clinical guidance provided by the National Institute of Health and Care Excellent (NICE), demonstrates that CBT is highly effective in the treatment of eating disorders and unhealthy eating behaviours. CBT-E involves working on the presenting psychological symptoms and the underlying background factors that predispose individuals to eating disorder behaviours.
Online CBT for Eating Disorders
If you want to book online therapy for an eating disorder or controlled eating behaviours, you can choose from a wider number of qualified Cognitive Behavioural Psychotherapists without the time and travel limitations that face-to-face therapy sometimes imposes. Online CBT works in exactly the same way and the outcomes are equally affective.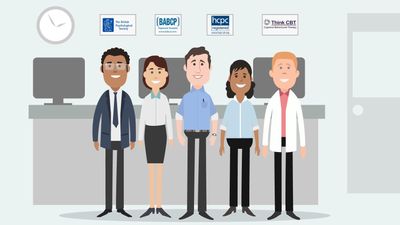 Our CBT Psychotherapists are qualified at a Masters level and hold full professional accreditation with the British Association of Behavioural and Cognitive Psychotherapy (BABCP). This means that we have achieved the UK gold standard in CBT and that we undertake regular CPD and clinical supervision to keep our skills up to date.
Our qualified and accredited Cognitive Behavioural Psychotherapists are trained to support people struggling with eating disorders. Our approach is highly structured and draws on the latest CBT research into anorexia, binge eating and Bulimia. Whether you have an eating disorder diagnosis or just recognise controlled or unhealthy eating behaviours, you can organise a call with a member of our team to talk about getting support for the problem. You can book a CBT appointment for an eating disorder from our main centre in Sevenoaks, from one of our London consulting rooms or by entering your postcode in the "Find A Therapist" search box on the right side of this page.
How Eating Disorders are Maintained
The common factors in all eating disorders involve an overconcern with body shape and weight. This is linked to feelings of shame, guilt, disgust, low self-esteem and a tendency towards perfectionism.
This can lead to strict dieting or restrictive eating, a preoccupation with weight loss, binge eating, purging and over-exercising. These factors can create vicious cycles where the sufferer attempts to overcompensate for one factor by excessively applying another. So, binge eating can be linked to purging, controlled eating can be linked to excessive exercise and body image can be linked to a preoccupation with weight loss.
The Evidence for CBT-E
The Cognitive Behavioural Therapy for Eating Disorders model also known as the CBT-E model, was developed by Fairbank in the 1990s and has been extensively researched as the recommended treatment of choice for Bulimia, anorexia and Binge Eating Disorder. CBT-E was found to be substantially more effective than Psychoanalytic and Interpersonal therapy, consistently and significantly outperforming other therapies at the 20-week assessment, at 60-week follow-up and after a two-year post-treatment period. CBT-E is therefore widely recognised to be the most effective treatment for eating disorders and continues to set the recovery threshold for Bulimia, Binge Eating and anorexia.
How CBT-E Works
CBT is a highly structured psychological treatment. The protocol usually involves 20 sessions involving Goal setting, weight monitoring, reviewing homework, developing the psychological formulation, teaching new cognitive and behavioural skills and problem-solving. The key components of the treatment process include:
Psychoeducation to understand how the eating disorder is maintained and the psychological and medical consequences.

Replacement of dieting with "normal eating" - three daily meals plus two-three snacks per day.

Meal planning involving a prepared menu to ensure that the time and content of each meal is always known in advance.

Completion of food reports immediately after eating; identifying relevant thoughts, feelings and behaviours.

A regular weekly session weighing to track progress and agree new behavioural experiments.

Development of CBT strategies to replace binging, restrictive eating and other compensatory strategies. This can involve urge or emotional regulation techniques, competing behaviours and problem-solving skills.

Identifying and Challenging rigid eating rules by undertaking behavioural experiments to improve dietary flexibility.

Development of continuum / flexible thinking styles to replace rigid or black and white perfectionistic thinking.

Use of behavioural experiments to test dietary beliefs and assumptions about eating and weight.

Exposure exercises to gradually increase tolerance to "feared foods".
The treatment plan may also include suspension of body checking and avoidance behaviours, cognitive work on low self-value and acceptance, interpersonal skills and behavioural bandwidth experiments to develop other sources of self-evaluation.
Our Eating Disorders CBT Specialists
CBT-E is a highly specialist form of psychological treatment and should only be delivered by a properly qualified Cognitive Behavioural Psychotherapist or Psychologist with specific training in eating disorders. Clients should always check the credentials of their therapist before starting work on an eating problem, weight control or body image problems.
If you want to talk to us about an eating or body image related problem, you can email appointments@thinkcbt.com or call +44 1732 808626. The process is quick and simple, and we will always respect your privacy and personal dignity.