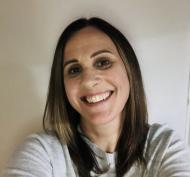 Current Availability
I have availability on Sunday afternoons.
Locations
Dronfield, S18
Professional Profile
My name is Sarah, and I am a fully qualified BABCP-accredited Cognitive Behavioural Therapist working with Think CBT in Dronfield and surrounding districts. I am also a fully trained EMDR practitioner.

I am an experienced Psychological Therapist with over 20 years' experience of working with people experiencing emotional and psychological difficulties.

I am trained and experienced in the delivery of CBT (Cognitive Behaviour Therapy) and EMDR (Eye Movement Desensitisation and Reprocessing). I have received additional training in the treatment and management of complex PTSD, Compassion Focused Therapy, Acceptance and Commitment Therapy, EMDR and CBT for long-term health conditions. I attend many workshops and short courses in order to continue my professional development. I am also a clinical CBT supervisor, providing supervision to qualified and trainee Cognitive Behaviour Therapists.

I believe in providing ethically sound, high-quality, evidence-based psychotherapy with excellent outcomes. I am fully committed to helping you achieve your goals and to feel safe and supported throughout your therapy journey.

I started working as a CBT therapist in the NHS in 2009 and began private practice alongside my NHS work.
During my time in the NHS, I have undertaken a key role in CBT service development and delivery. My experience includes working with people with anxiety disorders, depression, self-esteem, eating disorders, PTSD including complex presentations and sexual abuse, BDD and body image and specific phobias.

I am a compassionate and integrative practitioner adopting a collaborative treatment approach and I value building a helpful therapeutic relationship with the people I work with. I adhere to evidence based best practice but also offer a flexible approach to meet the needs of the people I work with.

My experience includes working for the local authority and voluntary sectors, providing psychological interventions for people experiencing complex and enduring mental health problems and homelessness. I have also worked with young people in care and their families.

I currently offer video call (Zoom) and telephone appointments.

I abide by the policies and ethical standards laid down by the BABCP and I have full professional indemnity to work as a therapist in the UK.

If you would like to book an appointment, please click on the blue book appointment button adjacent to my profile picture. I will call you to discuss therapy options before confirming your first therapy appointment.
Specialisms
Abuse
Anger
Body Focused Repetitive Behaviours
Depression
Eating Disorders
Emetophobia
Generalised Anxiety Disorder
Grief / Bereavement
Health Anxiety
Low Self-esteem
OCD
Panic Disorder
Personality Disorders
Relationship Problems
Sleep Problems
Social Anxiety / Phobia
Specific Phobias
Trauma / PTSD
Work Related Stress
Therapies Offered
Cognitive Behavioural Therapy
EMDR
Accepted Payment Methods
Bank Transfer
Organisational Funding
Reserve an Appointment With Sarah Wilkinson
Exact location provided on booking confirmation