CBT-I for Insomnia and Sleep Problems - London and UK-wide
We provide CBT-I treatment for Insomnia and sleep problems from our main clinics in London, as well as from over180 satellite CBT clinics across the UK. You can also organise Cognitive Behavioural Therapy for Insomn CBT-I online via video link. CBT-I is the NICE recommended treatment of choice for insomnia and sleep problems and the published research evidence demonstrates its effectiveness.
Insomnia and Disrupted Sleep
Insomnia and disrupted sleep is a significant psychological health issue in the adult population. At any one time, approximately 35% of people report problems with insomnia or difficulty maintaining a consistent and healthy sleep pattern. This often leads to problems coping at home and at work, resulting in reduced concentration, irritability, fatigue, stress and low mood.
Cognitive Behavioural Therapy (CBT) provides a first line treatment for insomnia and sleep problems. CBT is recommended by the National Institute for Health and Care Excellence (NICE) for improving the quality and duration of healthy sleep. If you want to talk to a Cognitive Behavioural Therapy expert about problems with insomnia or disrupted sleep, contact us by emailing info@thinkcbt.com or by calling 01732 808 626 to book a free and confidential initial telephone consultation.
What is Insomnia?
Insomnia is usually described as acute or chronic sleep problems. Acute insomnia is usually short-term lasting less than a month and often linked to stress, physical pain or substance abuse. Chronic Insomnia usually involves difficulty initiating or maintaining sleep for a period in excess of one month and is usually diagnosed where broken or limited sleep is the primary problem itself. Whilst these time differences are fairly arbitrary, in both cases the broken sleep pattern often causes distress or problems with normal daily functioning.
Insomnia can increase irritability, reduce cognitive performance, create problems with concentration and sustain overwhelming feelings of fatigue.
Insomnia affects people in three main ways:
difficulty falling asleep, also referred to as onset insomnia.

waking up during the night, also referred to as mid insomnia.

waking up early in the morning, also referred to as terminal insomnia.
Stress and anxiety are a common cause of insomnia, however it is also important to rule out any underlying physical conditions that may contribute to sleep problems. This can be done by talking to your GP in the first instance.
Online CBT-I With BABCP Accredited Cognitive Behavioural Psychotherapists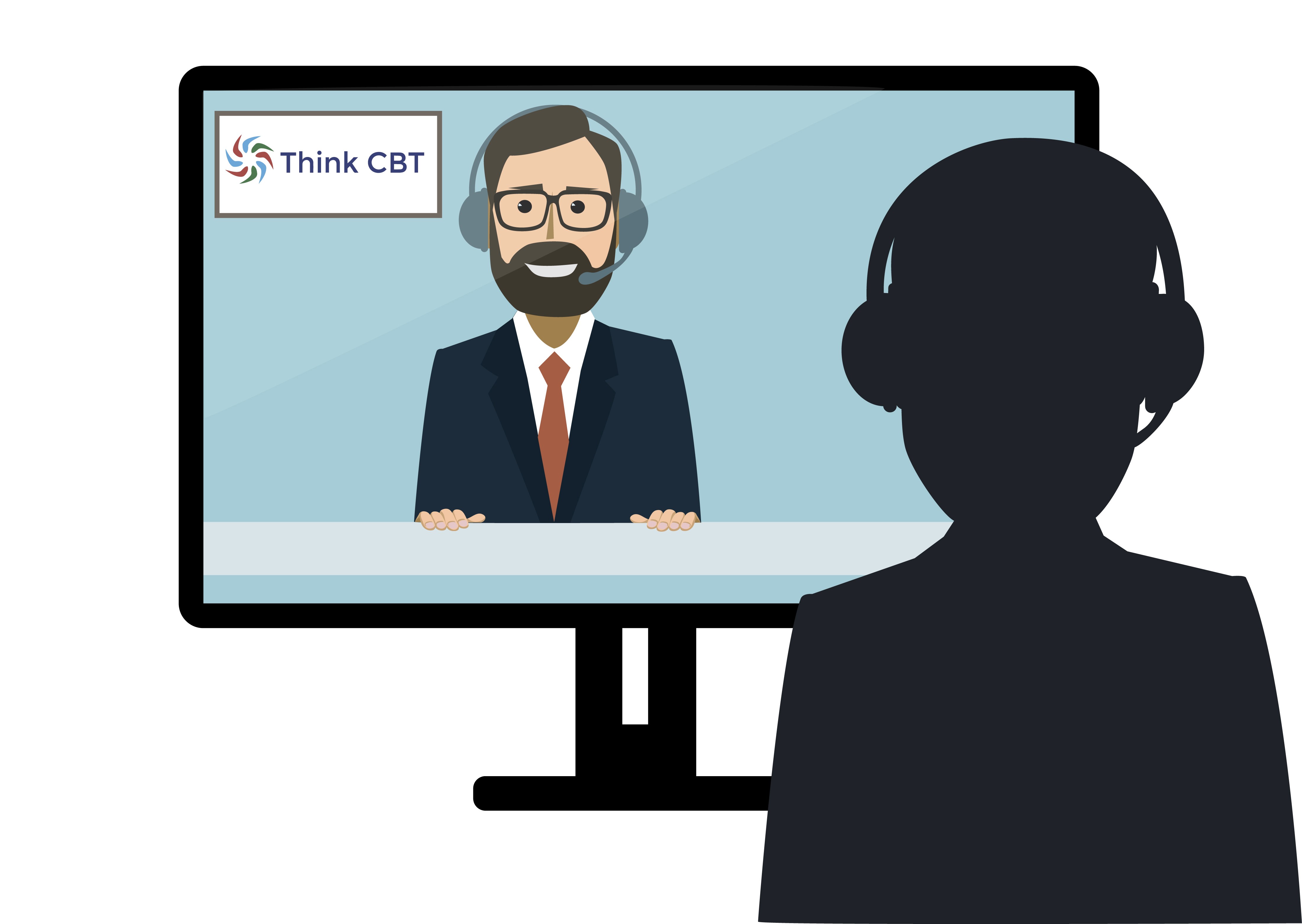 The published research dada clearly demonstrates that video and telephone-based CBT-I is highly effective for insomnia and problems with disrupted sleep. We can provide an online CBT appointment with one of our CBT-I specialists within a few days of your initial enquiry and we always start with an informal call to sure that we can help before arranging your first appointment. Just email appointments@thinkcbt.com
How Cognitive Behavioural Therapy is Used for Insomnia
Cognitive Behavioural Therapy has been shown to be highly effective in improving the quality, consistency and duration of sleep. Where insomnia is maintained by related problems with anxiety or depression, cognitive and behavioural treatments have been particularly effective by comparison with medication and other therapeutic approaches.
A specific form of Cognitive Behavioural Therapy known as CBT-I has been developed to tackle the factors that cause and maintain problems with sleep. CBT-I has become a state of the art treatment for insomnia, involving stimulus control therapy, sleep restriction therapy, sleep hygiene education, focus of attention training and cognitive therapy.
This combined approach applies practical changes to the sleep environment, with evidence based cognitive and behavioural techniques designed to alter the thoughts, rules and assumptions that trigger and maintain sleep problems.
You can use a downloadable Sleep Diary here to help monitor mood levels and behaviours associated with sleep.
If you want to talk to a Cognitive Behavioural Psychotherapist about sleep problems, you can complete the simple contact form on this page and we will organise a free initial telephone consultation. You can also take a free and confidential sleep assessment by clicking on the following links:
If you want to talk to an expert about managing your insomnia, click here to contact us.
Cognitive Behavioural Therapy for sleep problems brings the same rigor, structure and focus to the problem that it provides for many other psychological, emotional and behavioural problems.
Follow the evidence and take a positive step towards changing your situation.
Call us now on 01732 808 626, click here to send a message or email us at info@thinkcbt.com.
Our Sleep Problems CBT Team
Cognitive Behavioural Therapy for insomnia - CBT-I in London, UK wide and online via video link.