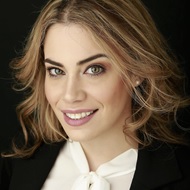 Cognitive Behavioural Therapist
BSc (Hons), MA, UKCP, MBABCP (Acced)
Book Appointment
Current Availability
Monday at 3pm- 8pm Thursday at 5pm Friday at 3pm-5pm and on Saturday at 10am-1pm
Locations
London, W1B
Professional Profile
Imagine a life free from the burden of anxiety, depression, and overwhelming emotions. Picture yourself motivated, resilient, and confident, ready to let go of anything that's been holding you back. If you're ready to embark on a transformative journey towards feeling better, then let's connect.
I'm Chryssa Chalkia, a qualified and fully accredited Integrative Psychotherapist, Cognitive Behavioural Therapist, and Counsellor (UKCP & BABCP). I specialize in providing evidence-based psychological treatment to individuals both online and in-person at my office on Regent Street.
With years of experience, I have worked extensively with individuals aged 16 and above who face emotional challenges or struggle with dysfunctional behaviours and negative thoughts. What sets my therapy apart is its customized nature, tailored to meet your unique needs. By drawing from a variety of therapeutic approaches, such as cognitive behaviour therapy, acceptance and commitment therapy, compassion-focused therapy, psychodynamic therapy, and mindfulness, I craft a personalized treatment plan just for you.
Through our work together, you will gain invaluable skills to overcome your difficulties, empowering you to take control of your life and experience a newfound balance, happiness, and fulfilment. Whether you're dealing with issues like abuse, addictions, anxiety, body image concerns, cultural challenges, depression, low self-esteem, motivation, OCD, PTSD or a myriad of other difficulties, I bring a compassionate and comprehensive approach to support your journey towards healing.
I'm passionate about assisting clients across a broad spectrum of challenges, including health anxiety, long Covid-19, motherhood and identity, obsessive-compulsive disorder (OCD), panic attacks, relationship issues, trauma and PTSD, and much more. No matter your age or background, whether you're a teenager, young adult, or older adult, I am dedicated to helping you navigate these obstacles and promote overall well-being.
If you're ready to transform your life and take that next step towards feeling better, I'm here to guide you. Let's start your journey today.
Education and further training
I embarked on my academic journey in 2003, immersing myself in the field of psychology and counselling. Since then, I have achieved several milestones, including a Bachelor and Diploma in Psychology & Counselling in 2006, a Master's degree in Psychoanalysis in 2007, and a Master's and Advanced Diploma in Integrative Counselling and Psychotherapy (UKCP reg.) in 2016. In 2019, I further enhanced my skills by completing a Post Advanced Diploma in High Intensity CBT, earning my BABCP accreditation.
Throughout my career, I have continually sought out opportunities for growth and learning. I have participated in numerous trainings, seminars, and short courses to expand my expertise in various specialized areas. Some of these areas include Mindfulness-Based Cognitive Therapy and Mindfulness-Based Stress Reduction, CBT for Anxiety and Agoraphobia, Acceptance and Commitment Therapy (ACT), and addressing issues such as abuse, addictions, anxiety, attachment difficulties, depression, self-esteem, physical health conditions and more.
My commitment to continuous professional development reflects my passion for staying up-to-date with the latest therapeutic approaches and ensuring that I provide the most effective and evidence-based treatments to my clients. This extensive training enables me to offer a comprehensive range of therapeutic techniques to address an array of concerns, from general mood difficulties to complex and enduring mental health issues.
Whether you're seeking support for anxiety, trauma, relationship problems, self-esteem, life transitions, or any other challenges, I have the expertise and tools to help. I am particularly sensitive to issues such as racism, refugees and asylum, and women's issues, ensuring a safe and inclusive space for individuals from diverse backgrounds.
By choosing to work with me, you are selecting a therapist who not only possesses a wealth of knowledge but also demonstrates a deep commitment to your well-being. Together, we will navigate your journey towards healing and personal growth. Take the step today and experience the transformative power of therapy with a highly qualified and dedicated professional.
Specialisms
ADHD
Abuse
Anger
Body Focused Repetitive Behaviours
Chronic Pain
Claustrophobia
Covid Recovery
Depression
Generalised Anxiety Disorder
Grief / Bereavement
Health Anxiety
Hyperawareness OCD
Low Self-esteem
OCD
Panic Disorder
Perinatal Depression
Relationship OCD
Relationship Problems
Sensorimotor OCD
Sleep Problems
Social Anxiety / Phobia
Specific Phobias
Trauma / PTSD
Work Related Stress
Therapies Offered
Acceptance and Commitment Therapy
Behavioural Activation
Cognitive Behavioural Therapy
Compassion Focused Therapy
Counselling
Counselling Psychology
Exposure Response and Prevention
Interpersonal Therapy
Mindfulness
Psychodynamic Therapy
Trauma Focused Cognitive Therapy
Accepted Payment Methods
Bank Transfer
Organisational Funding
Professional / Legal Funding
Reserve an Appointment With Chryssa Chalkia
Exact location provided on booking confirmation