Cognitive Behavioural Therapy – CBT for Body Dysmorphic Disorder in London, UK-wide and online via video-link
If you are significantly preoccupied and emotionally distressed about aspects of your appearance, perceived flaws or physical characteristics, you could be struggling with Body Dysmorphic Disorder (BDD). The most effective treatment for BDD is Cognitive Behavioural Therapy and the research evidence demonstrates that CBT can be used to affectively treat this problem.
We provide Cognitive Behavioural Therapy for Body Dysmorphic Disorder from our main centre in London, as well as from over one hundred satellite clinics from around the UK. You can organise CBT for Body Dysmorphic Disorder with one of our qualified CBT specialists within a few days of your enquiry and the CBT appointments can be delivered in person or online via video link. Our appointments process is fast and straightforward and we always start with a free initial call to ensure that we can help before starting therapy.
To arrange an initial appointment with one of our BABCP accredited CBT specialists, you can complete the simple contact form on this page, email appointments@thinkcbt.com or call 01732 808626.
What is Body Dysmorphic Disorder?
Whilst many people have some aspect of their appearance that they feel dissatisfied with or that they would like to change, BDD involves an intense preoccupation with minor aspects of appearance, physical characteristics or body shape. This preoccupation with perceived physical imperfections leads to significant psychological distress and continuous checking and comparing behaviours.
The research shows that BDD is maintained by a number of psychological processes including:
Selective attention to minor aspects of appearance rather than seeing the overall picture.

Over-estimation or "magnification" of minor physical characteristics.

Negative interpretation of perceived physical imperfections as problems with self-worth or lovability.
Continuous checking and comparing to seek relief or reassurance.
As the checking and reassurance seeking behaviours provide temporary short-term relief from the anxiety, they are negatively reinforced. This leads to a reliance on the behaviours and a reinforcement of the problem.
The emotional distress in Body Dysmorphic Disorder can be linked to highly self-critical and perfectionistic standards, problems with self confidence and low self-esteem. It is therefore not unusual for people with BDD to also experience difficulties with depressed mood, social phobia and generalised anxiety.
The checking and comparing behaviours in BDD typically include continuous use of mirrors, excessive grooming, combing or moving hair, skin picking, reassurance seeking and mental comparing of perceived personal appearance with other people. BDD can also lead to highly controlled use of clothing and make-up, as well as avoidance of situations or places that involve exposure to the individual's own appearance.
BDD is usually diagnosed when the severity of the problem occupies a disproportionate level of attention, leads to significant emotional distress and affects the individual's functioning in their personal or working environment.
Body Dysmorphic Disorder can be linked to Eating Disorders and Body Focused Repetitive Behaviours such as skin picking and hair pulling, however the psychological process and CBT treatment protocol is significantly different.
Online CBT for Body Dysmorphic Disorder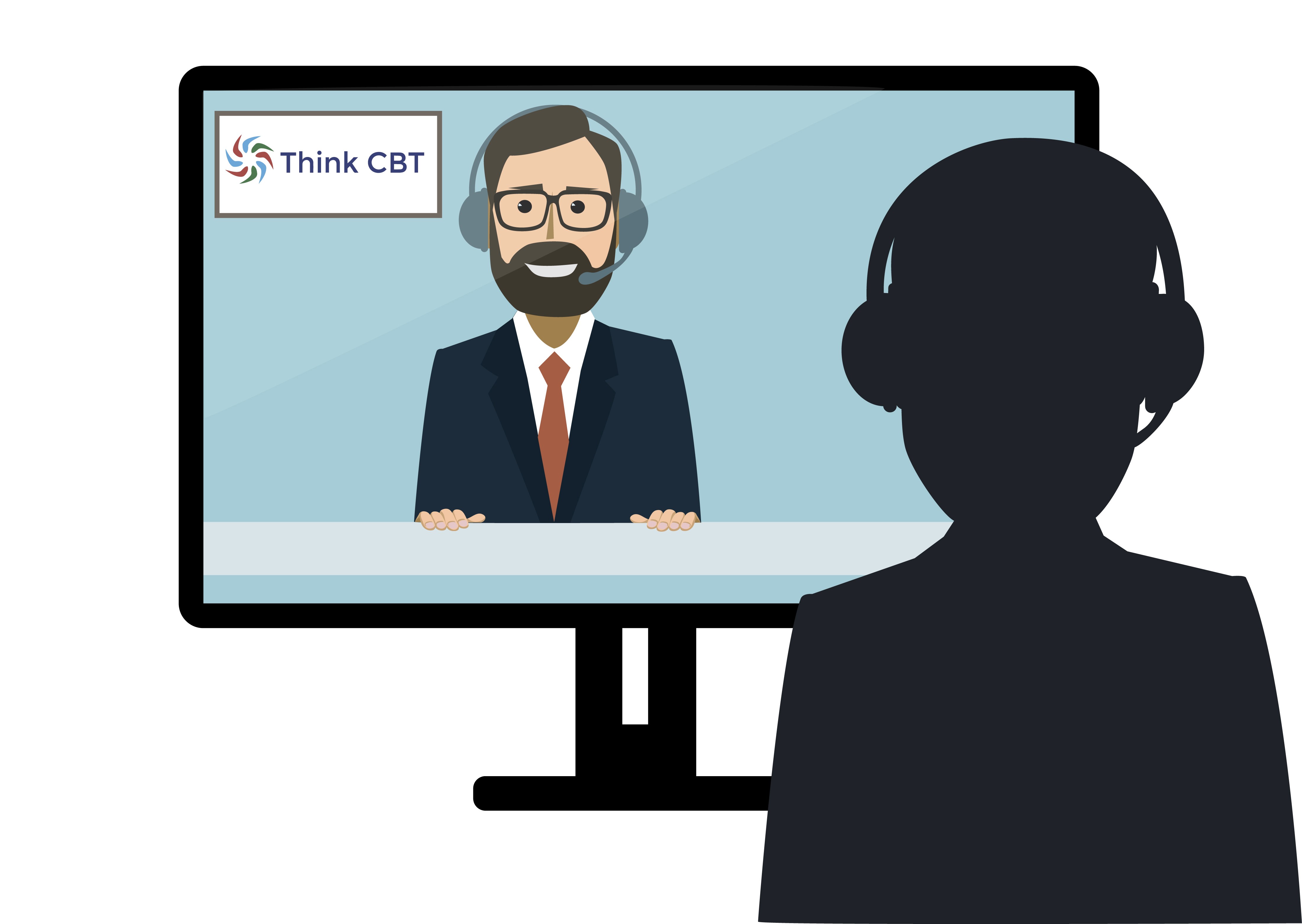 The published research data shows that online video-based Cognitive Behavioural Therapy provides a safe and effective psychological treatment for Body Dysmorphic Disorder. We can usually organise online Cognitive Behavioural Therapy to treat BDD within a few days of the initial enquiry. For a confidential service email appointments@thinkcbt.com
How is Body Dysmorphic Disorder Treated Using CBT?
The recommended treatment of choice for Body Dysmorphic Disorder is Cognitive Behavioural Therapy. This approach is advocated by the leading clinical and psychological bodies in the UK and independently validated by the National Institute of Health and Care Excellence also known as NICE. Whilst different forms of CBT have been found to be affective, BDD should only be treated by an experienced and properly qualified Cognitive Behavioural Psychotherapist. To talk to us about organising CBT for Body Dysmorphic Disorder with a professionally qualified and BABCP accredited Cognitive Behavioural Psychotherapist, use the simple contact form on this page or email appointments@thinkcbt.com
Whilst many BDD sufferers initially seek expensive cosmetic, dermatological, dental and surgical treatments, the published research evidence shows that this often reinforces the problem and increases anxiety about physical appearance. BDD is a psychological problem that should only be treated using Cognitive Behavioural Therapy and SSRI medication. The CBT process usually involves;
An initial assessment to understand and provide information about how the problem is maintained.

Cognitive and Behavioural formulation to map out the key background and maintenance factors that keep the bBDD going.
Cognitive restructuring and defusion techniques to alter over-inflated and negative thinking patterns.
Work on cognitive schema involving beliefs about inadequacy, worthlessness, lovability and vulnerability.
A specialised technique known as "Perceptual Mirror Retraining",
Focus of Attention Training and cognitive based mindfulness training.
Graded exposure hierarchies and Exposure and Ritual Prevention to dial down the anxiety.
Behavioural Experiments to test negative beliefs and assumptions about appearance and the individual's ability to cope.
Emotional regulation techniques to improve resilience and emotional capacity.
Relapse prevention planning to predict and test out bounce-back strategies to pre-empt future problems.
Cognitive Behavioural Therapy for BDD is a highly structured and focused psychological process. Like many other specialist CBT protocols, CBT for Body Dysmorphic Disorder involves treatment strategies that can only be effectively delivered by properly qualified CBT experts. Always check the CBT qualifications, experience and accreditation status of your therapist before starting your BDD treatment.
Our CBT Specialists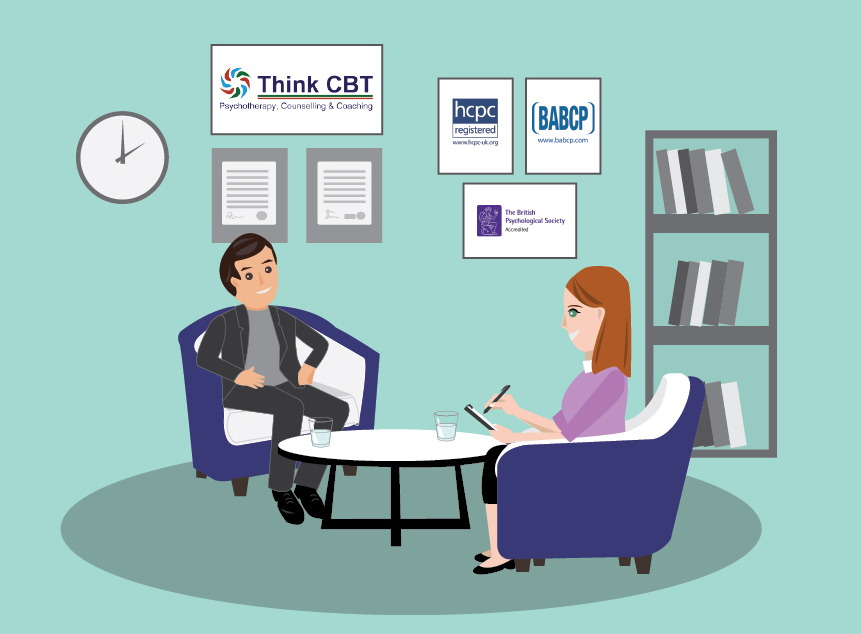 Our Cognitive Behavioural Therapists are fully qualified to a masters or doctoral level and have achieved the rigorous accreditation standards laid down by the British Association of Behavioural and Cognitive Psychotherapy (BABCP). We also specialise in Acceptance and Commitment Therapy (ACT) which is highly effective in the treatment of Body Dysmorphic Disorder.
Whilst there are some general counsellors and therapists offering BDD treatment, it is important to always check therapist credentials and experience. We realise that it's often confusing to understand the different qualification and accreditation standards, however Registration with the similarly sounding BACP is not the same as accreditation with the BABCP when it comes to providing specialised Cognitive Behavioural Therapy for Body Dysmorphic Disorder.
If you need BDD guidance or advice on the best approach for yourself or a family member, contact us via the contact form on this page and we can organise a brief call to talk about treatment options.
We are an ethical psychological service which means that we always endeavour to provide objective treatment advice. We will only work with you if we are confident, we can help. To find out more about how CBT can help with Body Dysmorphic Disorder or an associated psychological problem, call our friendly office team on (01732) 808626 or email appointments@thinkcbt.com
Search Our UK CBT Team
You can explore our wider team of BABCP accredited Cognitive Behavioural Therapists by specialism and location. If you have access to private medical insurance, you can also check therapists by health insurance coverage. If you need help identifying a member of our team, call +441732808626 or email appointments@thinkcbt.com
Our Body Dysmorphic Disorder Specialists