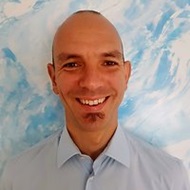 Current Availability
From 9.15 am to 13.45 pm - Self-funded only
Locations
Canterbury CT1
Professional Profile
Umberto is a fully qualified and BABCP-accredited Cognitive Behavioural Therapist (CBT) and Supervisor, EMDR Therapist and Constructive Counsellor, working with Think CBT from Canterbury, Kent.
Umberto is a compassionate, caring and experienced therapist, with 20 years' experience working within a wide variety of clinical settings. He qualified as a Psychologist in 2004 in Italy, and then trained for a further 4 years and qualified as a Cognitive Constructivist Psychotherapist. Cognitive Constructive Therapy is a non-blaming approach to counselling, based on attachment theory, which aims to help clients to develop a conceptual reframing of the past that permits a new balanced and joyful future. He then moved to the UK and trained to become accredited as a BABCP CBT Therapist, practicing in an NHS Trust for 10 years, offering CBT to adults with a wide range of emotional, cognitive behavioural and adjustments problems such as anxiety, stress, depression and relationship problems. As part of his NHS therapeutic work, he qualified as a BABCP CBT Supervisor, providing guidance to over 50 clinicians on suicide risk screening, as well as generally empowering their reflective practice.
Since 2019, Umberto has been invited to speak annually at the USERN (Universal Scientific Education and Research Network) conference, which aims to promote peaceful and humanitarian education and research globally. He has recently been published in a Springer Nature book, contributing the chapter:
Since leaving the NHS in 2020, Umberto has developed his private practice based in Canterbury, Kent. He has specialist expertise in effectively treating PTSD, Trauma, Complex Post-Traumatic Stress Disorder and Addictions.
Umberto is highly experienced in all evidence-based practices for treating people with a wide range of disorders including:
Anger

Anxiety - Stress

Anxiety - Agoraphobia

Addictions

Adjustment disorder

Depression - Low Mood

Depression - Major

Fears of abandonment

Generalised Anxiety Disorder (GAD)

Grief / Bereavement / Loss

Health Anxiety

Low Self Esteem

Panic Disorder

Post Traumatic Stress Disorder (PTSD)

Separation Anxiety

Social Anxiety

Trauma

Trauma - Childhood Trauma

Trauma - Complex PTSD

Trauma - Road Traffic Accidents

Tinnitus

COVID-19 based PTSD
Specialist services & expertise
Umberto has trained in Long Term Conditions and Medically Unexplained Symptoms at the University of Christ Church and he has successfully reversed his own type 2 diabetes and has successfully addressed his experience of tinnitus. He now offers single consultations or continued support for both these as well as other conditions, providing guidance and enhancing both physical and mental health arising from problematic symptoms.
He has been a lifetime martial art enthusiast and avid trainer, practising Japanese Jiu-jitsu, Tai Chi and Muay Thai. He also enjoys playing football on an amateur level and can provide therapy to athletes who struggle with trauma, performance anxiety and depression.
Umberto works calmly and kindly with authenticity and integrity. He can be with you for a short intervention, or for long term therapy to examine where you are in your life, to bring the unconscious to the surface and to understand your deep-rooted feelings. Umberto aims for his clients to find wholeness and meaning, and for them to feel empowered to be able to leave therapy as soon as possible and continue their journey on their own.
Models and Methods
Umberto is trained to use the following therapeutic approaches in his practice, tailoring the treatment to each client's particular needs:
BABCP Accredited CBT Therapist

CBT - Cognitive Behavioural Therapy

CBT - Cognitive Behavioural Therapy Supervisor

Cognitive Constructive Psychotherapist

EMDR - Eye Movement Desensitisation & Reprocessing

LTC certificate (Long term conditions and Medically Unexplained Symptoms)

Mindfulness

Person-centred therapy

Transactional Analysis
Qualifications & training
EMDR

, Standard EMDR training as defined by the EMDR International Association (EMDRIA) with some additional protocols included in Part 3. Member of EMDR Association UK, 2021.

LTC certificate

(Long Term Conditions and Medically Unexplained Symptoms), 2018

BABCP CBT Supervisor

, from March 2016.

BABCP accreditation

, from August 2012.

MBCT

(Mindfulness Based Cognitive Therapy), 2012.

BPS

, from 2009 to 2017

Cognitive-Constructive Psychotherapist

(Professional Doctorate in Counselling Psychotherapy) December 2009.

MSc Psychologist

, Magna Cum Laude, University of Palermo, Italy, 2004.

BSc in Psychology

, University of Palermo, Italy, 2002.
Client testimonials:
"I have never had any kind of therapy before. I have found this process incredibly helpful and supportive. I feel I have been guided skilfully on a path to help me address the areas that have been causing me stress."

"When I first was referred I didn't want to come, it took a lot of f***ing persuading. After the third session, I realised you were a nice counsellor and a human being. Some of the advice was helpful and I feel more in control and able to put my foot down with X. I have learned that I've got the right to say no and it is okay to ask for help. All the coping mechanisms seem to be working".

"It's great that I can talk and you don't tell me how to solve problems but you give me hints. I felt safe and never judged."

"It's been amazing, it has made so much sense. It's practical but you need to understand what it is about, and then you understand what's going on"

"It was a great safe space to openly talk about how I was feeling and even sometimes when I didn't really know how I was feeling and I went in a bit of a spiral of words, somehow my ramblings made sense to you. I really liked how it was a great way to get an understanding of myself whereas before I thought therapy was a place where the therapist sits there and tells you about yourself. I am happy I was in control of the process of getting those self insights"

"I feel it has really benefitted me and it has given me tools to work with in the future. I have skills and strategies that I can use to prevent me from becoming overwhelmed"

"You have listened to me, and you have not prompted me. This has made me feel comfortable has enabled me to feel better and recover. And this helped me to make me understand how I really feel. And I thank you for that. "

"It's been really helpful. It has stopped my worry and I thought I wouldn't have been able to stop it, but I can now. I learned a lot.
Ethical standards
Umberto abides by the policies and ethical standards laid down by the BABCP, and he has full professional indemnity to work as a therapist in the UK.
If you want to book an appointment, please click on the blue book appointment button adjacent to his profile picture. He will call you to discuss therapy options before confirming your first therapy appointment.
Specialisms
Abuse
Addictions
Anger
Claustrophobia
Covid Recovery
Depression
Generalised Anxiety Disorder
Low Self-esteem
Panic Disorder
Relationship Problems
Sleep Problems
Social Anxiety / Phobia
Specific Phobias
Trauma / PTSD
Work Related Stress
Therapies Offered
Acceptance and Commitment Therapy
Behavioural Activation
CBT-I
Cognitive Behavioural Therapy
Compassion Focused Therapy
Counselling
Counselling Psychology
EMDR
Interpersonal Therapy
Mindfulness
Psychodynamic Therapy
Accepted Payment Methods
Bank Transfer
Aviva
AXA
Vitality
Other
Organisational Funding
Reserve an Appointment With Umberto Crisanti
Exact location provided on booking confirmation