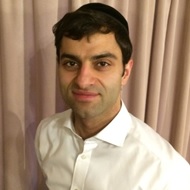 Cognitive Behavioural Therapist
MSc, PGDip (CBT), BACP (Senior Accred), BABCP (Acced)
This therapist has no current availability. For help identifying another therapist, please follow this link, call +44 1732 80862 or email info@thinkcbt.com
Locations
Raphael Kada, Higher Croft, Whitefield, Manchester, M45 7LY
Professional Profile
Hello, my name is Raphael and I am a fully qualified and BABCP accredited Cognitive Behavioural Psychotherapist working with Think CBT from my consulting rooms in Manchester (M45).
I am also a senior accredited BACP Counsellor / Psychotherapist with experience supervising and working within IAPT, primary and secondary mental health services within inpatient and outpatient clinics working with a variety of mental health conditions including anxiety, depression and post-traumatic stress disorder (PTSD) with individuals, families and groups.

I have worked with children, young adults, adults and older adults across the whole life course and full range of clinical settings with different client groups, working for a number of years as a counsellor with children and young adults and taught in special needs and mainstream schools.
I currently work with complex, co-morbid and chronic common mental health difficulties as well as with clients who require less intense treatment within a local NHS Foundation Trust. I work mainly within a CBT approach however have also trained in and utilise modalities such as person-centred counselling, mindfulness, compassion focused therapy and acceptance commitment therapy.

I earnt my Masters degree at The University of Manchester and successfully completed my post graduate diploma in CBT at Staffordshire University. I am passionate about the work I do, especially about improving access to talking therapies to those from underrepresented groups and have co-authored an academic paper published in 2017 by BMC (BioMed Central), submitted a poster presentation to the 2018 Glasgow BABCP conference which was accepted and submitted a further paper to the BABCP journal around adapting CBT which was published in 2019. I was also invited to speak at a clinical roundtable panel at the 2018 BABCP conference in Glasgow which was well received.
I want to be able to help you to understand and process whatever you're going through and show you simple, easy and effective strategies to help you manage this in a compassionate, collaborative and non-judgemental way.
Specialisms
Abuse
Addictions
Anger
Anxiety
Autism Spectrum Disorder
Chronic Pain
Depression
Eating Disorders
Emetophobia
Grief / Bereavement
Health Anxiety
OCD
PTSD
Panic Disorder
Relationship Problems
Self-esteem Problems
Sleep Problems
Social Anxiety / Phobia
Work Related Stress
Therapies Offered
Acceptance and Commitment Therapy
Cognitive Behavioural Therapy
Compassion Focused Therapy
Mindfulness
Accepted Payment Methods
Reserve a £75 Appointment With Raphael Kada
This therapist has no current availability. For help identifying another therapist, please follow this link, call +44 1732 80862 or email info@thinkcbt.com