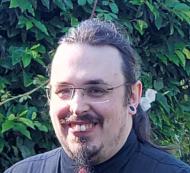 Current Availability
I only offer weekends 09.00 - 14.00. Please see below for current availability. Saturday 10th June 2023 - 09:30-11:00 - not available Saturday 10th June 2023 - 11.00-12.00 - not available Saturday 10th June 2023 - 12.30-13.30 - Available Sunday 11th June 2023 - 09.30-10.30 - Not Available Sunday 11th June 2023 - 11.00-12.00 - Available Sunday 11th June 2023 - 12.30-13.30 - Available
Locations
Wem SY4 5AU
Professional Profile
My name is Richard, I am a fully qualified and BABCP-accredited CBT therapist working with Think CBT from Wem, SY4 5AU.
I am a dedicated Cognitive Behaviour Therapist who has experience providing therapy to children, adolescents and adults. I am able to provide a quality digital only service on weekend mornings. I currently use zoom to provide this service.

I qualified as a Cognitive Behavioural Therapist in 2020 and have been providing a consistent service in a CAMHS services since qualification. I specialise in anxiety and depression, but also have experience in managing emotional disregulation as well as self-esteem issues.
I abide by the policies and ethical standards laid down by the BABCP and I have full professional indemnity to work as a therapist in the UK.
If you want to book an appointment, please click on the blue book appointment button adjacent to my profile picture. I will call you to discuss therapy options before confirming your first therapy appointment.
Specialisms
Depression
Generalised Anxiety Disorder
Low Self-esteem
OCD
Panic Disorder
Social Anxiety / Phobia
Trauma / PTSD
Therapies Offered
Behavioural Activation
Child and Adolescent CBT
Cognitive Behavioural Therapy
Exposure Response and Prevention
Accepted Payment Methods
Bank Transfer
Organisational Funding
Reserve an Appointment With Richard Partridge
Exact location provided on booking confirmation