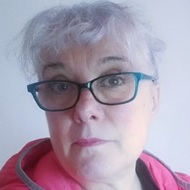 Cognitive Behavioural Therapist
PGDip (CBT), BABCP (Acced)
This therapist has no current availability. For help identifying another therapist, please follow this link, call +44 1732 80862 or email info@thinkcbt.com
Current Availability
My clinical days are Tuesdays and Wednesdays.
Locations
West Sussex RH19
Professional Profile
My name is Nicoletta and I am a fully qualified and BABCP accredited Cognitive Behavioural Therapist working with Think CBT.
I currently provide online only Cognitive Behavioural Therapy using Zoom.
I have been trained in a Level 2 BABCP Accredited Postgraduate Diploma using NICE evidence-based psychological therapies. I am also using Compassion Focused Therapy (CFT) and Acceptance and Commitment Therapy (ACT). I work collaboratively with clients in identifying the right evidence-based techniques with tailored treatment plans.
I have extensive experience in mental health and I work on NHS contracts, with private health providers, and private practice. I have gained vast experience in treating people with generalised anxiety disorder, depression, health anxiety, panic disorder, social anxiety, body dysmorphia, trauma, specific phobias, perfectionism, chronic pain, self-confidence and self-esteem, long-term conditions.
My approach is evidence-based and I only use psychological techniques that are supported by research. I believe in a strong therapeutic relationship and I am committed to help people achieve their goals.
In addition to my clinical commitment, I believe in an inclusive education so I am a specialist tutor and mentor (Autism and Mental Health) in Higher Education.
I encourage an informal and friendly approach during therapy within BABCP's code of practice and ethical standards for clinical work. I receive regular supervision from a BABCP accredited practitioner. I am also passionate about my own professional growth and I attend regularly professional events, workshops and conferences.
I am a native Italian speaker and I provide therapy in Italian and Spanish.
Specialisms
Anger
Body Dysmorphic Disorder
Body Focused Repetitive Behaviours
Chronic Pain
Depression
Generalised Anxiety Disorder
Health Anxiety
Low Self-esteem
OCD
Panic Disorder
Social Anxiety / Phobia
Specific Phobias
Trauma / PTSD
Work Related Stress
Therapies Offered
Acceptance and Commitment Therapy
Behavioural Activation
Cognitive Behavioural Therapy
Compassion Focused Therapy
Accepted Payment Methods
Bank Transfer
CIGNA
Organisational Funding
Reserve an Appointment With Nicoletta Cavriani
This therapist has no current availability. For help identifying another therapist, please follow this link, call +44 1732 80862 or email info@thinkcbt.com
Exact location provided on booking confirmation