Cognitive Behavioural Therapy - CBT Therapists in London and Online Via Video Link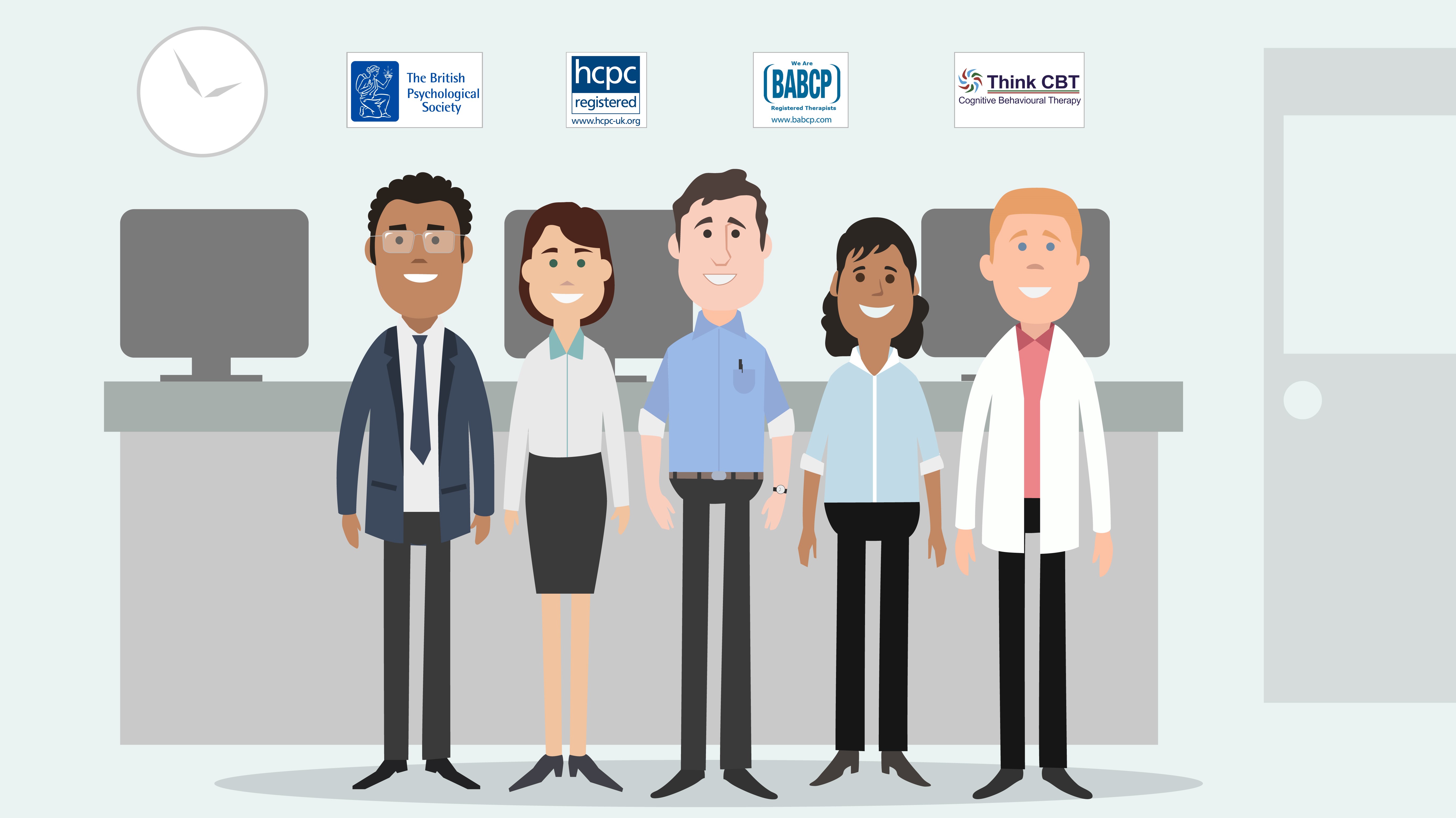 Looking for specialist Cognitive Behavioural Therapy in London? We can book CBT appointments with our BABCP accredited CBT therapists within two Working days.

We are an independent Cognitive Behavioural Therapy network operating from 47 locations across London. Our London therapists are qualified CBT specialists with full BABCP accreditation. As we operate on a commercially ethical basis, our CBT charges are typically 20%–50% lower than other specialist CBT providers in the London area. If you are planning to start Cognitive Behavioural Therapy, compare our therapist credentials, service standards and charges before arranging your first appointment.
We always start with an informal call before booking your first appointment to check that Cognitive Behavioural Therapy is right for you; we will only work with you if we are confident that we can help. To book an appointment with a member of our London CBT team, email appointments@thinkcbt.com, call +44 1732808626 or complete the simple appointment booking form on this page. Your enquiry will be handled quickly and confidentially.
Promoting Good Mental Health in London
Problems with stress, anxiety and depression now affect over one in four people living and working in London. The total number of people reporting a mental health problem in the London area also increased by approximately 9% throughout the coronavirus infection period. These problems include generalise anxiety, panic attacks, OCD, social anxiety, trauma, PTSD, insomnia, phobias, eating disorders, low self-esteem and depression. As well as contributing to high levels of emotional distress, these problems have a direct impact on professional responsibilities, family and personal relationships for people living and working in London.
Cognitive Behavioural Therapy (CBT) has been proven to deliver a fast and highly effective treatment for these problems, improving emotional wellbeing and promoting good psychological resilience. It's the recommended treatment of choice for anxiety and depression and the published research demonstrates that it works.
On this page, you can learn about our London CBT Practice, explore therapist profiles for our team of 47 London based CBT specialists and book a fast and confidential CBT appointment. We always start with a free initial call to ensure that we can help before commencing therapy. The fastest way to book a CBT appointment is to complete the simple contact form on this page or email appointments@thinkcbt.com
Why Choose Think CBT - London?
With so many therapists offering CBT in the London area, it's often difficult to find the right therapist with the relevant CBT credentials. There are many therapists offering Cognitive Behavioural Therapy in London with limited CBT training or via third-party services were a large percentage of the CBT fee is retained by the agency.
There are four key reasons to book Cognitive Behavioural Therapy with our London team. These are:
Performance and Therapy Outcomes:We track our performance to ensure that our clients are receiving the best possible clinical treatment and service standards. This involves monitoring and assessing therapy outcomes. Our data shows that over 90% of our clients achieve their therapy goals and would recommend our CBT therapists.

Therapist Qualifications and Experience:

Our London CBT therapists have specialist Masters-Doctoral level qualifications in CBT and professional accreditation with the British Association of Behavioural and Cognitive Psychotherapy - BABCP. This means we have demonstrated the recognised UK gold standard in Cognitive Behavioural Therapy. We also specialise in ACT, CFT, DBT and EMDR . If you work with a member of our London team, you know you are working with a real CBT expert.

Value for Money:

Our standard £85 charge for a CBT appointment is typically 20%-50% lower than other London CBT clinics. This is because the money you pay for CBT goes directly to our therapists, without hidden commission payments or deductions. Our clients just pay for the CBT that they receive.

Client Care:

We treat our clients as valued customers not patients. This means that you can expect complete confidentiality, individual care and good customer service. You won't be expected to complete unnecessary paperwork, obtain a medical referral or join a CBT waiting list.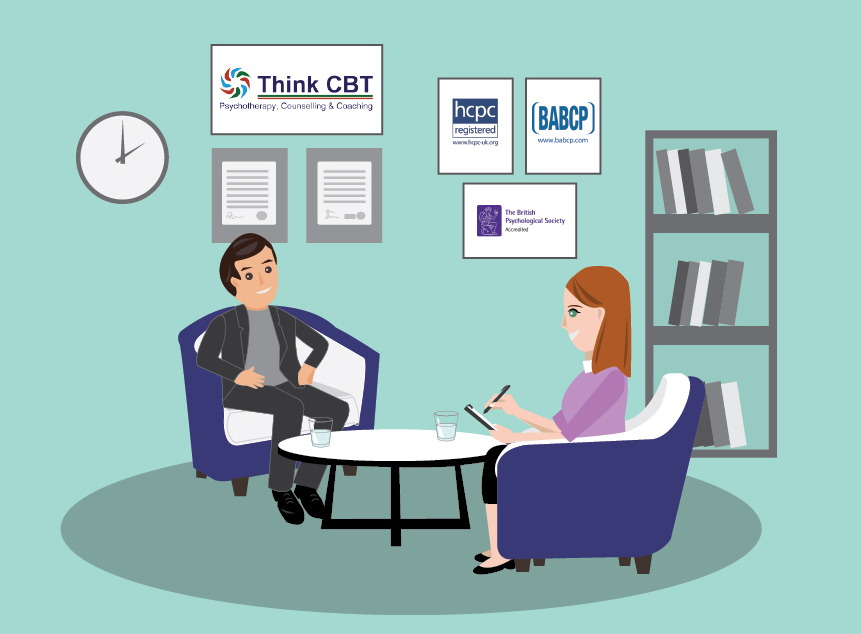 If you are experiencing problems with an anxiety condition, depressed mood, low self-esteem, sleep problems work related stress or conflict in your relationship, contact us to work with a real CBT expert. We always start with an initial free call and we will only work with you if we are confident that we can help. No fuss, no waiting lists and no red-tape. Email appointments@thinkcbt.com
Our London CBT Practice
We provide Cognitive Behavioural Therapy from our consulting rooms in London Bridge SE1 and across fifteen other London locations. We have 42 CBT specialists covering London Bridge SE1, Kings Cross WC1, Liverpool Street EC2M, Blackheath SE3, City of London EC4M, Ealing W4 and Fitzrovia W1, Maida Vale W9, Colliers Would SW19, Kingsbury NW9 and streatham SW16. Search the drop-down for a full list of our locations.
Click here to see a full list of our London CBT Practice Addresses
We are a commercially ethical CBT service. We charge £85 for a 60 minute appointment with a BABCP accredited CBT specialist in London. Unlike many London CBT practices, the money you pay goes directly to your therapist without sub-contracting or agency commission. We are confident that you will not find better value professional CBT in the London area.
Our London Team
Our London Cognitive Behavioural Therapists are at the top of their profession and have achieved full BABCP accreditation. This means that you can be sure that you are working with a properly qualified and experienced CBT expert. We provide easy access to CBT at fifteen London locations covering day-time, evening and weekend appointments. We will always ensure that you are matched with a member of our team who has the skills and experience to meet your specific needs. You can view the detailed professional profiles for our London therapists by following the links shown below:
CBT for Couples and Relationship Problems in London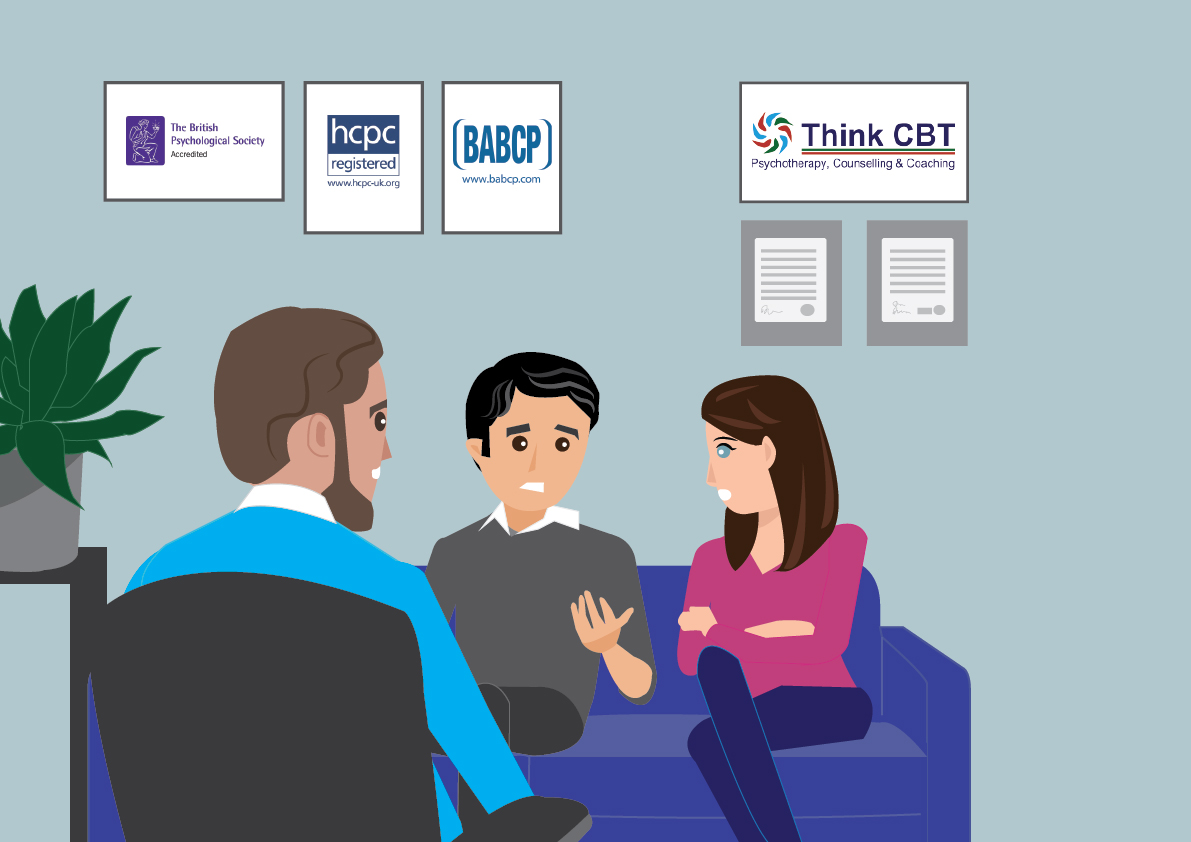 We provide Cognitive Behavioural Couples Therapy in London and surrounding areas. CBT for relationship problems is a highly structured and practical approach for resolving relationship conflict, improving relationship communication and building emotional resilience. CBT for couples is quite different to other forms of relationship therapy and the research evidence shows that it works.
To find out more about CBT for couples and relationship problems in the London area, or to book a couples Cognitive Behavioural Therapy appointment online via video link, complete the simple contact form on this page or email appointment@thinkcbt.com
Cognitive Behavioural Therapy Services and Charges in London
At Think CBT we combine excellent customer service with the highest standards of clinic practice. This means that you can rely on a fast, effective and confidential response when booking your CBT appointment. We operate on a commercially ethical basis, so our basic appointment charge in London is just £85. If you can find private CBT with fully accredited Cognitive Behavioural Psychotherapists in London for less, we would like to hear from you. This is what we offer:
Immediate access to confidential, independent and professional CBT without unnecessary red-tape or a waiting list.
Providing fully qualified BABCP Accredited psychotherapists, rather than unqualified counsellors or trainees.
Delivering therapy at times to suit the client and with the flexibility of evening and weekend appointments.
Providing seamless support throughout the CBT process, with telephone, SKYPE and email follow-up.
Using the latest CBT techniques based on leading edge research and the specific needs of the individual.
Producing a free initial assessment report and lapse prevention plan at the end of therapy.
A free copy of our 90 page interactive CBT workbook to support the therapy process.
Supporting clients with catch-up calls and email contact following the completion of therapy.
If you want to book a CBT appointment in London, call us on 01732 808 626, email info@thinkcbt.com or complete the simple contact form here
Onlin CBT Options in London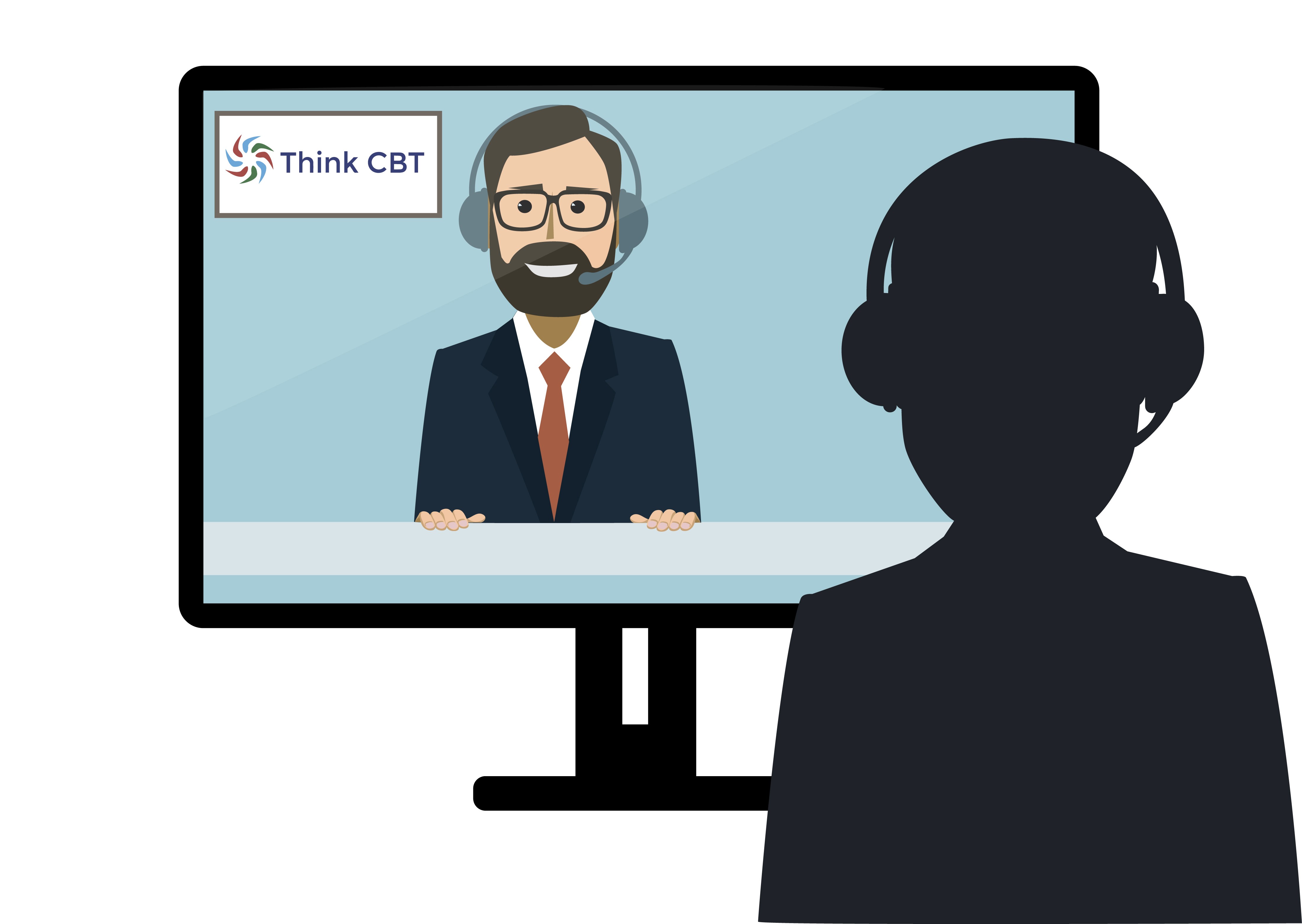 If you are living or working in London and want the flexibility that online video based Cognitive Behavioural Therapy provides, you can organise an online CBT appointment with a member of our London team or select a CBT therapist from our wider team of over 180 UK Cognitive Behavioural Therapists. To get an immediate response, complete the contact form or email info@thinkcbt.com
Free Download to Support Our London Community
We have made a free copy of our 90 page Cognitive Behavioural Therapy workbook available to individuals visiting our London CBT page. To get a free copy as our CBT workbook, just click on the download button and save the document to your personal device or computer. The free version of the Think CBT Workbook is a static PDF, which you can read on your device and print worksheets to complete by hand.
In return for a free copy of the Think CBT workbook, please help us to promote best practice in CBT across the London area by sharing this page or linking back to your website or social media profile.
Take a free confidential psychological assessment.
The Stress, Anxiety & Depression Inventory provides a quick, simple and confidential self-assessment that you can take online, without the need to provide personal information. This could provide you with a helpful insight into the nature of the problem and the psychological factors that keep it going. You can also explore the internet's widest library of free psychological tests by following the free assessments button at the top of the page. These self-assessments provide clinicians and clients with a free resource and can be taken without registering or providing personal information.
Cognitive Behavioral Therapy - CBT in London | Acceptance and Commitment Therapy in London Bridge | London Treatment for Anxiety Conditions and Depressive Disorders | Clinical Psychologists in London.