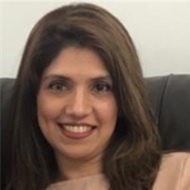 Cognitive Behavioural Therapist
PGDip (CBT), BABCP (Acced)
This therapist has no current availability. For help identifying another therapist, please follow this link, call +44 1732 80862 or email info@thinkcbt.com
Locations
Slough, SL2
Professional Profile
My name is Shama and I am a fully qualified and BABCP accredited Cognitive Behavioural Psychotherapist working with Think CBT Online via Skype and video-link.
I have a person-centered approach which I found to reinforce a strong therapeutic relationship. However, also apply the Roth and Pilling protocol based CBT.
I have excellent organisational skills and always put my clients' needs first.
I have treated clients with depression, anxiety, specific phobia, social phobia, hallucinations, self-harm, low self-esteem, guilt and shame, schizoaffective disorder, alcohol addiction, distress intolerance, PTSD, and OCD.
The majority of my clients presented with co-morbidities, such as; EUPD, Schizophrenia, complex trauma/PTSD and psychosis. I have a lot of experience in managing risks due to an increased risk of suicide and self-harm in some of my clients with severe mental health conditions.
I have also provided CBT to clients with High Functioning Autism, Learning Disabilities, Attention Deficit Hyperactivity Disorder, and other complex needs. This experience helped me to gain an understanding of how psychological processes work in this client group. I was able to adapt my CBT skills by using more visual aids (drawings and pictures), MAKATON sign language and ensuring that CBT material is suitable to their cognitive abilities.
I have a masters in Cognitive Rehabilitation and acquired a good understanding of the neuroscience underpinning psychological and neurological conditions and knowledge of various techniques to rehabilitate or compensate for the resulting cognitive impairments.
I am calm, empathetic and compassionate. I believe in empowering people with knowledge, understanding, and skills to enable them to change their reality and become a better version of themselves.
I have developed good leadership skills when I was given the opportunity as a Clinical Lead. I was able to guide and support a team of Behaviour Practitioners and created a positive working environment that was both supportive and trusting.
I have a good understanding of different cultures and social etiquette that are important factors in mental health and how mental health is viewed in different societies.
Besides English, I am fluent in German, Hindi/Urdu and also speak some Punjabi. I support diversity because I believe that since we are all part of a diverse society this means that the psychological and emotional difficulties in individuals is diverse and thus requires a diverse solution using a diverse approach.
Specialisms
ADHD
Anger
Autism Spectrum Disorder
Body Dysmorphic Disorder
Body Focused Repetitive Behaviours
Claustrophobia
Depression
Health Anxiety
Low Self-esteem
OCD
Panic Disorder
Relationship Problems
Social Anxiety / Phobia
Specific Phobias
Trauma / PTSD
Work Related Stress
Therapies Offered
Cognitive Behavioural Therapy
Accepted Payment Methods
Reserve an Appointment With Shama Khokhar
This therapist has no current availability. For help identifying another therapist, please follow this link, call +44 1732 80862 or email info@thinkcbt.com
Exact location provided on booking confirmation