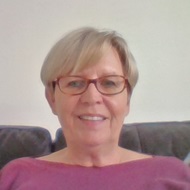 Current Availability
Thursday f2f Or online
Locations
Belper, DE56
Professional Profile
My name is Helen and I am a fully qualified and BABCP accredited Cognitive Behavioural Psychotherapist working with Think CBT online from my consulting rooms in Belper, DE56.
I have over 40 years' experience of working in the mental health field. I initially trained as a psychiatric nurse and worked in a large Psychiatric hospital, where I had the opportunity to work with a whole range of mental health conditions, including older adults with dementia and functional illnesses such as depression and anxiety.
I worked on the acute admission wards with patients presenting with psychotic illnesses and suicidal ideation and intent, OCD, PTSD, and acute anxiety. Following this I undertook an MA in Counselling as I started to develop an interest in working individually with people and could see the merits and benefits this had for them. As part of the training, I worked in a voluntary capacity in a Womens Centre and saw women who had been in abusive relationships, alcohol, and drug abuse and this gave me further knowledge and insight of working with disadvantaged women and how to empower them.
I undertook further studies on to qualify as a Nurse Prescriber and worked quite independently as a Senior Practitioner in an NHS community setting having my own clinics where I saw clients for brief counselling interventions and prescribing as required. I later had the opportunity to study for a Diploma in CBT and began my 14-year career as the Manager/CBT lead in Eating Disorders for the NHS.
I also began to work privately on a part - time basis as a CBT therapist where I quickly developed an interest in working with clients with milder to moderate mental health issues who appeared to respond and engage with CBT. During this period, I have trained in DBT and Compassionate mind training and EMDR.
I have run groups and worked with families and couples. I also have several years' experience working within the psychosexual department, delivering CBT to both individuals and couples, this is a specialised area where I had the opportunity to hone my skills.
I have quite significant experience working with the LGBTQ+ community and feel this is an area that I have developed a deeper understanding and would welcome referrals from this community. I work within and adhere to NICE and ethical guidelines.
I am currently employed as both a clinical supervisor for Derby University and an associate lecturer for the MSc CBT, and CAMHS IAPT course. I also offer clinical supervision to a couple of CBT therapists and Clinical Psychologists in private and NHS practices.
Specialisms
Abuse
Autism Spectrum Disorder
Depression
Grief / Bereavement
Health Anxiety
OCD
Panic Disorder
Social Anxiety / Phobia
Work Related Stress
Therapies Offered
Child and Adolescent CBT
Cognitive Behavioural Couples Therapy
Cognitive Behavioural Therapy
Dialectical Behaviour Therapy
EMDR
Accepted Payment Methods
Bank Transfer
Organisational Funding
Reserve an Appointment With Helen Crowson
Exact location provided on booking confirmation