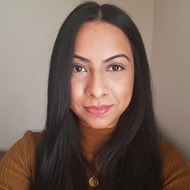 Cognitive Behavioural Therapist
PGDip (CBT), BABCP (Acced)
This therapist has no current availability. For help identifying another therapist, please follow this link, call +44 1732 80862 or email info@thinkcbt.com
Locations
Twickenham, TW3
Professional Profile
My name is Sonali and I am a fully qualified and BABCP accredited Cognitive Behavioural Therapist working with Think CBT. I provide CBT online via Zoom and alternative platforms where requested.
I have worked within mental health for several years in a variety of NHS and private settings, from a low secure
forensic hospital to multiple IAPT services in London. I have experience of working with clients from
all age ranges and backgrounds. Therefore, sessions are tailored to make therapy an experience centered
around you.
My primary interests and clinical experience are in the treatment of Depression and Anxiety problems. This
includes Generalised Anxiety / Excessive Worry, Panic Disorder, Health Anxiety, Post-Traumatic Stress Disorder
(PTSD), Social Anxiety, Specific Phobias, Low Self-Esteem, Obsessive Compulsive Disorder (OCD) and stress
management.
In addition, I also have experience of working with trichotillomania, hoarding, perfectionism
and managing long-term health conditions. Having attended training events, I am able to offer CBT in
combination with elements of Acceptance and Commitment Therapy (ACT) and/or Compassion Focused Therapy (CFT) where suitable.
Life is full of ups and downs and this is unique for everyone. Sometimes this can start to affect our functioning on a day-to-day basis and we can end up struggling to cope. In my practice, therapy is a safe and supportive space, where we can begin to understand what is going on for you and how we can overcome this together so you feel more able to manage.
Please feel free to get in touch if you are interested in taking the next steps into your journey to improve your emotional wellbeing.
Specialisms
Anxiety
Body Dysmorphic Disorder
Body Focused Repetitive Behaviours
Claustrophobia
Depression
Emetophobia
Health Anxiety
OCD
PTSD
Panic Disorder
Perinatal Depression
Self-esteem Problems
Sleep Problems
Social Anxiety / Phobia
Specific Phobias
Work Related Stress
Therapies Offered
Child and Adolescent CBT
Cognitive Behavioural Therapy
Accepted Payment Methods
Bank Transfer
Organisational Funding
Reserve a £75 Appointment With Sonali Varma
This therapist has no current availability. For help identifying another therapist, please follow this link, call +44 1732 80862 or email info@thinkcbt.com