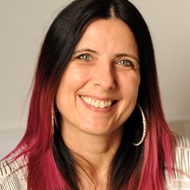 Chartered Psychologist
PGDip (CBT), PhD, NMC, BPS, BABCP (Acced)
This therapist has no current availability. For help identifying another therapist, please follow this link, call +44 1732 80862 or email info@thinkcbt.com
Current Availability
I currently have a few spaces for young people aged 11 to 14
Locations
Unit 2, Woodgate Chambers, 70, Woodgate, Loughborough, LE11 2TZ
Professional Profile
My name is Helen and I am a fully qualified and BABCP accredited Cognitive Behavioural Psychotherapist working with Think CBT from my consulting rooms in Loughborough, Leicestershire (LE11).
I am also a Chartered Psychologist with a background in learning disability nursing and I have worked in the healthcare professions for over 30 years. I have been practising as a CBT therapist for 11 years and have experience of working with general to very complex mental health problems.
I work with adults and young people from the age of 11 upwards. I have an academic background as Course Director of a CBT training programme, which provided me with additional skills in training and clinical supervision.
I offer Cognitive Behavioural Therapy (CBT) for depression, anxiety and emotional distress. This includes excessive worry, intrusive and obsessive thoughts and trauma. General stress and 'overthinking' can lead to problems with sleep and concentration. CBT can help you to understand how thoughts and behaviours influence your emotional state. I can help you tolerate the distress associated with suicidal thoughts and urges that lead to self-harm. No problem is too big or too small to explore.
If it is causing difficulty in your daily life, then don't leave it any longer. This is an opportunity to invest in your wellbeing.
I am an experienced CBT Therapist, in both Primary and Secondary care. I have always been passionate about helping people to express themselves through their life stories. I incorporate this into my CBT work, using creative methods to develop a shared understanding of your difficulties.
I value working in collaboration, exploring issues together. If you have difficulty expressing your problems, CBT can help to provide a language to understand a way forward. I will encourage you to recognise your existing strengths and build self-compassion to help you move towards recovery.
Specialisms
Body Focused Repetitive Behaviours
Chronic Pain
Depression
Emetophobia
Health Anxiety
OCD
Panic Disorder
Sleep Problems
Social Anxiety / Phobia
Specific Phobias
Work Related Stress
Therapies Offered
Child and Adolescent CBT
Cognitive Behavioural Therapy
Accepted Payment Methods
Reserve an Appointment With Dr Helen Moya
This therapist has no current availability. For help identifying another therapist, please follow this link, call +44 1732 80862 or email info@thinkcbt.com