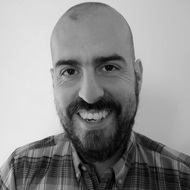 Current Availability
Most of my appointments are Mondays and Tuesdays before 13:30. The rest of the days will be appointments after 18:30 week days. I can accomodate earlier hours, ie: 6 am or 7am.
Locations
Cardiff, CF11
Professional Profile
My name is Jaime, I am a BABCP accreditated CBT therapist, EMDR therapist and Registered Mental Health Nurse. I specialise in online therapy.
I work in secondary and primary mental health services in England and Wales, as a CBT and EMDR therapist.
I have special interest in working with difficulties that are not diagnostic drive, and intervention tailored made to the individual. Also, I have special interest, experience and knowledge on Obsessive-Compulsive Disorder (OCD), Post Traumatic Stress Disorder (PTSD), Social Anxiety Disorder and Specific Phobias (spiders, vomit and others).
I have used extensive imaginal techniques in my practice, which is ideal for online therapy.
I am open, honest and approachable. I speak Catalan, Spanish and English.
I also use resilience base strategies when working with people and use their strengths to achieve their goals.
However, I have worked with a variety of other difficulties and disorders. I am happy to discuss your difficulties and workout together if I can be of any help to you. As I am driven by individuals needs and goals.
I am registered therapist with Vitality Health, Aviva, Axa Health and WPA.
Specialisms
Anger
Body Dysmorphic Disorder
Body Focused Repetitive Behaviours
Claustrophobia
Emetophobia
Generalised Anxiety Disorder
Health Anxiety
OCD
Panic Disorder
Sleep Problems
Social Anxiety / Phobia
Specific Phobias
Trauma / PTSD
Work Related Stress
Therapies Offered
Cognitive Behavioural Therapy
EMDR
Exposure Response and Prevention
Trauma Focused Cognitive Therapy
Accepted Payment Methods
Bank Transfer
Organisational Funding
Professional / Legal Funding
Reserve an Appointment With Jaime G. Miralles
Exact location provided on booking confirmation