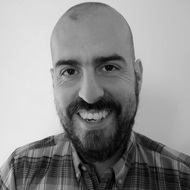 Locations
Online Only
Professional Profile
My name is Jaime and I am a CBT therapist and Registered Mental Health Nurse, working with Think CBT online via Skype and video-link.
I am open, honest and approachable.
I graduated from Cardiff University in 2011 as a Registered Mental Health Nurse and for seven years I worked in in-patient mental health services, as well as community secondary services. I supported and worked with people while experiencing deeply enduring conditions, such as Bi-polar, Depression, Psychosis and Psychotic-depression.
In 2017, I decided to attend a Postgraduate Certificate at University of Reading. Soon after this, I begun to work in an IAPT service and complete a Postgraduate Diploma at University of Exeter. Both of these courses are accredited by the British Association for Behavioural and Cognitive Psychotherapist (BABCP).
Currently, I am in the process to be fully accredited by the BABCP.
I am particularly interested on Obsessive-Compulsive Disorder (OCD), Social Anxiety Disorder, Generalised Anxiety Disorder (GAD), Specific Phobias (spiders, vomit and others) and Post Traumatic Stress Disorder.
I personalise evidence-based interventions to maximise recovery and relapse. I follow the National Institute for Health and Care Excellence (NICE) guidelines and adhere to the University College London (UCL) competences of practice, when delivering time limited CBT.
Previously, I worked for IAPT services and currently, I work in secondary mental health services for the NHS.
Specialisms
Anxiety
Body Focused Repetitive Behaviours
Emetophobia
OCD
PTSD
Panic Disorder
Sleep Problems
Social Anxiety / Phobia
Specific Phobias
Therapies Offered
Cognitive Behavioural Therapy
Reserve an Appointment with Jaime Miralles