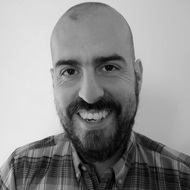 Locations
Jaime Miralles, Hadfield Road, Cardiff, CF11 1NB
Professional Profile
My name is Jaime, I am a CBT therapist and Registered Mental Health Nurse, working with Think CBT online via Skype and video-link.
I work in secondary mental health services as a CBT and EMDR therapist. Previously, I have worked in primary care settings, IAPT service.
I graduated from Cardiff University in 2011 as a Registered Mental Health Nurse. In 2017, I attend a Postgraduate Certificate at University of Reading. Soon after this, I begun to work in an IAPT service and complete a Postgraduate Diploma at University of Exeter. Both of these courses are accredited by the British Association for Behavioural and Cognitive Psychotherapist (BABCP).
I am open, honest and approachable. I speak Catalan, Spanish and English.
I use a lot of resilience base strategies when working with people and use their strengths to achieve their goals.
I have special interest and knowledge on Obsessive-Compulsive Disorder (OCD), Social Anxiety Disorder, Specific Phobias (spiders, vomit and others) and Post Traumatic Stress Disorder. However, I have worked with a variety of other difficulties and disorders. I am happy to discuss your difficulties and workout together if I can be of any help to you.
I use evidence-based interventions to maximise recovery and relapse, and do so by personalising CBT to the needs of the individual.
I recently have done my EMDR training, and I am using this to do trauma work.
Specialisms
Anger
Anxiety
Body Dysmorphic Disorder
Body Focused Repetitive Behaviours
Claustrophobia
Emetophobia
Health Anxiety
OCD
PTSD
Panic Disorder
Sleep Problems
Social Anxiety / Phobia
Specific Phobias
Therapies Offered
Cognitive Behavioural Therapy
EMDR
Accepted Payment Methods
Bank Transfer
Organisational Funding
Reserve a £75 Appointment With Jaime G. Miralles