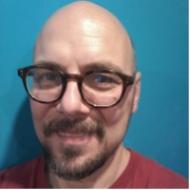 Cognitive Behavioural Therapist
PGDip (CBT), BABCP (Acced)
This therapist has no current availability. For help identifying another therapist, please follow this link, call +44 1732 80862 or email info@thinkcbt.com
Current Availability
I currently have limited availability on Wednesday's only. This from my first session slot i.e. of 10:00am-11:00am until my last session slot of 18:00pm-19:00pm.
Locations
Sheffield, S6
Professional Profile
My name is Mike Butterworth; I have been working as a Cognitive Behavioural Psychotherapist (CBT) since 2012. I am currently based in Sheffield and have experience in providing 1-1 CBT through face to face, telephone or online i.e. Attend Anywhere or Zoom.
As a CBT Psychotherapist I have also worked in a variety of settings. This is including within community mental health teams in Secondary Mental Health Care.
Working within both the NHS and also privately, I have gained extensive experience with a wide range of psychological, emotional and behavioural problems including: Psychosis, Bi-Polar Disorder, Generalised Anxiety Disorder (GAD), Health Anxiety, Obsessive Compulsive Disorder (OCD), Panic Disorder, Specific Phobias, Post Traumatic Stress Disorder (PTSD), Social Anxiety, Specific Phobias, Self-esteem problems and different types of Depression.
I also have experience of supervising other CBT therapists, teaching CBT to others and running CBT informed groups. This is both face to face over the phone and online.
I have experience of effectively applying CBT in a variety of clinical settings. This is to different, populations, age groups; ethnicities and cultures and degrees of learning disabilities (including Asperger's syndrome) and also for a wide range of problems. I also have experience of teaching CBT to others, supervising other CBT professionals and running CBT informed groups.
I have experience of providing person centred focused CBT in an empathic non-judgemental way. I am a qualified Eye movement desensitisation reprocessing (EMDR) practitioner and I have additional training in EMDR, acceptance and commitment therapy (ACT), compassion focused therapy (CFT) dialectical behaviour therapy (DBT) and cognitive behavioural analysis system of psychotherapy (CBASP).
I passionately believe in the importance of connecting with clients' in a person-centred non-judgemental and empathic way. This is whilst also providing a collaborative, focused and goal centred approach. I also often draw on different (evidence based) approaches during my sessions. This is in order to ensure that the CBT therapy I provide is tailored uniquely to each individual and according to their needs. The main motivating force for me in my practice is to be the best therapist I can be and for each and every client that I work with.
This also means I am able to draw on a wide range of evidence based psychological techniques and to meet the specific needs of my clients. I also place a strong emphasis on a shared trusting alliance between myself and my clients. This is together with the use of judicious (well judged) humour and the importance of being 'human', down to earth and providing validation empathy and 'warmth' in my sessions. , confidentiality, humour and the quality of the working relationship.
Specialisms
Autism Spectrum Disorder
Depression
Health Anxiety
OCD
Panic Disorder
Sleep Problems
Social Anxiety / Phobia
Therapies Offered
Acceptance and Commitment Therapy
Cognitive Behavioural Therapy
Compassion Focused Therapy
Dialectical Behaviour Therapy
EMDR
Accepted Payment Methods
Bank Transfer
Organisational Funding
Reserve an Appointment With Mike Butterworth
This therapist has no current availability. For help identifying another therapist, please follow this link, call +44 1732 80862 or email info@thinkcbt.com
Exact location provided on booking confirmation