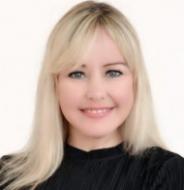 Cognitive Behavioural Therapy
MBABCP, National Counselling Society (Accred), BA Degree (Psychology and Sociology)
Contact
Locations
73 Hillsborough Park, Camberley, Surrey, GU15 1HG 
Professional Profile
My name is Mandy and I am a fully qualified and BABCP Accredited Cognitive Behavioural Therapist. I hold regular CBT clinics in Camberly, Surrey for Think CBT.
Having spent more than a decade counselling people, I am adept at assessing and identifying what interventions are needed to improve a person's mental health. I enjoy people and their stories and never stop learning. I tailor-make my counselling approach to the individual and can work quickly for good results.
Specialisms
Anxiety
Depression
Health Anxiety
Panic Disorder
Relationship Problems
Social Anxiety / Phobia
Specific Phobias
Work Related Stress
Therapies Offered
Cognitive Behavioural Therapy
Compassion Focused Therapy
Reserve an Appointment with Mandy Kloppers
To reserve an appointment select the therapy and location using the drop down boxes shown below; select the available day and time slots highlighted in light blue and this will take you to a reservation screen where you can enter your contact details.