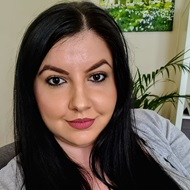 Current Availability
Please get in touch with me if you would like an appointment. I currently have availability on Mondays, Wednesdays and Thursdays. Please note I do not offer appointments before 10am and after 6.30pm.
Locations
London, N14
Professional Profile
My name is Ioana and I am a qualified and BABCP accredited CBT therapist, working with Think CBT. I have over 7 years of experience working in both the NHS and private practice. I am trained to work across the anxiety disorder spectrum as well as depression and stress.
The people I work with report that anxiety, depression, and stress have an impact on 2 main areas of their life: work and relationships. They report symptoms such as excessive worrying, rumination, loss of pleasure, interest, or motivation in doing the things they once enjoyed, sleep difficulties, and anxiety in social situations, in their relationships or at work. They might also report not being able to say no to others, inability to make their own decisions, to unwind and relax.
Regarding their relationships, they might report being excessively preoccupied with being in a relationship, might experience loneliness or might experience fear of intimacy, and being excessively worried about being rejected or abandoned. In their careers, they might feel like a failure, they might report thinking they are an imposter, they might want to progress but feel stuck and do not know where to go next.
When we explore these issues together, we realise that there is a commonality in that usually looking back at childhood events we might notice experiences of neglect, of not being validated, being dismissed or being highly criticised by the parental figure. In some cases, there are histories of trauma as well.
I use CBT to fully assess and understand what your current issues are and devise a plan for how we can work together. Usually, this involves spending some time to understand how early life events have shaped the thinking patterns that come up for you in the here and now. I then use a range of CBT techniques that help you change negative thinking patterns, manage worrying and rumination, and become more assertive, more resilient, and more confident. If there is a history of trauma, we can also work together to process that, teaching you techniques to manage any intrusive memories better.
For me, it is really important that the work that we do is collaborative and led by your goals, the best vision of how you would like your life to be. You are an expert on what has happened to you and how this is impacting you now, but I have the knowledge and skills to help you get to where you want to be.
The most common feedback I receive from my clients is that I am a good listener, trustworthy and empathetic. They often say that I have a warm smile and eyes, making them feel safe and not judged.
The current COVID-19 pandemic has forced us to adapt our ways of working in that I have been offering telephone, text-based and video call appointments. My clients have reported that working remotely with me has been just as effective as face-to-face.
Specialisms
Abuse
Anger
Claustrophobia
Depression
Generalised Anxiety Disorder
Grief / Bereavement
Low Self-esteem
OCD
Panic Disorder
Perinatal Depression
Relationship Problems
Sleep Problems
Social Anxiety / Phobia
Specific Phobias
Trauma / PTSD
Work Related Stress
Therapies Offered
Acceptance and Commitment Therapy
Behavioural Activation
Cognitive Behavioural Therapy
Compassion Focused Therapy
Exposure Response and Prevention
Professional Coaching
Trauma Focused Cognitive Therapy
Accepted Payment Methods
Bank Transfer
Aviva
AXA
Vitality
Reserve an Appointment With Ioana Rotaru
Exact location provided on booking confirmation