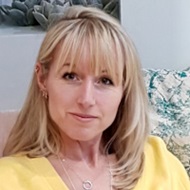 Cognitive Behavioural Therapist
MSc (Rational-Emotive and CBT), BA Hons (Criminal Justic and Social Work), HND (Caring Services) MBABCP
Book appointment
Locations
The Eaves, The Lodge, Cattershall Mill, Catteshall Road, Godalming, GU7 1NJ
Professional Profile
My name is Clare and I am a Cognitive Behavioural Psychotherapist with 20 years experience in working with individuals, families and communities experiencing emotional distress. I hold regular CBT appointments in Godalming, Surrey GU7.
I work with adults experiencing emotional and psychological difficulties such as Addictions, Trauma (PTSD) , Obsessive Compulsive Disorder (OCD), Depression, Generalised Anxiety Disorder, Social Anxiety, Health Anxiety, Panic Disorder and Sex and Relationship Problems using a brief model of psychotherapy depending on the problems presented.
As a CBT Therapist, I am active directive in sessions and we would work together in order to help you understand the nature and development of your problems. You may wish to change a situation, or the way you think or behave in a situation, and we would work together in therapy to teach you alternative ways of managing.
Specialisms
Anxiety
Depression
Grief / Bereavement
Health Anxiety
OCD
PTSD
Panic Disorder
Sleep Problems
Social Anxiety / Phobia
Specific Phobias
Work Related Stress
Therapies Offered
Cognitive Behavioural Therapy
Reserve an Appointment with Clare Kane
To arrange an appointment with Clare Kane, please use the Appointment form.