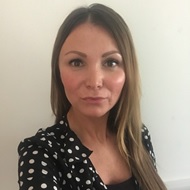 Cognitive Behavioural Therapist
BABCP (Acced) PG Dip (CBT high intensity), PG Cert (CBT low intensity), PG Dip (Mental Health Practice), BSc (Hons) Psychology
Book Appointment
Locations
Online Only
Professional Profile
My name is Anna and I am a fully qualified and BABCP accredited Cognitive Behavioural Psychotherapist, working with Think CBT online via Skype and video-link.
I work with a variety of client groups with a wide range of mental health difficulties: depression, Post Traumatic Stress Disorder (PTSD), Traumatic Grief, Birth Trauma, Generalised Anxiety Disorder (GAD), Obsessive Compulsive Disorder (OCD), Body Dismorphic Disorder (BDD), Health Anxiety, Social Anxiety, specific Phobias, Agoraphobia, Panic Disorder, Body Focused Repetitive Behaviours (BFRBs), Olfactory refernece syndrome (ORS), first episode psychosis as well as severe and enduring mental health problems.
I have been working across different NHS services for the last 9 years, ranging from IAPT to secondary care outpatient and inpatient services.
I currently work as a CBT therapist in IAPT and supervise clinicians in training. Outside of the NHS I offer online CBT sessions.
Specialisms
Anger
Anxiety
Body Focused Repetitive Behaviours
Depression
Emetophobia
Grief / Bereavement
Health Anxiety
OCD
PTSD
Panic Disorder
Self-esteem Problems
Sleep Problems
Social Anxiety / Phobia
Specific Phobias
Work Related Stress
Therapies Offered
Cognitive Behavioural Therapy
Reserve an Appointment with Anna Gregorowicz