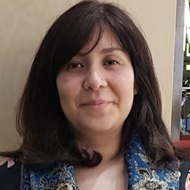 Locations
171 Bury New Road, Prestwich, Manchester, M25 0DJ
Professional Profile
My name is Gisela and I am a fully qualified and BABCP accredited Cognitive Behavioural Psychotherapist working with Think CBT from my consulting rooms in Manchester (M25). I also provide CBT online via Skype and video-link.
Cognitive Behavioural Therapy is a talking therapy that can help you manage your problems by changing the way you think and behave. It can be used to treat a variety of mental health problems and also to cope with pain.
As well as seeing clients privately, I work for the NHS in a secondary care psychological service, which means I also have experience working with complex cases. My main interests are helping people cope with intrusive distressing thoughts and how to manage difficult emotions.
I also offer therapy for Depression, Anxiety Disorders :Generalised Anxiety Disorder, Panic Disorder, Obsessive Compulsive Disorder, Body Dysmorphic Disorder, Phobias, PTSD, Social anxiety and pathological jealousy. I also help treat Eating Disorders and Psychosis.
I offer EMDR for PTSD, Phobias and Distorted body image.
I am accredited with the British Association of Cognitive and Behavioural Psychotherapies and I am registered of the Nursing and Midwifery council as a mental health nurse.
I have undertaken further training in Acceptance and commitment therapy, which I think it is really effective in managing many mental health difficulties.
I also offer therapy in Spanish.
Specialisms
Abuse
Addictions
Anger
Anxiety
Bipolar Disorder
Body Dysmorphic Disorder
Claustrophobia
Depression
Eating Disorders
Emetophobia
Grief / Bereavement
Health Anxiety
OCD
PTSD
Panic Disorder
Self-esteem Problems
Social Anxiety / Phobia
Specific Phobias
Therapies Offered
Acceptance and Commitment Therapy
EMDR
Accepted Payment Methods
Reserve a £75 Appointment With Gisela Ramirez