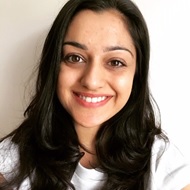 Cognitive Behavioural Therapist
PGDip (CBT) BSc (Hons) BABCP (Acced)
This therapist has no current availability. For help identifying another therapist, please follow this link, call +44 1732 80862 or email info@thinkcbt.com
Locations
Suite 65, 105 London Street, Reading, Berkshire, RG1 4QD
Professional Profile
My name is Anjali Mehta and I am a fully qualified and BABCP accedited CBT Therapist, working with Think CBT in my private practice in Reading, Berkshire. I provide CBT online via Zoom or telephone
I offer Cognitive Behavioural Therapy (CBT) for low mood, stress and anxiety.
After my training, I became accredited with the governing body (British Association of Behavioural and Cognitive Psychotherapies; BABCP). As such, I am committed to following a code of conduct that protects the welfare of my clients, and ensures I undertake regular training and supervision to ensure I am practising at my best.
Having worked in both the NHS and private practice over the years, I have worked with children and adults providing CBT for anxiety (Generalised Anxiety Disorder, Health Anxiety, Social Anxiety, Panic Disorder, Phobias), PTSD, OCD, low self-esteem and depression. I also have good experience and skills in working with people with Autism Spectrum Disorders.

My specialist interests are working with clients with generalised anxiety (i.e. many worries), low self-esteem and depression. I find that I am particularly interested and skilled in supporting people to manage their worries and negative or self-blaming thoughts, and love to support clients to feel like their old selves with a clear mind again.
I believe in using research to lead the interventions I offer. CBT is a particularly researched therapy and is shown to be effective in all the problems I help clients to manage. Research is important to me, and I've been part of several research projects over the years, investigating new treatment protocols for adolescent depression, the effectiveness of online therapy, and looking at the stigma behind medically unexplained symptoms.
I also teach evidence-based protocols at the University of Reading, therefore supporting the future CBT therapists and low intensity CBT practitioners. I have also taught at, and supported the teaching team at, the University of East Anglia, by providing consultancy to support them with the start-up of one of their CBT-informed courses.
My approach is warm and friendly, and I truly believe the relationship between client and therapist is so important. In fact, research shows that can be a large factor in the client's recovery. I use humour and trust to build a strong relationship but will also gently help you to challenge any unhelpful beliefs that I think may be holding you back. I have received great feedback from my clients, and continually use this to mould the way I deliver therapy.
Specialisms
Anxiety
Body Dysmorphic Disorder
Claustrophobia
Depression
Health Anxiety
OCD
PTSD
Panic Disorder
Self-esteem Problems
Sleep Problems
Social Anxiety / Phobia
Specific Phobias
Work Related Stress
Therapies Offered
Cognitive Behavioural Therapy
Accepted Payment Methods
Reserve a £75 Appointment With Anjali Mehta
This therapist has no current availability. For help identifying another therapist, please follow this link, call +44 1732 80862 or email info@thinkcbt.com