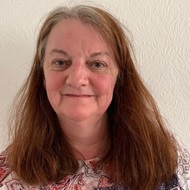 Counselling Psychologist
PGDip (CBT), EMDR, HCPC, BABCP (Acced)
This therapist has no current availability. For help identifying another therapist, please follow this link, call +44 1732 80862 or email info@thinkcbt.com
Locations
Wales, LD3
Professional Profile
My name is Sylvia and I am a fully qualified Chartered Counselling Psychologist. I am also an accredited Cognitive Behavioural Psychotherapist and an accredited EMDR therapist working with Think CBT.
I work in various clinics, but currently all therapy is online due to COVID restrictions. I also provide clinical supervision in either CBT and/or EMDR as I am an accredited supervisor.
I hold a variety of qualifications. My background is as a registered mental health nurse (RMN) and I then trained in cognitive behavioural therapy (CBT) but I recently qualified as a Counselling Psychologist having passed my Doctorate.
I have over 20 years' experience in the mental health field working in various sectors including inpatient, community and forensic, which means that I can draw from a wide range of knowledge to help the specific needs of clients.
I have worked in the NHS and private practice for many years and have experience with most mental health disorders including PTSD, OCD, anxiety and depression. I have specific training to treat Tourette's Disorder (tics) and I am on the register with Tourette's Action.
The Doctorate in Counselling Psychology involved submitting a thesis where I used a group EMDR approach to treat Military Veterans with PTSD.
All the therapies I offer are evidence based and I work holistically with a client to work out what is more appropriate for them.
Specialisms
Abuse
Anger
Autism Spectrum Disorder
Body Dysmorphic Disorder
Depression
Emetophobia
Grief / Bereavement
Health Anxiety
OCD
Panic Disorder
Sleep Problems
Social Anxiety / Phobia
Work Related Stress
Therapies Offered
Acceptance and Commitment Therapy
Cognitive Behavioural Therapy
Compassion Focused Therapy
Counselling Psychology
EMDR
HCPC Clinical Supervision
Accepted Payment Methods
Reserve an Appointment With Dr Sylvia Davies
This therapist has no current availability. For help identifying another therapist, please follow this link, call +44 1732 80862 or email info@thinkcbt.com
Exact location provided on booking confirmation