Cognitive Behavioural Therapy – CBT in Leeds and Online via Skype and Zoom
Welcome to our Leeds CBT page: if you were looking for Cognitive Behavioural Therapy in the Leeds area, we can help. Our Leeds CBT specialists are at the top of their profession and we work with the full range of anxiety conditions and depressive disorders. On this page you can book a CBT appointment, view the profiles of our Leeds CBT therapists, download free CBT resources and take a free psychological assessment. To book an informal call with a member of our Leeds CBT team complete the appointment form on this page, call +44 1732 808626 or email appointments@thinkcbt.com
Impacts of Mental Health in the Leeds Area
The latest research into mental health problems in the Leeds area recorded over 130,000 individuals experiencing problems with anxiety conditions or depression. GP surgeries in the Leeds area have reported that approximately 40% of all referrals relate to psychological problems and the data shows that over 94,000 prescriptions were issued for psychotropic medications including antidepressants. The costs of mental health problems to the Leeds economy are estimated to be over £500 million each year, a situation significantly exacerbated by the economic and social impacts of the coronavirus. This demonstrates that leads like many other large UK cities experiences a high prevalence of mental health problems which profoundly affects work, social engagement and personal relationships.
Our Leeds CBT Services
We provide Cognitive Behavioural Therapy (CBT) from our consultation rooms in Leeds and the surrounding areas. We treat a wide range of psychological and behavioural presentations including anxiety, depression, insomnia, OCD, Panic Disorder, PTSD and low self-esteem.
We specialise in Cognitive Behavioural Therapy for adults and children and we provide other evidence-based therapies including ACT, DBT, CFT and EMDR. If you are seeking Cognitive Behavioural Therapy for a mental health problem in the Leeds area, you can contact our office to book an appointment without waiting lists or delays.
Our Leeds Cognitive Behavioural Psychotherapists are professionally qualified to a post-graduate level and hold full accreditation with the British Association of Behavioural and Cognitive Psychotherapy. This means that we have demonstrated the UK gold standard in the clinical practice of Cognitive Behavioural Therapy.
Booking a Cognitive Behavioural Therapy appointment is simple to do. You can call our therapy team to book an appointment in Leeds by completing the appointments form or emailing us at appointments@thinkcbt.com
Online CBT for People Living in Leeds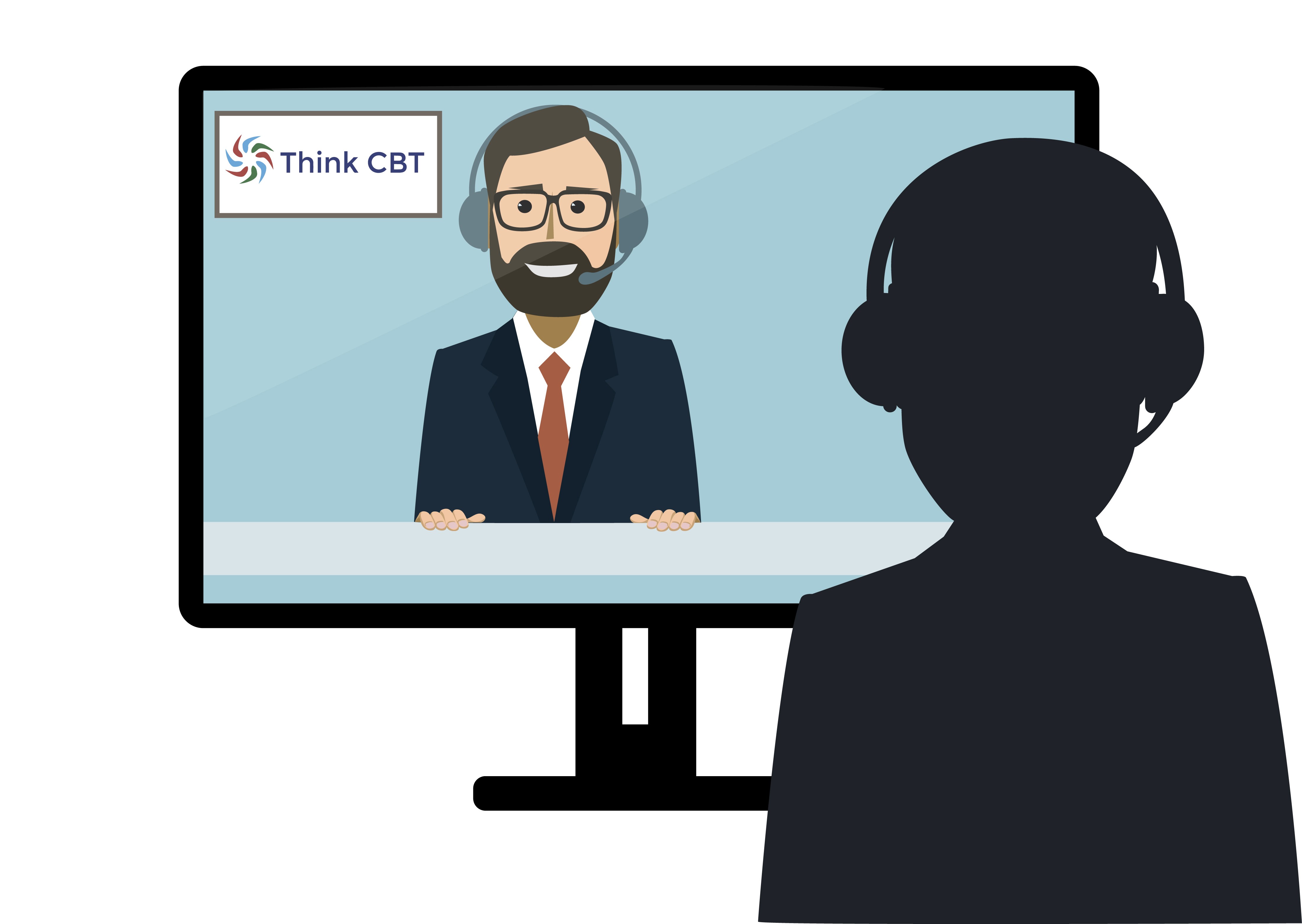 To take advantage of the speed, convenience and flexibility that online video based CBT can provide, request an online appointment with a member of our Leeds team or choose a CBT therapist from our wider team of 180 professionally recognised UK Cognitive Behavioural Therapists. To find out more email appointments@thinkcbt.com
Search Our CBT Therapist Profiles
Please enter your search terms in the box provided below to search for a BABCP accredited Cognitive Behavioural Psychotherapist. Every member of our Leeds and UK wide team provides online video-based therapy in addition to their standard face-to-face CBT clinics. If you need help choosing a Leeds based Cognitive Behavioural Therapist to meet your own personal requirements, then just call our office and we will guide you through the process. It just takes a couple of minutes to organise and we can usually arrange CBT appointments within two working days of your enquiry.
CBT Therapists in Leeds and Nearby
Leeds, LS28
5.2 miles from Leeds, West Yorkshire
Wakefield, WF15
11.5 miles from Leeds, West Yorkshire
Harrogate, HG1
14.3 miles from Leeds, West Yorkshire
Huddersfield, HD1
14.9 miles from Leeds, West Yorkshire
Holmfirth, HD9
17.3 miles from Leeds, West Yorkshire
Wistow, YO8
18.3 miles from Leeds, West Yorkshire
Our CBT Charges in Leeds
Unlike many of the larger financially oriented CBT clinics, what you pay for CBT therapy is paid directly to the therapist delivering the service. We do not incorporate hidden commission charges into your fee. You pay a fair rate for professional CBT and the CBT therapist receives the full rate for the work that they do. We believe this is crucial in securing a trusted and equitable agreement between our therapists and our clients.
Download a Free Copy of the Think CBT Workbook for People in Leeds and Nearby Areas
We have made a free copy of our 90-page CBT workbook available to clients visiting our Leeds CBT page. To get your free copy of the Think CBT Workbook and Skills Primer, just click on the green button and save the pdf to your computer or electronic device. We will not ask for contact details or collect your personal data. In return, please share our page via your social media feed or directly with other individuals looking for high quality CBT.
To read more about our clinical and customer service standards, check out our homepage or visit the links shown at the bottom of this page to read more about how CBT can be used to treat a wide range of anxiety conditions and depressive disorders.
Tests for Depression and Anxiety for People in Leeds
if you are living or working in the Leeds area and want to take a quick self-assessment, the following tests can provide helpful information before arranging therapy. You can also show the results from these assessments to your GP or another psychological health professional.
Please note: Data generated from these tests is not stored or shared with any other party. We will not use your personal data for research or marketing purposes and our data control processes comply with the General Data Protection Regulations also known as (GDPR).
Always consult a qualified health professional such as your GP or local emergency services if you feel at risk or if you are concerned about your safety.