Cognitive Behavioural Therapy and Counselling Experts in Canterbury & Online
We provide specialist Cognitive Behavioural Therapy (CBT) and Counselling services in Canterbury CT1, Sturry CT2, Whitstable CT5 and Hythe CT21. Our Canterbury and Coastal Kent CBT team are all highly qualified and experienced Cognitive Behavioural Psychotherapists, with specialist expertise across the full range of anxiety conditions and depressive disorders. In addition to CBT, our Canterbury team are also qualified in Acceptance and Commitment Therapy (ACT), Clinical Psychology, Counselling and EMDR.
The Canterbury CBT team is part of a wider group of over one hundred professionally accredited CBT therapists covering Kent, London, Surrey and Sussex.
We specialise in the treatment of Generalised Anxiety Disorder, Health Anxiety, Panic Disorder, OCD, Social Anxiety, PTSD, Insomnia, Depression and problems with low self-esteem. If you need help with a relationship problem or if you want to work on emotional resilience at work, our Cognitive Behavioural Therapy team can help. To find out more and book a private appointment call 01732 808 626, email info@thinkcbt.com or complete the confidential contact form on this page.
We are a commercially ethical psychological service provider. This means that we charge just £75 for a CBT appointment with a BABCP accredited Cognitive Behavioural Therapist in Canterbury. Unlike many other independent Cognitive Behavioural Therapy providers, the money you pay goes directly to your therapist without sub-contracting or agency commission.
Our Canterbury Area Team
Our Cognitive Behavioural Therapists are all qualified at a Post-graduate, Masters or Doctoral level and hold full accreditation with the British Association of Behavioural & Cognitive Psychotherapy (BABCP). This means that your therapist has demonstrated the highest standards of observed professional practice and meets the rigorous standards of clinical supervision and professional development required by the BABCP.
Our therapeutic approach is time-focussed, highly structured and collaborative. We place great emphasis on providing a confidential and non-judgemental environment for our clients to begin the process of recovery. In addition to our core CBT practice, many of our therapists are also trained in Third Wave CBT approaches such as Acceptance & Commitment Therapy (ACT), Compassion Focussed Therapy (CFT) and Mindfulness-based CBT (MBCBT). This means that we are able to tailor treatment according to the specific needs of our clients.
What We Do
Our Cognitive Behavioural Therapists use the latest CBT techniques to tackle a wide range of problems including Generalised Anxiety Disorder, Panic Disorder, Social Anxiety, OCD, Health Anxiety, Trauma and PTSD, Insomnia, Depression and low self-esteem. CBT has been proven to provide an effective treatment for anxiety conditions and depression and the published research evidence shows that it works.
Cognitive Behavioural Therapy Services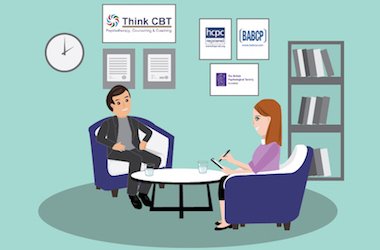 We combine leading edge Cognitive Behavioural Therapy with good value for money, excellent customer service and a warm and confidential environment. CBT Appointments in Canturbury are easy to organise and there is no unnecessary red-tape or waiting-lists. For a confidential, discrete and personalised therapy service in Canturbury contact us today to organise a free initial telephone consultation.
We also offer skype, face to face and telephone therapy support at times that work around your existing commitments. If you want to book a free telephone consultation with a fully qualified and BABCP accredited CBT specialist, call us on 01732 808 626, email info@thinkcbt.com or complete the confidential contact form.
Think CBT is committed to providing access to affordable independent Cognitive Behavioural Therapy. Our aim is to support tangible improvements in the psychological health and well being of our clients, contributing to better lives worth changing for.

There are many psychotherapists and counsellors offering cognitive behavioural therapy. Always ensure that your therapist is professionally accredited with the British Association of Behavioural and Cognitive Psychotherapy (BABCP).
Cognitive Behavioural Therapy (CBT) in Sevenoaks Kent | Psychotherapy and Counselling in London SE1 | CBT in Westerham and Tunbridge Wells | Counselling and Psychotherapy in Folkestone and Canterbury | Cognitive Behaviour Therapy in Maidstone and Kingshill Kent | CBT and Counselling across Surrey and Sussex.