Cognitive Behavioural Therapy - Accredited CBT in Kent
We provide Cognitive Behavioural Therapy (CBT) services from a number of key locations across Kent. We have CBT experts from our main centre in Sevenoaks TN13, Ashford, Bromley, Canterbury, Dartford, Deal, Folkestone, Maidstone, Tonbridge, Sevenoaks, Sidcup, Westerham and West Malling.

Our CBT therapists are all professionally accredited by the British Association of Behavioural and Cognitive Psychotherapy and have demonstrated the gold standard in the practice of CBT.
This means that you will only work with a properly qualified and professionally accredited Cognitive Behavioural Psychotherapist, rather than a Counsellor or trainee therapist.
We specialise in the treatment of Generalised Anxiety Disorder, OCD, Health Anxiety, Panic Disorder, Social Phobia, PTSD, Depression, Insomnia, relationship problems and low self-esteem.
If you are experiencing problems with anxiety or depression, are stressed at work or in your personal life, need help with emotional problems or relationship issues, contact us on 01732 808 626 or email info@thinkcbt.com. The process is fast, completely confidential and easy to organise.
You can book a daytime appointment with a BABCP accredited CBT specialist in Ashford, Bromley, Canterbury, Dartford, Deal, Folkestone, Maidstone, Tonbridge, Sevenoaks, Sidcup, Westerham.and West Malling. Unlike many other independent Cognitive Behavioural Therapy providers, the money you pay goes directly to your CBT therapist without agency commission. Whilst there are many unqualified counsellors offering CBT on therapy directories, our CBT experts are fully qualified and professionally accredited by the BABCP. This means that we have achieved the UK gold standard in Cognitive Behavioural Therapy.
Our Kent CBT Team
We provide Cognitive Behavioural Therapy from a number of key locations with excellent transport links in the Kent area. This means we can offer easy access to CBT appointments on a flexible basis so that you can choose the right therapist to meet your specific needs.
All of our Kent CBT therapists have been selected based on their experience, qualifications and performance. Unlike some of the larger CBT services, our therapists are not agency staff or subcontractors and we do not top-slice their fees. What you pay for therapy, goes directly to the therapist.
You can view the detailed professional profiles for our Kent therapists by following the links shown below:
What We Do
We provide Cognitive Behavioural Therapy for the full range of psychological, emotional and behavioural problems. We have specialist expertise in the treatment of Panic Disorder, Agoraphobia, Claustrophobia, Generalised Anxiety Disorder (GAD), Social Anxiety, Post Traumatic Stress Disorder (PTSD), Specific Phobias and problems with depression. We also specialise in the treatment of Obsessive Compulsive Spectrum Disorders including OCD,health anxiety and Body Focused Repetitive Disorders including skin picking and hair pulling.
If you have problems with low self-esteem, relationship difficulties or issues with your levels of motivation , you can work with a Cognitive Behavioural Therapy specialist to address your needs and support the changes you want to make in your life.
About Our Approach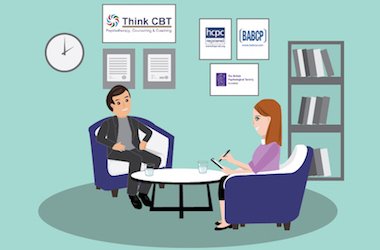 We understand that making your first appointment can be a difficult step to take. People often struggle for many years before finally deciding to take action to change or tackle the problem. This means that you will be treated with sensitivity, respect, discretion and professionalism at all times. We won't ask you to join a waiting list, fill in unnecessary paperwork or work with an unsuitable or under skilled Therapist. Most importantly, we will treat you as a valued client and keep the approach simple and straight forward.
Cognitive Behavioural Therapy Services & Charges
At Think CBT we are commited to the highest standards of customer service and excellent professional practice. This means that you will receive a prompt and confidential response when booking your appointment. We are a commercially ethical provider, which means our basic appointment charge in Kent is just £69. If you can find lower cost private CBT with fully accredited Cognitive Behavioural Psychotherapists in Kent, we would like to hear from you.
This is what we offer:
Confidential, independent and professional CBT without unnecessary red-tape or a long waiting list.

Highly qualified BABCP Accredited psychotherapists - we don't employ unqualified counsellors or trainees.
Delivering therapy at flexible times to suit the client, with evening and weekend appointments.
Providing continuous support throughout the CBT process, with access to telephone, SKYPE and email follow-up.
Using the latest CBT techniques and approaches, based on cutting edge research and the latest developments.
Producing a free psychological assessment report and lapse prevention plan at the end of therapy.
Supporting clients with catch-up calls and email contact after therapy has finished.
Cognitive Behavioural Therapy is a highly structured and time-focused therapy. This means you will always have a therapy plan and a clear understanding of the timescales and commitments required to complete the process. We do not operate open-ended therapy like many of the other passive counselling and psychotherapy approaches. If you want to book a CBT appointment in Kent, call us on 01732 808 626, email info@thinkcbt.com or complete the simple contact form here.
Take a free confidential psychological assessment.
The Stress, Anxiety & Depression Inventory is a quick self-assessment that you can take online, without providing personal information. This can provide a helpful initial insight into the psychological factors that maintain the problem. You can also explore the widest internet library of free psychological assessments by clicking on the "Assessments" button at the top of this page.
Think CBT is committed to providing access to affordable independent Cognitive Behavioural Therapy. Our aim is to support tangible improvements in the psychological health and well being of our clients, contributing to better lives worth changing for.

There are many psychotherapists and counsellors offering cognitive behavioural therapy. Always ensure that your therapist is professionally accredited with the British Association of Behavioural and Cognitive Psychotherapy (BABCP).
Cognitive Behavioural Therapy (CBT) in Sevenoaks Kent | Psychotherapy and Counselling in London SE1 | CBT in Westerham and Tunbridge Wells | Counselling and Psychotherapy in Folkestone and Canterbury | Cognitive Behaviour Therapy in Maidstone and Kingshill Kent | CBT and Counselling across Surrey and Sussex.