Cognitive Behavioural Therapy - BABCP Accredited CBT in Kent and Online Via Video Link
If you are looking for high-quality and professionally accredited Cognitive Behavioural Therapy - CBT in the Kent area, take a look at our Kent CBT page and our CBT therapist profiles before booking therapy with another private provider. Whilst there are individuals and businesses offering CBT in the Kent area without the recognised professional credentials, our team are all qualified and experienced Cognitive Behavioural Psychotherapists.
Our CBT therapists are professionally accredited by the British Association of Behavioural and Cognitive Psychotherapy and have demonstrated the recognised UK standard in the practice of CBT. This means that you will only work with a properly qualified and professionally accredited Cognitive Behavioural Psychotherapist, rather than a general counsellor. Full training is a CBT therapist takes several years. We know that there are some individuals offering CBT with limited or online training only. You can check whether your therapist is professionally accredited by visiting the BABCP Register. This is the only official UK register for Cognitive Behavioural Therapy. This register is used by the NHS and the insurance industry to check CBT therapists credentials.
Our Kent CBT Clinics
We provide specialist CBT services from our clinics and consultation rooms across Kent. We provide treatment for a wide range of psychological and emotional problems including Anxiety, Depression, Health Anxiety, OCD, Panic Disorder, Perinatal Depression and Work Related Stress. We also provide specialist support for Bipolar Disorder, Body Dysmorphia, BFRBs, Chronic Pain, Emetophobia, Eating Disorders, Insomnia, and Personality Disorders. To find out more about the 28 psychological problems that we specialise in, you can explore the links at the bottom of this page or enquire via email at appointments@thinkcbt.com
Online Cognitive Behavioural Therapy in Kent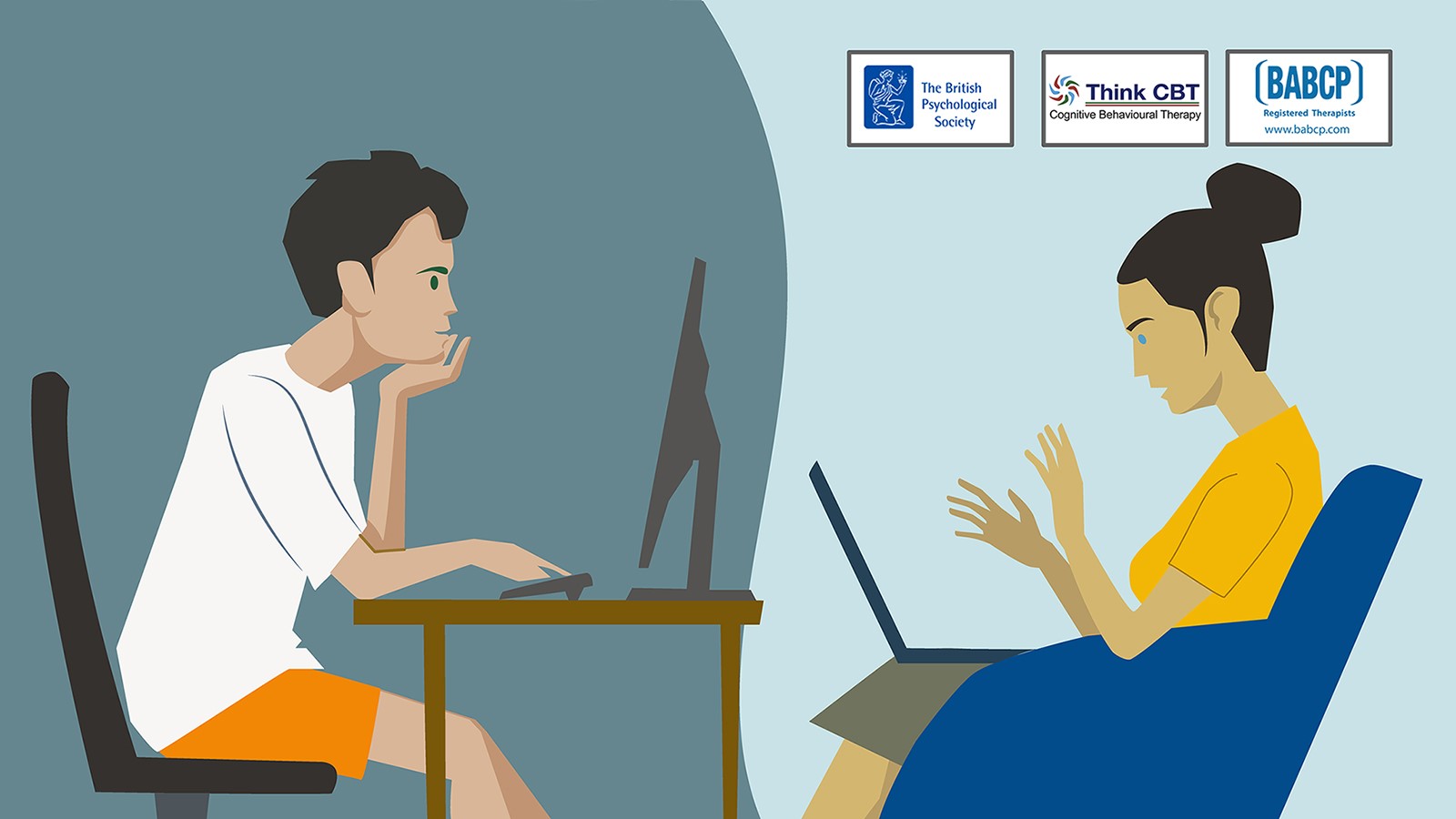 Book an online appointment with a member of our Kent team or choose a CBT therapist from our wider team of over 180 professionally recognised UK Cognitive Behavioural Therapists. Online CBT provides a safe and flexible alternative to face-to-face therapy. Email appointments@thinkcbt.com
If you are experiencing problems with anxiety or depression, if you are stressed at work or in your personal life, need help with emotional problems or relationship issues, consider online CBT via video link from the convenience of your own home. It's easy to organise and works in exactly the same way as face-to-face CBT sessions.
You can book a daytime appointment with a BABCP accredited CBT specialist in Ashford, Bromley, Canterbury, Dartford, Deal, Folkestone, Maidstone, Tonbridge, Sevenoaks, Sidcup, Westerham and West Malling for just £85. We are confident that you will not find equivalent specialist CBT services in the Kent area for less. Find out more email appointments@thinkcbt.com
Our Kent CBT Team
We provide Cognitive Behavioural Therapy from a number of key locations with excellent transport links in the Kent area. This means we can offer easy access to CBT appointments on a flexible basis so that you can choose the right therapist to meet your specific needs.
All of our Kent CBT therapists have been selected based on their experience, qualifications and performance. Unlike some of the larger CBT services, our therapists are not agency staff or subcontractors and we do not top-slice their fees. What you pay for therapy, goes directly to the therapist.
You can view the detailed professional profiles for our Kent therapists by following the links shown below:
What We Do
We provide Cognitive Behavioural Therapy for the full range of psychological, emotional and behavioural problems. We have specialist expertise in the treatment of Panic Disorder, Agoraphobia, Claustrophobia, Generalised Anxiety Disorder (GAD), Social Anxiety, Post Traumatic Stress Disorder (PTSD), Specific Phobias and problems with depression. We also specialise in the treatment of Obsessive Compulsive Spectrum Disorders including OCD,health anxiety and Body Focused Repetitive Disorders including skin picking and hair pulling.
If you have problems with low self-esteem, relationship difficulties or issues with your levels of motivation , you can work with a Cognitive Behavioural Therapy specialist to address your needs and support the changes you want to make in your life.
Cognitive Behavioural Therapy Services & Charges
At Think CBT we are commited to the highest standards of customer service and excellent professional practice. This means that you will receive a prompt and confidential response when booking your appointment. We are a commercially ethical provider, which means our basic appointment charge in Kent is just £85. If you can find lower cost private CBT with fully accredited Cognitive Behavioural Psychotherapists in Kent, we would like to hear from you.
This is what we offer:
Confidential, independent and professional CBT without unnecessary red-tape or a long waiting list.

Highly qualified BABCP Accredited psychotherapists - we don't employ unqualified counsellors or trainees.
Delivering therapy at flexible times to suit the client, with evening and weekend appointments.
Providing continuous support throughout the CBT process, with access to telephone, SKYPE and email follow-up.
Using the latest CBT techniques and approaches, based on cutting edge research and the latest developments.
Producing a free psychological assessment report and lapse prevention plan at the end of therapy.
Supporting clients with catch-up calls and email contact after therapy has finished.
Cognitive Behavioural Therapy is a highly structured and time-focused therapy. This means you will always have a therapy plan and a clear understanding of the timescales and commitments required to complete the process. We do not operate open-ended therapy like many of the other passive counselling and psychotherapy approaches. If you want to book a CBT appointment in Kent, call us on 01732 808 626, email info@thinkcbt.com or complete the simple contact form here.
Take a free confidential psychological assessment.
The Stress, Anxiety & Depression Inventory is a quick self-assessment that you can take online, without providing personal information. This can provide a helpful initial insight into the psychological factors that maintain the problem. You can also explore the widest internet library of free psychological assessments by clicking on the "Assessments" button at the top of this page.

There are many psychotherapists and counsellors offering Cognitive Behavioural Therapy without the recognised specialist training or accreditation. For quality assurance purposes, check that your therapist is professionally accredited with the British Association of Behavioural and Cognitive Psychotherapy (BABCP).
Cognitive Behavioural Therapy (CBT) in Ashford, Bexley, bromley, Canterbury, Dartford, folkestone, Kings Hill, Larkfield, Maidstone, Sevenoaks, Sidcup, Tunbridge Wells, West Malling, Westerham and across Kent via video link.