Cognitive Behavioural Therapy – CBT in Guildford Surrey and Online by Video Link
If you are looking for Cognitive Behavioural Therapy in the Guildford area, our BABCP accredited CBT specialists can help. We are an ethical psychological service specialising in CBT, EMDR, Clinical and Counselling Psychology. Over the last ten years we have built a solid reputation with GPs and private clinics across Surrey and our CBT therapists are professionally accredited by the British Association of Behavioural and Cognitive Psychotherapy (BABCP).
Cognitive Behavioural Therapy is a highly specialised psychological approach that requires Masters level qualifications and significant clinical experience. Whilst there are some therapists offering CBT in Guildford and across Surrey with online or basic trading only, you can trust that our CBT therapists are qualified to the highest UK standards. The BABCP is the only official UK register for Cognitive Behavioural Therapy in the UK. You can check the accreditation status of your CBT therapist here.
Booking a Cognitive Behavioural Therapy appointment in Guildford is quick and easy. You can call our team on +44 1732 808626, complete the appointment contact form on this page or email info@thinkcbt.com
Why Choose Cognitive Behavioural Therapy in Guildford Surrey?
With so many different forms of therapy and counselling on offer, it's often difficult to know which approach to take. Cognitive Behavioural Therapy Is an evidence-based psychological approach that has been proven to be highly effective in the treatment of a number of short and long-term psychological problems. It's the recommended treatment of choice by the National Institute of Health and Care Excellence (NICE) and it's been shown to be highly affective for a wide range of anxiety conditions and depressive disorders. We use CBT to treat 30 different psychological problems which are listed in detail at the bottom of this page.
CBT is a therapeutic model that includes a number of different approaches including Acceptance and Commitment Therapy (ACT), Compassion Focused Therapy (CFT) and Dialectical Behaviour Therapy (DBT). If you are not sure which approach will be most effective for the problems that you're struggling with, you can contact our officeto arrange a brief informal discussion with a member of our Guildford and Surrey therapy team. The process is managed on a strictly confidential basis and we will only offer an appointment if we are confident that we can help.
Therapists in Guildford and Surrey
Our CBT Charges in Guildford and Surrey
We combine excellent customer service, the highest standards of clinical practice and ethical pricing. We charge just £75 for 50/60 minute CBT and EMDR appointments in Guildford and across Surrey. We are not a directory service or an agency, so what you pay for therapy always goes directly to our therapists without commission or hidden charges.
Online CBT from Guildford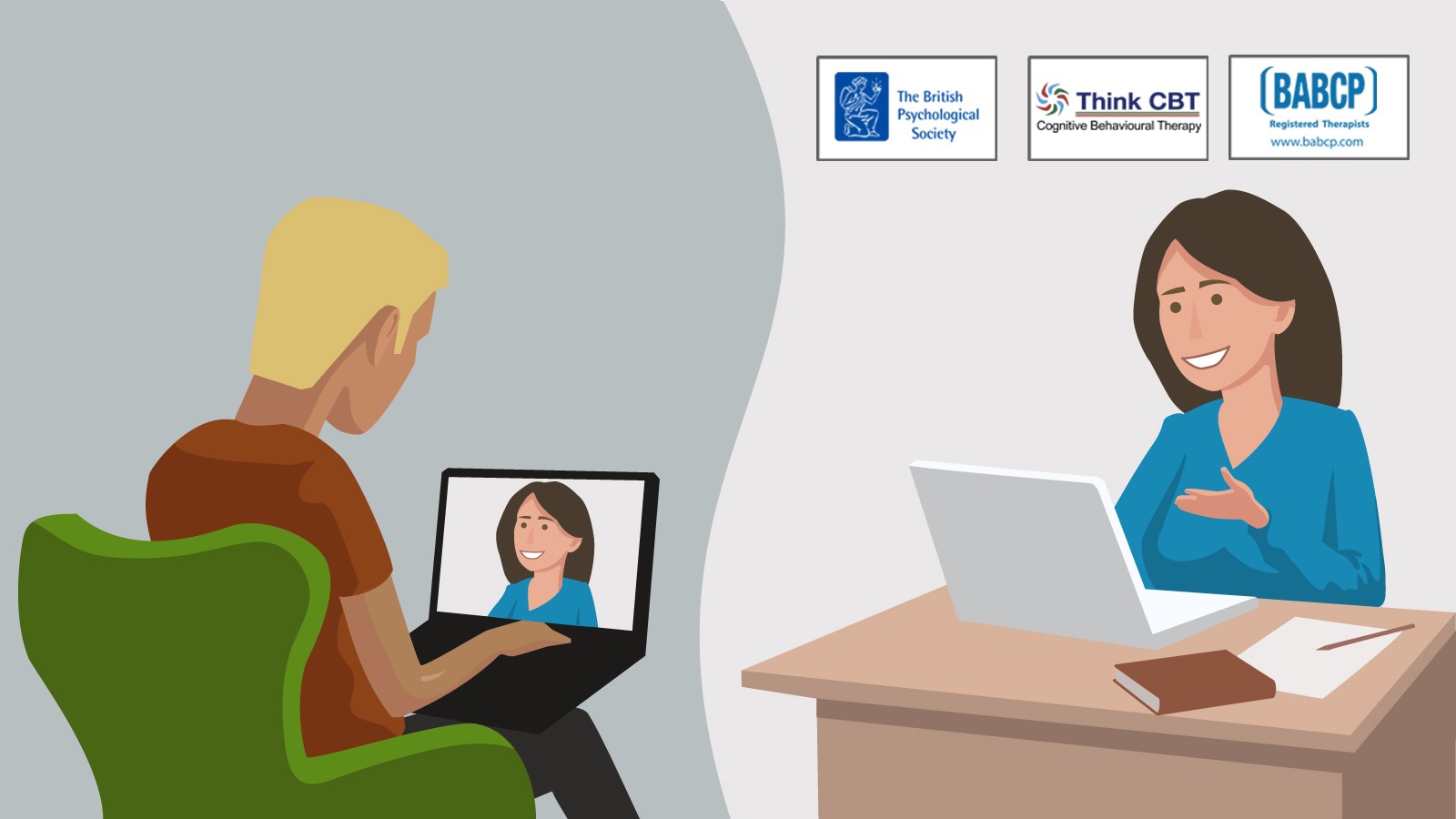 We recognise that people living and working in Guildford have busy and committed lives with a number of competing time pressures. We therefore provide online CBT which can be conducted using video link from the comfort of your own home and without the inconvenience of travelling to one of our clinics.
Search Our Wider CBT Therapist Team
If you are looking for an BABCP-accredited CBT specialist outside Guildford and Surrey, you can browse our therapy team by specialism and postcode using the following search facility. If you need help and advice selecting a CBT therapist for a member of your family, a grown-up child at university or just want some recommendations to help a friend, contact our office via info@thinkcbt.com
Download the Think CBT Workbook
If you are not sure whether cognitive behavioural therapy is right for you, why not download a free copy of our CBT workbook. This includes detailed information about the CBT process and 42 popular CBT exercises. As an ethical psychological service, we won't ask for your contact details or personal data. If you find our workbook helpful, please share our page with friends and colleagues.
You can explore a wide range of CBT resources, psychological assessments and reliable information on CBT treatments for thirty different mental health problems by following the links at the bottom of this page. For help and advice on selecting a therapist or treatment options in Guildford and across Surrey, contact our office via info@thinkcbt.com