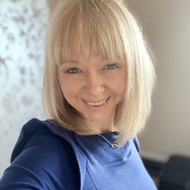 Current Availability
Plenty availability . No NHS clients please
Locations
Wakefield, WF15
Professional Profile
My name is Emma and I am a fully qualified and BABCP accredited Cognitive Behavioural Psychotherapist working with Think CBT from my consulting room in Huddersfield.
I am practicing as a remote CBT therapist with both adults and children. Previously having 5 years' experience working as assistant manager and clinical lead within a CAMHS service, I am confident and passionate about therapeutic intervention. I am holistic and integrative in my approach using a wide range of therapeutic skills.
Growing up, I came to understand first-hand how challenging school can be - not realising I had dyslexia, I found the whole education process very challenging. Going through this I feel I can appreciate some of the anxiety and emotional distress school can have on emotional well-being.
I know and am confident that this makes me strong in relating to young people who may find education problematic. I am confident in building quick therapeutic relationships with the client, setting them at ease to begin their journey to recovery quickly, despite educational struggles.
I have moved on to achieve a psychology degree, master's in social work and post grad diploma in CBT therapy. I feel I am a testament of moving forward from challenging times to become a success and reach the goals we wish for in life.
Qualifying as an IAPT CBT therapist, I am confident and am experienced in working with a wide range of challenges. I can work with clients who present with PTSD, trauma, OCD, social anxiety, and health anxiety.
It is always exciting to guide clients and move through their journey of recovery with them.
Whilst much of my CAMHS experience was working with young people, I am also experienced in the delivery of support with adults - predominantly working with adults in my private practice.
Further to CBT intervention, I have a holistic and integrative approach using a wealth of previous training. This includes a wide range of theoretical approaches and models, including Attachment Theory, Psychodynamic, Transactional Analysis, Gestalt and many more.
I'm happy to work with anyone over the age of 10. I'm comfortable and passionate to work with both adults and children and have specific training (CBT) in working with the full range of anxiety disorders and depression. I am also pleased to work with those who are dissatisfied with life and wish to 'work on themselves' or those who have experienced trauma in their lives.
Specialisms
Autism Spectrum Disorder
Body Focused Repetitive Behaviours
Depression
Grief / Bereavement
Health Anxiety
Low Self-esteem
OCD
Panic Disorder
Relationship Problems
Social Anxiety / Phobia
Specific Phobias
Work Related Stress
Therapies Offered
Child and Adolescent CBT
Cognitive Behavioural Therapy
Compassion Focused Therapy
EMDR
Accepted Payment Methods
Reserve an Appointment With Emma Davie
Exact location provided on booking confirmation