Cognitive Behavioural Therapy in Woking, Godalming, Guildford & South Croydon
We provide private Cognitive Behavioural Therapy (CBT) in Woking, Godalming, Guildford and South Croydon. This includes treatment for a wide range of problems including Generalised Anxiety Disorder, Health Anxiety, Panic Disorder, OCD, Social Anxiety, PTSD, Phobias, low self-esteem, insomnia and depression.
If you are experiencing problems with anxiety or depressed mood, are stressed at work or having difficulties at home or in key relationships, contact us on 01732 808 626 or email info@thinkcbt.com to organise a local CBT appointment.
CBT Appointments in Surrey for £69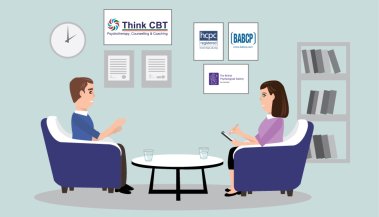 Daytime appointments in Godalming and Guilford cost just £69. You can make a fast and confidential appointment with a fully qualified and BABCP accredited Cognitive Behavioural Therapy expert. You will not find professionally accredited CBT in Surrey for less. Contact us today to talk to a member of the team and book a CBT appointment.
What We Do
We offer Cognitive Behavioural Therapy, counselling and psychological services using only fully qualified and professionally accredited CBT specialists. We work to the standards and ethics laid down by the British Association of Behavioural and Cognitive Psychotherapy (BABCP) and our therapists have extensive experience working within the NHS and private sector. You can view the detailed profiles for our Surrey CBT experts Clare Kane, Ewelina Konobrodzka and Suheyla Hussein here.
Our CBT Services
At Think CBT we are committed to providing high quality Cognitive Behavioural Therapy at an affordable price. We offer a fast and confidential response with no lengthy waiting-lists or unnecessary red-tape. Unlike many of the larger psychology providers, we do not employ agency staff or sub-contract our clients out to unknown therapists. We operate as a team and our therapists are all personally selected for their qualifications, skills and experience in Cognitive Behavioural Therapy. This means that you can trust that you are working with a real CBT expert and that the money you are paying for therapy is going directly to the therapist. This is what we offer:
Immediate access to CBT experts without waiting-lists or formal medical referrals.
The latest CBT techniques drawn from a range of cutting-edge therapy models.
Only fully qualified CBT experts, rather than under-qualified counsellors or trainees.
Flexible appointment times including early mornings, evenings and weekends.
A free initial call with your therapist, psychological testing and lapse prevention plan.
Direct access to emails and catch-up calls following the end of the Cognitive Behavioural Therapy process.
If you want to make an informal enquiry to discuss your options or gain an initial insight into how CBT could help you, call 01732 808 626 or email info@thinkcbt.com You can also request a rapid appointment by following this link to our appointments page.
Think CBT is committed to providing access to affordable independent Cognitive Behavioural Therapy. Our aim is to support tangible improvements in the psychological health and well being of our clients, contributing to better lives worth changing for.

There are many psychotherapists and counsellors offering cognitive behavioural therapy. Always ensure that your therapist is professionally accredited with the British Association of Behavioural and Cognitive Psychotherapy (BABCP).
Cognitive Behavioural Therapy (CBT) in Surrey | Psychotherapy and Counselling in Godalming GU7 | CBT in Guildford GU2 | Counselling and Psychotherapy in South Croydon CR2 | Cognitive Behaviour Therapy in Surrey | CBT, Counselling and Clinical Psychology across Surrey