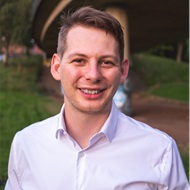 Locations
24 Regent Street, Clifton, Bristol, BS8 4HG
Professional Profile
My name is Tom and I am a fully qualified and BABCP accredited Cognitive Behavioural Psychotherapist working with Think CBT from my consulting rooms in Bristol, BS8.
I can provide therapy face-to-face, online (Zoom/ Skype) or over the telephone.
I am a specialist in working with corporate and workplace mental health. This tends to be helping people deal with perfectionism, supporting staff with burnout and aiding people to return to work who have been off sick with mental health.
If you are reading this, you might be experiencing stress or burnout yourself - or know someone who is. You might experience worries which keep you up at night, suffer with low motivation, or find that unfinished jobs are building up around you. You may feel unable to share your problems as you do not wish to burden anyone, and you might ultimately feel alone and helpless.
Well done for reaching out.
I guarantee all my clients a safe and non-judgemental environment so that you feel listened to and supported. I will talk you through how CBT can be applied to your problems so that you can regain control of your life.
I only use the most up-to-date, scientifically proven methods to help people overcome their struggles. Whether this is enjoying your hobbies again, confronting challenges in a meaningful way, or facing your fears; I can support you in your journey to recovery.
The feedback I am given is consistently positive, stating I am approachable, helpful and knowledgeable in delivering therapy. I have a 5-star rating on Google and have helped hundreds of people in a similar situation to you.
My background involves delivering CBT within the NHS and for private health insurers for the past 6 years. I have a BSc in Applied Psychology (Clinical) from the University of Exeter and a Post-Graduate Diploma in Delivering Evidence-Based Psychological Interventions from the University of Reading. I have also been running my own private practice alongside my work for the past two years and supervising fellow clinicians for the past 3 years. I have recently accepted a post as a Clinical Supervisor at the University of Reading as well.
So, if you're ready to start making a change to your life, or if you feel you're letting your career or relationships suffer because of burnout, or if you just want to ask a question or two – I'm here for you.
Reach out today so we can start discussing the next steps on your journey to recovery.
Specialisms
Anxiety
Autism Spectrum Disorder
Body Focused Repetitive Behaviours
Depression
Health Anxiety
OCD
PTSD
Panic Disorder
Self-esteem Problems
Sleep Problems
Social Anxiety / Phobia
Work Related Stress
Therapies Offered
Cognitive Behavioural Therapy
Accepted Payment Methods
Reserve a £75 Appointment With Tom Holland-Pearse