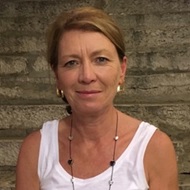 Locations
The Bessemer Suite, Warton Road Carnforth, Lancashire, LA5 9EX
Professional Profile
My name is Sue Crookall and I am a BABCP accredited psychotherapist, working with Think CBT.
I would usually offer regular weekly clinics held in Carnforth, Lancashire. However, due to Covid-19, I currently only provide Cognitive Behavioural Therapy using telephone and SKYPE.
Working within the NHS, the higher education environment and in private practice, I have gained extensive experience with a wide range of psychological, emotional and behavioural problems including Generalised Anxiety Disorder (GAD), Health Anxiety, Obsessive Compulsive Disorder (OCD), Panic Disorder, Post Traumatic Stress Disorder (PTSD), Social Anxiety, Specific Phobias, self-esteem problems and Depression.
My approach to therapy is evidence based, which means that I draw on a wide range of established psychological techniques, where there is clear research and a strong body of supporting evidence.
I encourage a collaborative, friendly and informal approach during therapy. I place significant emphasis on trust, confidentiality, humour and the quality of the working relationship. I have a strong belief in the value of personal change and a down to earth and practical style.
Specialisms
Addictions
Anger
Anxiety
Claustrophobia
Depression
Health Anxiety
OCD
PTSD
Panic Disorder
Self-esteem Problems
Sleep Problems
Social Anxiety / Phobia
Specific Phobias
Work Related Stress
Therapies Offered
Cognitive Behavioural Therapy
Accepted Payment Methods
Bank Transfer
Organisational Funding
Reserve a £75 Appointment With Sue Crookall