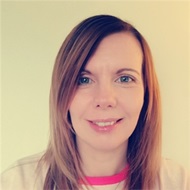 Cognitive Behavioural Therapist
PGDip (CBT), BABCP (Acced)
This therapist has no current availability. For help identifying another therapist, please follow this link, call +44 1732 80862 or email info@thinkcbt.com
Current Availability
I have current evening availability on a weekday evening or at a weekend.
Locations
Nottinghamshire, NG21
Professional Profile
My name is Jen and I am a fully qualified and BABCP accredited Cognitive Behavioural Psychotherapist working with Think CBT from my consulting rooms in Nottinghamshire (NG21). I also provide CBT online via Skype and video-link.
I am an experienced Cognitive Behavioural Therapist with 16 years experience delivering CBT based interventions to clients with a range of difficulties. I am also trained in EMDR for trauma based difficulties.
I have worked within NHS settings using CBT throughout my career and have also been working privately for years. I am passionate about delivering high-quality, life enhancing psychological therapy to meet client goals. I will work with clients to establish a place they feel safe to explore their difficulties and reach a shared understanding of the mechanisms most effective for change.
I have worked with a range of presentations including Depression, Generalised Anxiety Disorder, Cbsessive Compulsive Disorder, Panic Disorder, Agoraphobia, Post-Traumatic Stress Disorder, Body Dysmorphia, Insomnia and phobias amongst other difficulties.
CBT is an incredibly effective therapy for depression and anxiety-related difficulties including reactions following trauma whether this has been recent or earlier in your life. I work collaboratively with clients to first of all hear their stories - this is an essential part of the therapy journey.
I aim to develop a trusting relationship where you feel you can share your experiences and explore those factors contributing to the development and maintenance of your current difficulties whatever they may be. CBT will work on enhancing this understanding and give you strategies to break this cycle. I have knowledge of relating fields such as compassion focused therapy and acceptance and commitment therapy to tailor a therapeutic package based on the evidence to directly address your own situation.
I have a particular interest in insomnia and am CBT-I trained to help many radically improve their sleep difficulties. Sleep difficulties are at the heart of many psychological problems and are incredibly distressing. I can help you look at where your sleep problems have developed, and to teach you simple but effective ways to improve your sleep for good, whether you are struggling getting to sleep, waking in the night or waking too early.
I work in line with the British Association of Behavioural and Cognitive Therapies code of conduct and have an enhanced DBS certificate so you can be assured I am a safe practitioner.
I look forward to meeting with you and working together to understand and resolve your problems so that you can start to live the fulfilling and meaningful life you want.
Specialisms
Body Dysmorphic Disorder
Chronic Pain
Claustrophobia
Depression
Emetophobia
Generalised Anxiety Disorder
Health Anxiety
Low Self-esteem
OCD
Panic Disorder
Perinatal Depression
Sleep Problems
Social Anxiety / Phobia
Specific Phobias
Trauma / PTSD
Work Related Stress
Therapies Offered
CBT-I
Cognitive Behavioural Therapy
EMDR
Accepted Payment Methods
Bank Transfer
Organisational Funding
Reserve an Appointment With Jen Moon
This therapist has no current availability. For help identifying another therapist, please follow this link, call +44 1732 80862 or email info@thinkcbt.com
Exact location provided on booking confirmation