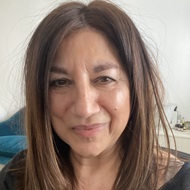 Locations
7A Blackstock Mews, London, N4 2BT
Professional Profile
My name is Halima and I am a fully qualified and BABCP accredited Cognitive Behavioural Psychotherapist working with Think CBT from my consulting rooms in London, N4.
I am a compassionate and focused CBT and EMDR practitioner, who strives to assist clients on their psychological journey who are struggling with single and / or co-morbid mental health disorders using a transdiagnostic approach to bespoke target any underlying mechanisms - such as low self-esteem and perfectionism.
My experience includes working with NHS and private healthcare companies in assessing and treating clients presenting with a wide variety of disorders including Depression, stress induced / related difficulties, alongside the anxiety disorders such as Health Anxiety, Social Anxiety, Generalised Anxiety Disorder (GAD), Panic, Panic & Agoraphobia, Specific phobias, Obsessive Compulsive type thoughts and behaviours (OCD), Post-Traumatic Stress Disorder (PTSD), Emetophobia, Body Dysmorphia, Trichotillomania, Separation Anxiety Disorder - including Substance-induced Anxiety Disorder characterised by symptoms of intense anxiety or panic that are a direct result of misusing drugs, taking medications, being exposed to a toxic substance or withdrawal from drugs and other specified anxiety disorder. I also work with Unspecified Anxiety Disorders, such as anxiety or phobias that don't meet the exact criteria for any other anxiety disorders but are significant enough to be distressing and disruptive.
In addition to my therapy practice with clients, I provide clinical supervision to trainees and other practitioners in the NHS and other healthcare providers.
When starting a psychological pathway with a client, they can expect to work collaboratively throughout our journey in which they will be sensitively assessed, for us to agree a treatment plan that is underpinned by their goals for therapy.
Specialisms
Abuse
Anxiety
Autism Spectrum Disorder
Body Focused Repetitive Behaviours
Depression
Emetophobia
Grief / Bereavement
Health Anxiety
OCD
PTSD
Panic Disorder
Self-esteem Problems
Social Anxiety / Phobia
Work Related Stress
Therapies Offered
Acceptance and Commitment Therapy
Cognitive Behavioural Therapy
EMDR
Accepted Payment Methods
Reserve a £75 Appointment With Halima Sufi