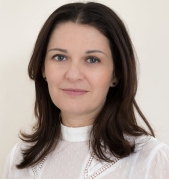 Locations
Bentinck House, 3 – 8 Bolsover Street, London, W1W 6AB (https://goo.gl/maps/X18ehUdak2R2)
Professional Profile
I am a fully qualified Clinical Psychologist and BABCP Accredited Cognitive Behavioural Psychotherapist. I have over 15 years' experience in the treatment of a wide range of complex psychological, behavioural and emotional problems and I have worked in the Spanish National Health System and the NHS with adults, children and young people.
My primary interests are in the treatment of anxiety disorders, depression and low self-esteem and I have a special interest and additional specialist training in working with people with OCD and people who have experienced trauma in their lives. I have experience of working with children, young people and adults with a diagnosis of high functioning autism and Asperger's Syndrome.
I work with adults, adolescents and children. My approach to therapy is collaborative and together we decide what your goals for therapy are and what you would like to change in your life. I have training in Narrative Therapy, which is an approach that views people as separate from their problems, and helps them to notice the skills, abilities and values they have that will assist them to get closer to the kind of person they would like to be. I have also trained in Acceptance and Commitment Therapy (ACT). ACT is a practical approach which aims to develop skills and strategies to help us get unstuck, and do and enjoy things that are important to us.
I abide by the professional and ethical standards laid down by the BPS, HCPC and BABCP and I have full professional indemnity and current DRB clearance.
Specialisms
☑ Anger
☑ Anxiety
☑ Depression
☑ Eating Disorders
☑ Grief / Bereavement
☑ Obsessions|Compulsions (OCD)
☑ Panic Disorder
☑ Specific Phobias
☑ Post Traumatic Stress Disorder (PTSD)
☑ Self-Esteem problems
☑ Sleep Problems
☑ Social Anxiety / Phobia
☑ Work Related Stress
Therapies Offered
☑ Acceptance and Commitment Therapy (ACT)
☑ Cognitive Behavioural Therapy (CBT)
☑ EMDR
☑ Mindfulness Based Cognitive Therapy
☑ Narrative Therapy
Cognitive Behavioural Therapy (CBT) in London W1W | Clinical Psychologist in London W1W